#1 Training Truth and Bodyweight Challenge for Life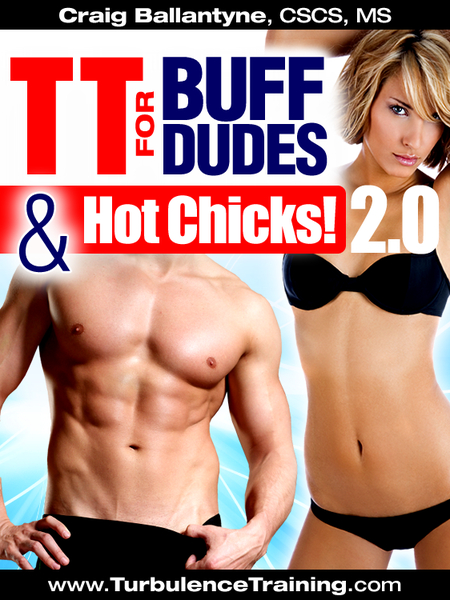 Just finished up working with Men's Health magazine on a new…
…bodyweight challenge workout. They loved the first one I sent, but then they rejected it, because I gave them something even better! So you'll get the original challenge workout below as a I reveal the Top 10 Fat Loss Facts learned in the first 10 years of
TurbulenceTraining.com.
Drum roll please…
#10 – You can never, ever, ever have enough exercise substitutions. –No matter what workout I create, hundreds of the 150,000 plus folks that have used Turbulence Training will need an exercise substitution of some kind.
Many can't do squats or lunges, so we need to use 1-leg hip extensions, or deadlifts, or even wall squat holds (held in the "high" position). Other folks don't have a barbell, so they need dumbbell exercises, while many people have no equipment at all, and need my funky push-up variations, like Spiderman Climb Push-ups or Grasshopper push-ups.
The good thing is that ol' CB always has a substitute for you.
#9 – Every diet works – We've had TT Transformation Contest winners use Eat-Stop-Eat, Xtreme Fat Loss Diet, Isabel De Los Rios' diet, Carb-Cycling, the TT Simple Nutrition program, 6 meals a day, 3 meals a day, and even Weight Watchers, I think…
…that just goes to show you that every diet works. Here's the SECRET:
You must try them all (for 3-4 weeks) until you find the diet the best suits your personality, your schedule, and your physiology. Never give up. You WILL find the right diet for you, trust me.
#8 – Seek the Minimum Effective Dose in your workouts- As mentioned yesterday, you don't need to bomb and blitz one bodypart per day, six days per week, with 20 sets per muscle. That's overkill. It will ruin your joints and waste your time.
Instead, stick to 1 to 3 sets per muscle group, doing 3 total body workouts per week. The best program for fat loss that uses this system? The NEW and IMPROVED Turbulence Training. It's based on the latest science, tens of thousands of happy users, and dozens of TT Transformation Contest results.
#7 – Bodyweight exercises get you lean and fit faster than cardio – Last September, while I was staying at the Biltmore Hotel in Asheville, North Carolina, I was reading my Sunday scientific research round-up when I discovered a game-changing study.
Researchers had subjects do 4 minutes of fast-paced bodyweight training and found that they gained just as much fitness – and much more muscle endurance – than subjects that did 30 minutes of slow cardio.
That's why you can dramatically reduce your workout time (getting a Minimum Effective Dose) with convenient bodyweight workouts (like our new Home Workout Revolution system).
The NEW Turbulence Training and the Home Workout Revolution were two follow-along video programs I released in 2013. Together, they'll run you $47 each. But you can get them, plus every NEW workout I create for LIFE, plus all of my other workout programs, and FREE admission to the TT Summit for Life, when you become a TT Lifetime Partner. It's easily the best deal going in fitness. It's literally every workout you need for life.
Click here for Lifetime Access to every TT workout and video
#6 – Every lifter still loves a classic Meatheads Pump – It started out as a bit of a joke…it was 2008 and one of my "guinea pig" clients here in Toronto wanted a hybrid TT-bodybuilding workout. Thus, TT Meathead training was born.
We are now on TT Meatheads #11, and these workouts just keep getting better and better. This year we've seen Meatheads Pump, Spring Training, and 5×5. I'm already working on the next one. And yes, Lifetime Members get access to every Meathead workout I've created and ever will create…can't wait to do some follow-along Meathead videos in 2014, too.
#5 – Intervals vs. Finishers – My beloved interval training has been effectively replaced by metabolic finishers.
Now wait a moment…the truth is that intervals still work. They are awesome.
But…
It's really tough for all of the awesome TT readers from Wisconsin, Winnipeg, Ohio, Ontario, Lithuania, London, Regina, and Reykjavik, to do intervals in their basement with no equipment in the middle of January. (And it's too hot to do them outside in Singapore, Sydney, Hong Kong, or Hades <= Always too hot there.)
It's much easier to use finishers (with little or NO equipment). And metabolic finishers save you time. That's why the new TT uses them – so that we keep all of the workouts under 30 minutes.
Keep doing old-school intervals if you love them, but if you want to cut 10 minutes from your training – or if you have no way to do intervals – then use workout finishers and push yourself a little harder.
Need proof? Come to next year's TT Summit in San Diego and I'll personally put you through a Finisher that you'll never forget!
Click here for Lifetime Access to every TT Summit and workout
#4 – Workout Challenges are addicting – Back in 2007 Men's Health magazine asked me to film the exercises for something called "The 300 Workout". Now I didn't design this program (it's from a trainer named Mark Twight), but the 300 Workout video I created has been viewed almost 2 million times.
Thanks to that video, I've been called every name in the book by anonymous Youtube viewers…oh well, Bally still likes me.  (As long as I feed him dinner!
Ever since the 300 workout went viral, I've been creating all types of Challenge workouts because they are fun and addictive. You get to compete against yourself, and others. That's why Crossfit is so popular, and that's why I call workout challenges, "Workout Golf".
As I mentioned earlier, I just sent Men's Health a few new challenges. Here's the bodyweight workout they rejected. Give it a try. Do these tough exercises to the max and record your score (my scores are listed).
The Bodyweight Max Challenge
– Start with a full-body warm-up.
– Do not rest between exercises.
– Do the maximum number of reps or time for each exercise with proper form.
1) Pull-ups – 15 reps
2) Wall Squat Hold ­- 120 seconds
3) Push-up ­- 53 reps
4) Bodyweight Row ­- 25 reps
5) Mountain Climber ­- 25 reps/side
Let me know your scores on the TT Forum.
#3 – ANYONE can get amazing results -No matter what situation you are in, here's the harsh truth:
Someone, somewhere, under worst circumstances than you are facing right now, decided to make big changes and was able to transform their body and their life. Period.
If they can do it, so can you.
There are too many success stories from all walks of life – from TV's "The Biggest Loser" to the Turbulence Training Transformation
Contests – for anyone to say that it can't be done.
Everyone – and anyone – can get the results they want and deserve as long as they have the 5 Pillars of Transformation going for them, and you'll get all of them with Turbulence Training for Life.
Those 5 Pillars are:
a) Better planning & preparation
b) Professional accountability
c) Social support (online works just as well as 'real world')
d) An incentive
e) The Deadline
Get those into your life right now!
#2 – Women want to train as hard – or HARDER – than men – I want to formally apologize to every woman in the world for not recognizing this earlier in my career. It wasn't until about 2008, after women starting winning all of my Transformation Contests, that I finally realized how hard women loved to train.
It was awesome, like finding out that your girlfriend loves football, action movies, and baking cookies. Or better, if she loves that you are watching football and action movies while she makes cookies.
Every day I continue to be impressed by how much the ladies of the TT world love the TT Meatheads programs, and by how one of my female Certified Turbulence Trainers, Shawna Kaminski, can do 25 pull-ups at the age of 50 (while sporting 6-pack abs). We've even had 70 year old women use TT to get lean and enter the TT Transformation Contests.
TT has women, hear them roar. Keep rocking ladies, we love all the effort you are giving to put curves in all of the right places. You inspire me every day.
#1 – If there was just ONE change that I could make…
…it would have been to create follow-along TT workout videos for you a LOT sooner than 2013.
But…
The technology just wasn't within my reach. However, we've now done two mega-video projects (TT and HWR) and our videos get better every time.
So just imagine the workout videos we can create for 2014. Stay tuned, and reserve your spot to be first in line for EVERY workout I ever create:
Get Lifetime Access to Everything I Ever Create at Turbulence Training
Hope you enjoyed those 10 lessons.
There's just one thing I left off the list…
…it was the painful lesson of how I lost $75,000 last year with TT.
I'll tell you the story tomorrow.
So many more great programs and videos to come,
Craig Ballantyne, CTT
Certified Turbulence Trainer
PS – So what's this TT "event" all about?