Steak Salad for a Healthy Barbecue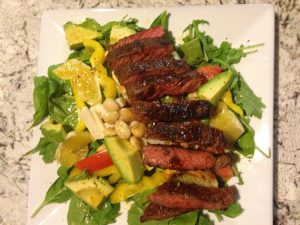 Barbecued steak and summer go hand in hand. Why not make a healthy steak salad to satisfy your taste buds and nutritional goals?
There's something so intoxicating about the smell of a grill that makes our mouths water. The smoky, woodsy, herbaceous scents coil their way into our senses triggering an almost ancestral recognition — as I studied this concept, I found a cool link between the nostalgia evoked by this beloved outdoor pastime and the fascinating science of food. A healthy steak salad combines this tantalizing recognition and moving toward a healthy lifestyle.
You see, one of the most important flavor-producing cooking reactions comes from the "browning" of meat during grilling, roasting, baking, and frying called the Maillard reaction. This process, by way of rearranging amino acids and simple sugars, creates the smoky, savory flavors and scents that trigger a response deep inside the ancient part of our brains, called the limbic system, which houses emotions and long-term memories.
Part of the human experience is being awestruck by how intricately we are created and how the simplest things — like the smell of food cooking on a grill — can spark such deep and complicated physiological and emotional connections.
I don't know about you but I dork out over how cool our bodies and brains are!
So, this weekend, fire up the grill and make some memories! This Healthy Barbecued Southwestern Steak Salad brings all the mouthwatering flavors of grilled bison together with fresh crisp bell peppers and jicama, juicy oranges and tomatoes and crunchy pine nuts.
Plus, let's not forget the nutritional benefits, such as amino acids, which rebuild tissues and boost brain health; vitamins, minerals, antioxidants, and phytonutrients that support overall health and delicious flavors to spark digestion and vitality.
Healthy Barbecued Southwestern Bison Steak Salad
Prep Time: 20 minutes | Cook Time: 4-8 minutes | Yield: 2 servings
Ingredients:
•2, 4-6 oz. bison fillet
•½ tsp sea salt
•1 tbsp chili powder
•1 tbsp olive oil paste
•1 bell pepper, sliced into strips
•¼ small jicama, sliced into strips
•1 large tomato, sliced into wedges
•1 ripe avocado, sliced
•1 ripe orange, sliced into segments
•2 scallions, sliced
•1 tbsp pine nuts (or blanched almonds)
•4 cups spinach, Swiss chard, or Power Greens mix
•4 tbsps Cumin Lime Dressing
For the Cumin Lime Dressing:
•Juice of 1 lime
•½ tbsp raw honey
•½ tbsp Cholula
•2 generous teaspoons ground cumin
•½ – 1 tsp sea salt
•2-4 tbsp olive oil (to taste)
Preparation:
1. Preheat grill to high heat.
2. In a small dish, combine sea salt, chili powder and olive oil. Rub paste on both sides of bison steaks.
3. Grill steaks 2-3 minutes each side or to desired degree of doneness (or in the oven, broil on High for 2 minutes each side)
4. Remove meat from grill (or oven) and cover with foil. Allow meat to rest 2-4 minutes to redistribute juices.
5. Assemble salad. Place greens on a plate. Top with veggies and nuts. Drizzle with dressing.
6. Slice the steaks and serve over the salad. Enjoy!
You can get more healthy recipes from Missi right here.
Other Grilling Ideas!

And if you want more steak recipes, check these out:
In Love & Gratitude for Memories in the Making,

Missi Holt
P.S. How did your Healthy Barbecued Southwestern Bison Steak Salad turn out? Let me know on my Facebook Page!