7 Health Benefits of Steak Fajitas — Besides Deliciousness! Recipe Included…
Who doesn't love the taste of succulent fajitas? They always draw the attention of everyone in a restaurant as they go sizzling by.
And if you're not the lucky recipient of that blazing hot plate of build-it-yourself deliciousness, then you probably have "order" envy.
Well, my friend, envy no more. I have a super simple, healthy and mighty delicious Grilled Steak Fajita recipe for you including some of the nutritional benefits you can expect from each and every tasty bite.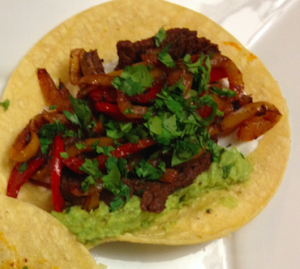 Benefits of Grilled Steak Fajitas:
Grass-fed beef

offers higher quality fats, a good source of protein and iron.

Homemade fajita seasoning

contains potent herbs that fight inflammation and support immune response.

Onions and bell peppers

are both excellent sources of vitamin C, which is needed to metabolize protein and aid the immune system in fighting free-radicals.

Olive oil and avocado

are two of the best sources of "useable" fats that contribute to the regeneration of cells, nerves, organs, and hormones.

Tomatoes

in fresh salsa contain a powerful antioxidant called lycopene that protects cells from damage.

Cilantro

is a known toxin cleanser binding to metals and removing them from the body.

Corn tortillas

offer a dose of fiber along with some vital minerals such as phosphorous, which contributes to healthy bone tissue and red blood cells, and copper and manganese that both support essential enzyme function.
Hungry yet?
Here's the recipe: 
Grilled Steak Fajitas
Prep: 10 minutes | Cook: 15-20 minutes | Yield: 8 fajitas
Ingredients:
Homemade fajita seasoning:

1 tbsp chili powder

1 tbsp ground cumin

1 tsp dried oregano

1 tsp garlic powder

½ – 1 tsp sea salt (depending on taste)

Fajitas:

1 lb. grass-fed locally raised beef flap, sliced into thin strips

1 yellow onion, sliced into thin strips

2 bell peppers, sliced into thin strips

2 tbsps olive oil

8 corn tortillas

½ cup fresh salsa

1 avocado chopped or mashed

1 bunch fresh cilantro, minced
Mix all of the fajita seasoning ingredients together.

Heat the grill to high. (This can also be done on the stove in an extra large skillet).

In a bowl, mix the homemade fajita seasoning with 1 tbsp olive oil to form a paste. Add the beef slices and massage with hands until beef is well coated. Set aside.
On a large piece of heavy-duty foil (with the edges rolled in to form a lip), place the onions and bell peppers. Toss with 1 tbsp olive oil. Place the foil directly onto the hot grill. Cover and cook for about 10 minutes tossing ½ way through.
Move the onions and peppers to the outer edges of the foil making a space in the middle for the beef. Add beef to center of foil and toss to prevent sticking. Cook for few minutes browning the outside then toss well with the onions and peppers to incorporate the seasoning.
Toss every 3-5 minutes until meat reaches desired degree of doneness. Remove from heat and add cilantro. Toss well then cover, turning foil edges in to create a closed pocket.
While the meat rests, heat your tortillas and prepare your toppings.
Serve immediately!