It's Friday Night! Here's a Guilt-Free Pizza Recipe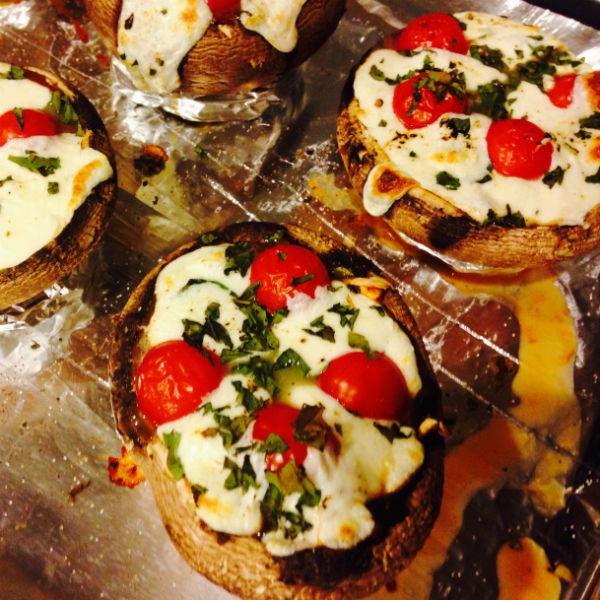 Pizza? Guilt free? Yes!
You're cleaning up your diet and choosing to nourish your body with care but you may have moments of "missing" your old go-to treats.
One of the coolest things about food right now is how creatively we can use healthy, life-giving ingredients to meet our needs — for health, fitness, nourishment, and fun!
I have a super simple, delicious Portobello Margherita Pizza Recipe that you will want to make tonight!
The health benefits easily outweigh any sliver of guilt you may try to cling to as you chow down on this satisfying pizza… get ready to drool:
Portobello Mushroom: This meaty, earthy delicacy is a good source of fiber and high in water that fills you up without adding excess calories. Portobello mushrooms are rich in minerals and the B vitamins, pantothenic acid, riboflavin, niacin, folate and thiamine, which are essential for a healthy metabolism and nervous system.
Extra-Virgin Olive Oil: Rich, high quality olive oil is a powerful antioxidant that aids in reducing inflammation, which is the driver of many chronic diseases such as heart disease, cancer, metabolic syndrome, diabetes, Alzheimer's and arthritis. Omega-3 fatty acids, and vitamins E and K that support healthy digestion, cellular repair, and nervous system function are also abundant in olive oil.
Tomatoes: Plump, juicy, sweet, and savory tomatoes are an excellent source vitamin C, biotin, molybdenum, and vitamin K. They are also a very good source of copper, potassium, manganese, dietary fiber, vitamin A, vitamin B6, folate, niacin, vitamin E, and phosphorus…Holy Loaded Tomato, Batman!
Fresh Mozzarella: The power of this gooey melted cheese is bolstered by its nutrient rich profile. Niacin, riboflavin, thiamine, biotin and vitamin B6 keep skin, vision, and red blood cell production healthy, plus the fat-soluble vitamins A, D and E, are important for bone growth, absorption of calcium and protection of cell membranes.
Basil: This aromatic herb from the mint family is an excellent source of vitamin K, manganese, and many other nutrients that support digestive health. Its anti-inflammatory and anti-bacterial properties provide powerful cellular protection.
Is your mouth watering yet? Mine is.
Get Friday Night, Pizza Night started!
Portobello Margherita Pizza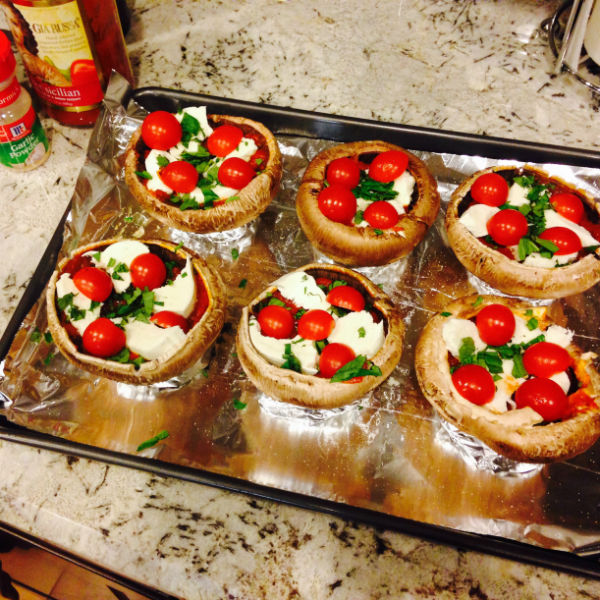 Prep time: 10 minutes | Cook time: 20-25 minutes | Yield: 4 servings
Ingredients:
4 large Portobello mushroom caps, cleaned with stems removed
3 tbsps extra virgin olive oil
4 tbsps spicy marinara
½ cup cherry tomatoes, sliced (or 1 large tomato, sliced)
2 cups fresh mozzarella, sliced
2 tbsps grated Parmesan cheese
½ cup fresh basil, chopped, plus extra for garnish
Sea salt, garlic powder, and black pepper to taste
Optional: sprinkle of red pepper flakes for some heat
Preparation:
Drizzle Portobello caps with olive oil and sprinkle with salt, garlic powder, and pepper (and optional red pepper flakes).
Place 2 slices mozzarella onto each mushroom cap then top with a few slices of tomato and a sprinkling of basil. Add a little Parmesan cheese.
Finish with 2 more slices of mozzarella and remaining Parmesan to cover any open areas.
Bake at 375 for 20-25 minutes, until mushrooms have softened and cheese has melted.
Garnish with basil and serve immediately. Enjoy!
BONUS tip:
Avoid soggy bottoms by creating 4 small foil rings for the pizzas to sit on while baking… plus they'll roast more evenly!