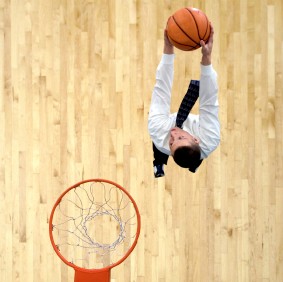 As I sat in the Cleveland airport on a Saturday evening this spring, waiting out yet another flight delay, I had a chance to read the June 2012 issue of Fast Company. It was a jam-packed issue with 100 profiles of the most creative people in business today. Alas, I was not on the list (or the short list, or the long list, or the uber-marathon length list), however the magazine didn't disappoint.
One particular story tied in perfectly with the biggest "A-ha" moment I had over the weekend at Dan Kennedy's "Mailbox Millionaire" seminar. Kennedy gave the best particular articulation of any business's ideal prospect, calling them your "Slam Dunk Customer" (SDC). I loved that expression, and you'll get the full details on why it is so important in a moment.
But first, an example of what can happen when a business picks out their SDC. Fittingly, the business in question was Gatorade, a company long associated with slam-dunking role models, athletes, and championship performances. Fast Company's short profile of Gatorade revealed how their new marketing strategy – all based on the SDC – was paying immediate dividends.
However, this story, like many sporting world Gatorade-associated stories, begins with an unlikely comeback. Sarah Robb O'Hagan became the President of the ailing sports nutrition behemoth in 2008. Surprisingly, the first thing she did was to go on maternity leave. This break gave her a chance to think about the best customers for Gatorade. At the time, Gatorade's sales were in a slump despite seemingly having more flavors than Crayola had crayon varieties.
While studying the numbers, Robb O'Hagan discovered that the mass marketing approach just wasn't working. The reality was that while Gatorade was pounding the male 18-49 year old demographic with marketing, Gatorade's SDC customers fit into two specific sub-groups. First, there was the high-school athlete (15% of total customers). Second, weekend warriors made up 7% of customers.
(No word on the percentage of Gatorade customers comprised of hung-over college frat boys. I know a few guys that raided local 7-11's on Sunday mornings between 1994-1998 – but I won't name names. Then again, perhaps this falls into the weekend warrior category?)
Now at just 22%, it might not sound like these two groups were dominant Gatorade consumers. However, the data also showed that the high-school athletes and weekend warriors were responsible for 46% of all Gatorade sales. Put another way, almost half of total sales were coming from just one-fifth of all Gatorade drinkers.
Those were Slam Dunk Customers.
At this point, Robb O'Hagan made a bold move. She decided to flip the Gatorade advertising model from going after the mass market to only concentrating on these two groups. Modeling Nike's approach, she decided to ignore everyone else and re-brand itself as a company devoted to athletic prowess.
Part of their new blueprint was to begin supporting training groups organized by local running stores. That's where the Slam Dunk Customers were training with products they would use in their weekend warrior races, and Gatorade wanted to make sure it was their products being used in preparation. Robb O'Hagan also dramatically cut television advertising (from what was once 90% of their budget), even dropping their annual Super Bowl ad from the mix, while increasing niched digital marketing to 30% of all promotions.
Gatorade also re-tooled their product line based on the needs of the SDC. Gone was the emphasis on dozens of Gatorade flavors, and in was a focus on products that delivered pre-, during, and post-training nutrition – all delivered in a 1-2-3 system.
The results speak for themselves. It's 2011 sales increased to over $3 billion, a gain of 9% year over year. Analysts attribute the boost in sales to a better understanding of the Slam Dunk Customer (although, of course, they didn't use that term).
That's the power of understanding your Slam Dunk Customer. First, as proven by Gatorade, you connect with them better, develop their trust, and get them to invest more in your products.
But there's another reason, not discussed in the Gatorade article, that makes knowing your SDC so important. However, this was covered in great detail at Dan Kennedy's Mailbox Millions event.
When you know your Slam Dunk Customer, it allows you to create profitable, targeted advertising. No longer do you need to go out and advertised in expensive mass market media. Instead, you can focus on delivering your message in cheaper, targeted media.
For example, instead of buying a small, costly space ad in your metropolitan paper, perhaps it would be better to buy a cheaper, one page ad in a smaller hobbyist journal that is read by your SDC.
In addition, once you know the demographics of your SDC, you can start to use direct mail, wisely. Again, this allows the elimination of the expensive shotgun approach (i.e. mailing postcards to your entire city) and replacing that with targeted direct mail of specific zip codes or household incomes (there are plenty of data services that offer you this information).
If you don't know a lot about your SDC, start with a survey. Give them an incentive to reply. Ask a few questions that you know they'll answer. And, just as importantly, pay attention to what they tell you in their feedback to you (whether it is online or in-person).
Once you know your SDC, you'll literally have cracked the marketing code for your business, and your profits will take off while your expenses can be reduced.
[
Ed. Note.
Craig Ballantyne is the Editor of EarlytoRise.com and Financial Independence Monthly. He also coaches executives of companies with sales over $1 million. Later this summer, Matt Smith and Craig will be offering a new virtual private mentoring program for
Financial Independence Monthly
subscribers.]