Best Delta 8 Carts
Best Delta 8 THC Carts
Delta 8 THC Vape Cartridges
Buy Weed Online
Best Delta 8 THC Gummies
THC Gummies
Best THC Gummies
Best Delta 8 Gummies
Area 52 Delta 8 THC Gummies
When to do Cardio (surprising)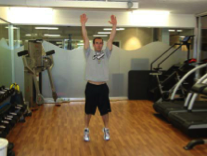 Here's the best Christmas present I could give the whole world…
… the TRUTH.
And the most shocking truth I know?
You never have to do slow, boring cardio EVER again.
Earlier this year I signed a deal to write a hardcopy book about The Cardio Lie.
Unfortunately it won't be out until late 2016 (traditional book publishing takes FOREVER), but my co-author, Chelsea Bush, and I have already submitted several chapters and all of the workouts. Our editor LOVED what we sent her.
Wish I could give you the entire book now…
… but you're probably wondering, "Craig, if you say to AVOID cardio, then why did you promise me a cardio workout in today's email?"
Ah, great question, young grasshopper. No wonder you are on Santa's Nice List.
The answer… is NEW-school cardio.
Research, from some of my fellow Canadians, found that you can boost your cardio fitness in just 4-minutes with bodyweight exercises, and that this boost in fitness is even better than the improvements from traditional 30-minute slow (and boring) cardio workouts.
That's great news for this busy time of year… and every day that ends in a "y" as far as I'm concerned!
Bally the Intervals Dog doesn't like doing cardio either. It cuts into his nap time too much. But he also knows the best time to do short, burst workouts like the one below is as close to a meal as possible.
When you do 4-Minute cardio before a meal, your metabolism is burning fat like a steel factory furnace, and your muscles are sucking up the food you eat like a Dyson vacuum (so the calories don't get stored as fat). That's why the 4-Minute Cardio program is perfect for pre-Christmas dinner.
[If you do this on Christmas day, we'd love to see your photos! Bonus points for wearing a Santa hat.
]
The 4-Minute NEW School Cardio Christmas Workout
– Do each exercise for 20 seconds and rest 10 seconds.
– Repeat the circuit twice for a total of 4-minutes of fat-burning NEW-school cardio.
1) Total Body Extensions
2) Jumping Jacks
3) Burpees
4) Run-in-Place
Heart Rate and Metabolism = Elevated Through the Roof!
Enjoy.
Oh, if you want more no-equipment home workouts like these, grab all of them as a stocking stuffer (for yourself) here:
51 No-Equipment Workout Videos to Burn the Christmas Fat
Taking care of your cardio,
Craig Ballantyne, CTT
Certified Turbulence Trainer
PS – Bally "barked" you this Christmassy poem…
'Twas the week before Christmas, with Bally the Dog,
No boring cardio was done, not even a jog,
The TT stockings were hung by the squat rack with care,
In hopes that St. Nicholas soon would be there;
Bally the Pooch was nestled all snug on his bed,
While visions of chasing cats played in his head;
When out in the garage gym there arose such a clatter,
And Bally sprang up to see what was the matter.
There was a chubby ol' man moving lively and quick,
Doing new-school cardio & his name was St. Nick.
His technique was perfect, no two movements the same,
He whistled and shouted and called them by name;
Now "Squats" and "Pushups" and ol' "Burpees" too,
He even called out "Chinups" and then did a few.
Up to the roof-top he climbed and he flew,
With a sack full of protein and kettlebells too.
And then with a squat jump I heard him land on the roof,
With each minute of circuit his belly fat went "poof."
He got slimmer and slimmer and down the chimney he slid,
By the time he hit bottom his pants were un-did!
As he pulled out the presents from his giant red pack,
He huffed and he puffed waiting for his wind to come back.
His cheeks were quite rosy from his quick little bout,
He smiled and winked, and said, "Well, time to head out."
I laughed when I saw him and gave him a post-workout snack,
After he finished filling Bally's stocking with more toys from his pack.
And laying his finger aside of his nose, And giving a nod, up the chimney he rose;
He got back in his sleigh, and as he drove out of sight, he yelled,
"Happy Christmas to all, and to all a good-night."