If You Want to Be Happy, Emulate Happy People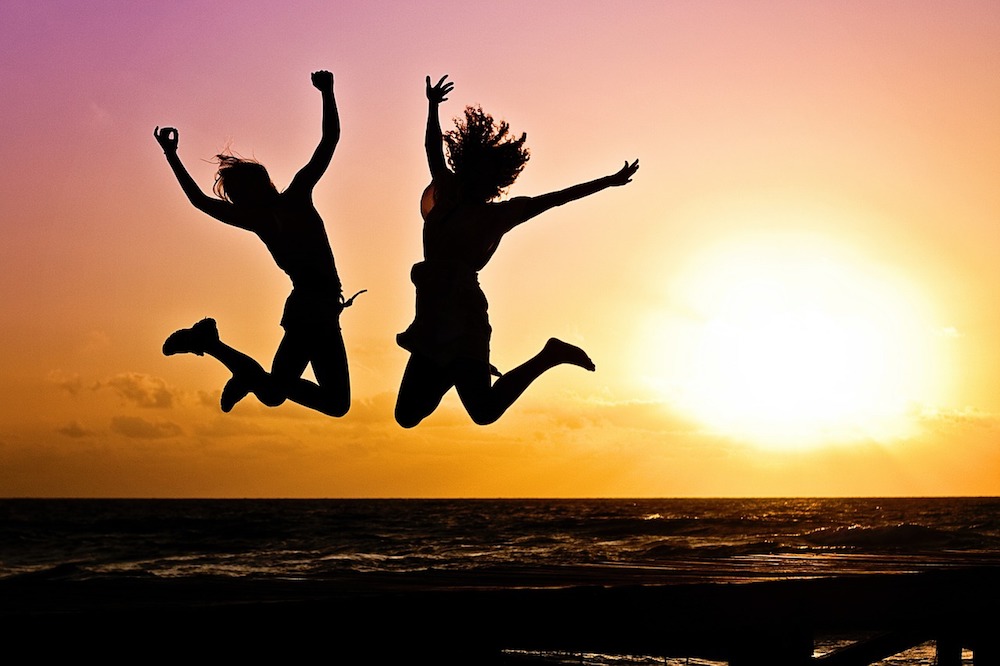 Want to live a happy, fulfilling life? Believe it or not, it's not your job, financial situation, health, or any other external factors that are holding you back. It's you.
In fact, just 10% of the variations in people's happiness levels are due to their circumstances, according to research by psychology professor Sonja Lyubomirsky, known by her colleagues at University of California-Riverside as the "Queen of Happiness."
What's behind the other 90%? Genetics—which you can't change, of course—account for approximately 50% your happiness, according to Lyubomirsky. The other 40% of the equation is entirely up to you.
How do you make the most of that 40%? Lyubomirsky argues that the key to happiness is studying the behaviors and activities that happy people engage in. It might sound too easy, but becoming happier is as simple as doing what happy people do.
How to Get Happy
It's really not that difficult to live your best life. It's a matter of taking care of your body, keeping life interesting, and recognizing your own achievements. Here's how happy people do it:
1. Fuel your body with healthful food.
Have you ever tried juicing? No, I'm not talking about steroids. I'm talking about blending fresh fruits and vegetables into delicious, nutritious concoctions. If I weren't juicing, I'd need to pack two to four servings of fruit and three to five vegetable servings into my days to get my recommended daily allowance. That's a lot of eating—more than I have time for in a day.
How can a beverage help you get to a better life? Fresh juice offers a huge array of health benefits. As an example, your digestive system contains nearly three-fourths of your immune system. By incorporating vitamin C-rich foods—such as citrus fruits and cruciferous vegetables—into your juices, you fight free radicals and inject antioxidants into your diet.
2. Get fit.
After 31 years, Meb Keflezighi became the first American to win the Boston Marathon. How'd he do it? Simple: He committed himself to the hard work of fitness-building—to tireless, relentless execution of a goal.
But the reasons to get fit go far beyond marathons. Jeremy Sibold, professor of rehabilitation and movement science at the University of Vermont, recently found that 20 minutes of moderately intense aerobic exercise can boost one's mood for up to 12 hours.
Personally, I've used exercise and hydrotherapy since childhood to stay healthy. Taking my cue from the Finns, I take hydrotherapeutic showers, in which I alternate 30 seconds of cold water with 30 seconds of hot. After a couple of cycles, I feel exhilarated, my blood vessels are open, and I'm more focused for the day.
Lyubomirsky argues that the key to happiness is studying the behaviors and activities that happy people engage in. It might sound too easy, but becoming happier is as simple as doing what happy people do.
3. Take a risk.
This spring, I had the once-in-a-lifetime opportunity to run the Paris Marathon. Then, the following day, I learned how to make croissants with my girlfriend at La Cuisine. These divergent activities pushed my mind and body, and made for a thrilling trip. (The warm, buttery pastry didn't hurt, either.)
If you're looking to escape your comfort zone, check TripAdvisor to discover fun things to do in your city. If you like to bike and run, find an adventure indoors—like board-game sessions or local acting groups. On your way, pull up Spotify's Discover playlist for some fresh tunes. Whatever you do, don't discount something until you try it!
4. Celebrate successes.
Focusing on failures obviously isn't conducive to happiness, but it's not enough just to recognize your successes, either. Actually celebrate your achievements. Don't be shy: Shout them out, grab some friends, and go reward yourself.
Believe it or not, celebrating success doesn't just make you feel good; it also brings bigger achievements within reach. A European study found that when individual soccer players celebrate after a successful goal, the entire team's performance improves.
So how do I like to celebrate? After setting a new personal best of 2:56:32 in the Paris Marathon, I hit the City of Lights with my girlfriend. We went rowing at the Château de Versailles, visited the Arc de Triomphe, ate lunch in the Parc des Buttes-Chaumont, and had rooftop drinks at a Champagne bar overlooking the city. Spending time with loved ones was a sweet reward after the race.
---
---
5. Set new goals.
What motivates you? Are you passionate about leaving a positive mark on the world? Providing for your family? Doing your best job at work?
Whatever it is, don't listen to the naysayers. Envision yourself accomplishing your goal, and then go for it. As a runner, I always set three-tiered goals for myself, and I visualize hitting (or even exceeding) my top one. Knowing I'll succeed spurs me to run faster and push through the pain.
It doesn't matter that you might not achieve your goals. Simply by setting them, you'll learn from both successes and failures. For example, I recently trained for a triathlon in Boulder, Colorado. I spent a lot of time training, and I came in seventh in my division. Sure, I wasn't first, but that wasn't the point. I put in the work, and I was rewarded with a new, unforgettable life experience.
#
No matter what life throws at me, caring for my mind and body are my top priorities. I've come to love my life and relish true happiness. With a little self-care, you can, too.