Two Fat Burning Recipes from Flavia Delmonte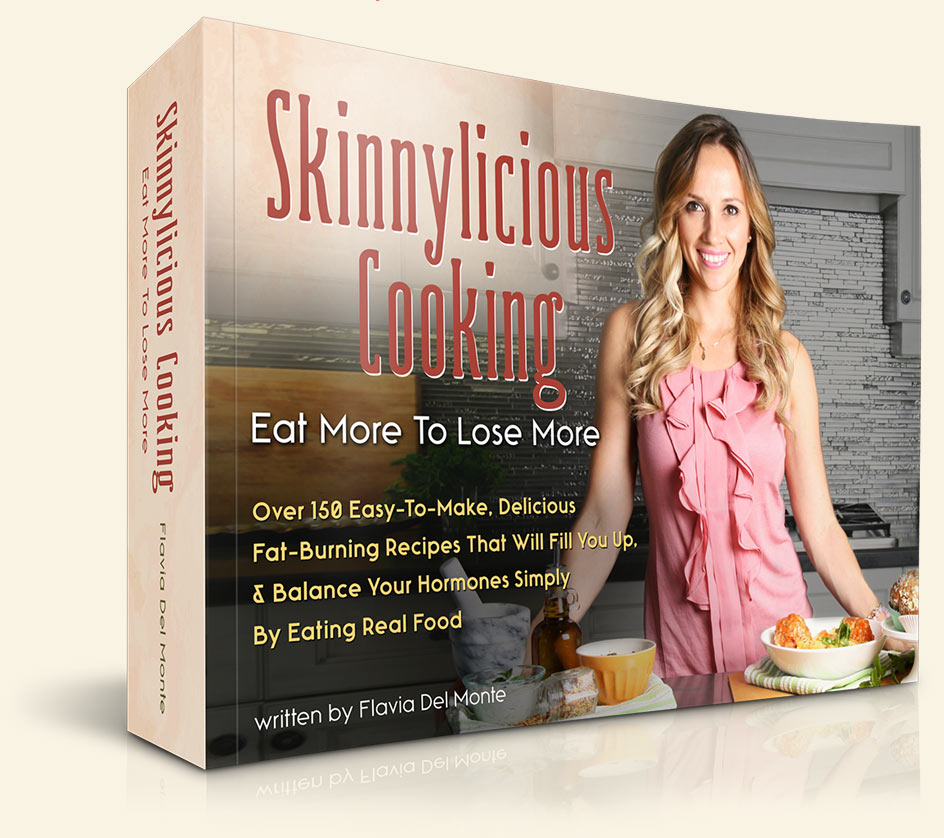 I am a kitchen clutz. I have the burn scars to prove it. (I forget to use oven mitts, I splash hot oil all over my arms, and then I forget stuff is on the stove.) Ooooops!
But I can eat!
And I can make this and eat it, too. It's awesome. This recipe is from my good friend, Flavia Del Monte. She's so awesome, and so is her baby girl, Milia, who was born with the most hair of any baby ever!
Like Flavia, I don't count calories. You don't have to do that when you eat REAL food. Flavia is a Registered Pediatric Nurse, a female fitness expert and a brand new mom. You might have seen her in a fitness magazine…
…or a kitchen, because for the past 2 years she's been working with a professional chef and "arming" herself with easy-to-make, allergy-friendly, fat-burning recipes that are DELICIOUS. Her goal is to teach people how to lose weight just like she did: without starving, without eating tasteless foods and without counting a single dang calorie…ever…even once!
That's why I want to share an awesome recipe from Flavia's brand new cookbook Skinnylicious Cooking (and it's on sale for 60% off today!)). . .
You can make a few days worth of this on a Sunday, and then leave it in the refrigerator for the entire week. Her recipes also use specific ingredients to BALANCE your fat burning hormones, which is the #1 KEY to keeping your body in "fat burning mode" so you can eat until you're full and love your body along the way .
If you're looking for some brand new recipes to accommodate your crazy schedule, then pick up a copy of Flavia's brand new Skinnylicious Cooking cookbook. Her book teaches you how to Eat More to Lose More!
Remember, when you grab it today, you'll be getting a 60% discount because she's celebrating her book's new release.
=> 60% Off Skinnylicious Cooking + Sweeeet Bonuses! <= You'll Love It!
And one more thing…
Anyone who orders today will also grab a very special bonus video called "How to Cook 15 Meals in 50 Minutes!"
This video was created alongside Professional Chef, Amy Stoddart, who unpacks her 10 years of culinary skills into a 50-minute step-by-step 'speed cooking' video. This information would even impress my mother who loves to spend every single minute cooking and watching cooking shows.
This one bonus will SAVE you hours each week!
=>Learn How To Cook 15 Delicious, Healthy, Meals in 50 Minutes <<< Amazing Bonus!
Yummy,
Craig Ballantyne, CTT
Certified Turbulence Trainer
PS – This is even BETTER!
Skinnylicious Cooking (and it's on sale for 60% off today!)). . .
And if anyone wants to make a dozen or so coconut balls for ol' Craiggy the Kitchen Clutz, well, I wouldn't object. In fact, I'd be honored to eat them.
Have a delicious day.
For tomorrow…we train hard!