Turbulence Training Success Stories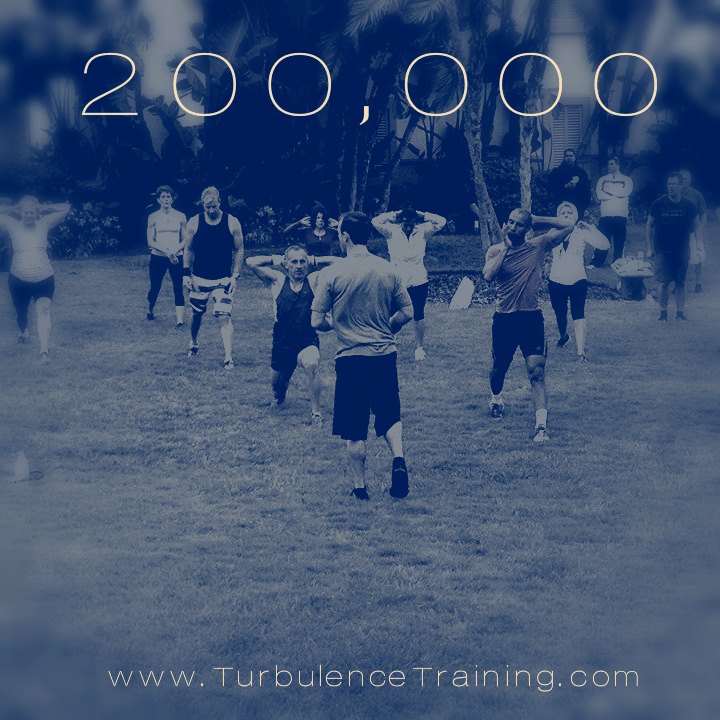 Turbulence Training now has 200,000 fans on Facebook, thank you!
Here's why so many men and women all over the world love Turbulence Training:
You guys post so many inspirational quotes, etc.! Why wouldn't you want to try T.T. if you're looking for a more rewarding life? – Lesley Phipps
It was your email last September… Comeback and Return from the Dark Days. It was the thing I needed to hear at the right time. I had a kid on the way, and didn't want to be "that guy" who was unfit and trying to raise a kid to be healthy. The thing I've loved about TT is the variety in the programs. There is literally a program for any specific goal one might have. Being able to change programs frequently keeps me from feeling stagnant. I never get bored with a program, and if I feel like I am, then I just change. Also, having a little one at home means workout time is limited. The workouts are so focused that I'm usually done within 45 minutes. – Gilbert Proulx
 I have been with you for several years and continue to stay with you. I absolutely know your system works as long as you do the work. And if it didn't work I would find something else! – Steve Allison
Because TT is for everyone, it is enjoyable and makes exercising realistic for the everyday person. With inspirational people leading the journey. 200k down with alot more to follow.- Edward Hodgson
I didn't have time or money to go to a gym. I can use the HWR at home in my basement and the short workout makes it easier to get it done. Thanks. – Scott Carpenter
I was a starving writer (still am) who ran across two free workouts on Fitness Blackbook.com. That was in 2009 and I still use them. At 46 years of age, body weight workouts still help keep me lean. – David Spillett
I purchased Turbulence Training back in January as an early birthday present to myself. I was an overweight and overwhelmed mom. There were 3 main reasons that caused me to give the workouts a try. The first was that the workouts were short. I was not interested in working out for an hour, 6 days a week like some of the other video products available. Secondly, I could do the workouts at home. At the time I was too overwhelmed to even think about going the gym. Finally, and most importantly, were the previous Transformation Contest winner's pictures and essays. The pictures were of real people getting real results. 8 months later and the changes in my body composition and state of mind is amazing. (P.S.-I don't need a prize. I already have a membership and have every intention of purchasing a gratitude journal. I Just didn't want to be left out of answering the question!) – Leslie Williams Millican
I learned a lot from you even though I have a certification through ace I believe you taught me a lot more than the books alone could do you explain the why not just the how! – Samuel Graham
I've seen what bodyweight exercises could do for others. – Deborah Fraley Fletcher

I needed exercises that I could do especially when I'm on the road and no fitness center at my disposal. Love body weight training!!! – Rachel Vis
It is a real workout! from a normal guy no fuss. .no silliness. .straight to the point.. extremely motivated. .. give you the responsibility of be in charge but he is always there – Erika
A friend said Home Workout Revolution would be hard to do, but easy to stick to. She was right! Loving it! – Rayven Michelle
 I was diagnosed with Graves disease last year. My thyroid hormones are up & down since then. your workout kept me from gaining too much weight when I'm hypothyroid without spending the rest of my day working out. I am very thankful, your workout fit my busy life & I just had a recent doctor's checkup & my weight is stable – Richel Mayberry
I have never tried TT, I have a goal next year that I cant reveal to everyone (all hush hush), trying to find sponsors too so by the reviews I need to give this a go. Ive tried many gyms, many workout programs and haven't found something that works for me. – Kym Markwell
Vital I was tired of all my other workout videos. Working out for 1 hour a day, 6 days a week and not seeing a big change. I really liked that virtually no equipment was necessary and they were great workouts that would make me strong. I can do them anywhere too. I love the support, variety, and this page with all the encouraging words daily. I really like the Q&A sessions on here too. I do TT and looking to purchase home revolution next. – Maribel Hernandez
I need to try something different as i m spending 10hrs/week at the gym with good results at the begining but now i ve reached a "plateau"… and being in very good shape i can try most of yr advance versions which is still a sign that i ve accomplished a lot in the past 12months..now moving to this new tt challenge. I read every letter, read all advices…to understand and develop new knowledge tks for all yr great energy – Christine Gelinas
It attracted me because it's short intense burst of exercise , that can sculpt your entire body in a short period of time. – Dee Carwell
I tried one of your 4-6 minute workouts just to see how it worked. I ended up loving how good it made me feel and loved the visual changes in my body.  – Stacey Krzywanos
Tried because I appreciated your no nonsense, hard work and train smart approach. Think I heard of you through Holly Rigsby. Love following your workouts and also your FB posts – Ainslie Berg
I was hooked after trying the free 12-minute workout. – Nathan Waldron
You have some easy workouts that I get the family involved with exercise. I am always referring folks to Turbulence Training. I tell them five minutes and out the door situation. – Diana Acosta
Makes it very easy to fit into a very busy schedule – Susie Q Kothari
I had good results with your HWR so I decided to upgrade to Turbulence Training. I just started it last week, and I'm loving it so far. – Nathan Meece
I am getting "bingo" arms. Girl can't have that. Needed a workout at home. Just started today! I see transformation in my future! – Maria Cina
He sure does – so do you – I have done this for a year…sometimes I can even cut it down to two days a week and eat what I want, fast, and still look decent – can you get a free turbulence training water bottle? Haha joking. Thanks Craig you rock and so do your blogs! – Abe Chaukla
After years of old school bodybuilding splits and stress fracture causing cardio, TT seemed the most sensible way to achieve the physical condition I was after. And after more than seven years of TT I wasn't wrong. – John Magovern
Been having difficulty finding the time to get to the gym and when I get there, the space to do a quick workout. Found your videos on Youtube and have been integrating them into my daily routine. – Tammy Yamauchi
Join us on the TT Facebook page here!
Thank you so much,
Craig Ballantyne, CTT
Certified Turbulence Trainer