This is the ONLY Mac & Cheese Recipe You Need For Fall (and, Shhh… It's Good For You!)
When it comes to the most popular and well-loved comfort foods, macaroni and cheese tops the list!
It's also a great choice if you've got children — but not the boxed varieties. They're loaded with preservatives, processed cheese products, and sodium.
This recipe improves upon the classic dish, with slight smoky flavors, and the sneaky addition of kale, which provides unique flavor, fiber, and nutrients. Shhh, the kids will never know!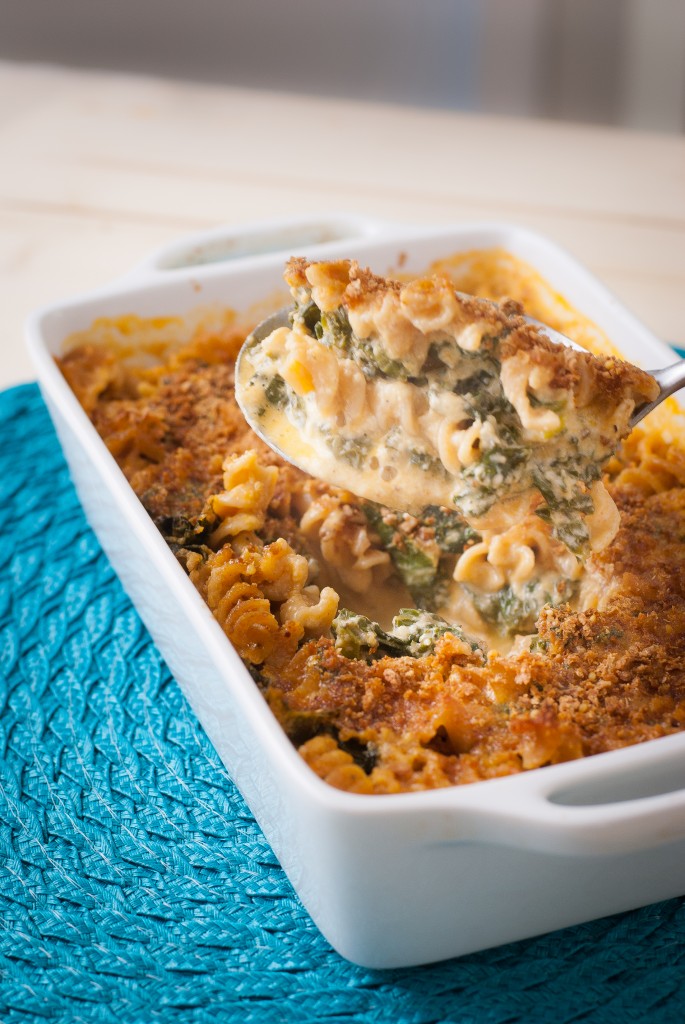 Mac and Cheese & Kale
Active time: 25 mins. | Cook time: 30 minutes | Yield: 4 servings
Nutrition: 380 calories, 17g fat, 43 g carbohydrates, 18g protein, 9 g fiber, 12 g sugar
Quick tip: I know mac and cheese is a classic dish that purists fiercely protect. Yet, to make it fun, try other cheeses, add vegetables, and spices. Nutmeg, for instance, works very well with it.
Ingredients:
4 tbsp. whole-grain, unsweetened cereals (such as Ezekiel), processed into crumbs
3 tbsp. extra-virgin olive oil
2 scallions, thinly sliced
2 garlic cloves, minced
4 tbsp. coconut flour
3 cups fat-free milk
4 slices smoked Gouda cheese
2 tbsp. grated fresh Parmesan cheese
3 cups coarsely chopped kale
2 cups whole-grain elbow macaroni, cooked al dente
1 tsp. paprika pinch of cayenne pepper
1 tsp. nutmeg
Salt and pepper
Preparation:
Preheat oven to 350 degrees F. Pour olive oil into a large saucepan over medium heat. Add scallions and garlic; cook 1 minute.
Add coconut flour; cook 1 minute, stirring constantly. Gradually add milk, salt, pepper, cayenne, paprika and nutmeg, stirring constantly with a whisk until blended.
Bring to a simmer; cook until slightly thicker (about 2 minutes). Take off the heat, and add cheeses and stir until melted.
Add kale and cooked pasta to cheese sauce, stirring until well blended. Spoon mixture into an ovenproof baking dish. Sprinkle with 'breadcrumbs.'
Bake at 350 degrees F for 15 minutes, or until lightly brown on top, and bubbly.
25-minute timesaver: Another awesome make ahead! Prepare this recipe a few hours or even the day before, and leave step 5 for dinnertime. If you do, please increase the ratio of sauce vs. pasta, or the pasta will end up absorbing most of the sauce, and dry things out.
Options: In this recipe, you can replace kale with spinach or any leafy greens. You can also substitute cheeses, too. Try part-skim mozzarella, romano, or ricotta. Try whole-grain rotini pasta if you're making it for the kids. But feel free to play with the shape of pasta. For a gluten-free dish, simply switch to gluten-free pasta.
This recipe appears on page 196 of Chef Gui Alinat's Eat More, Burn More. It is just one of 100 recipes from the cookbook. For Chef Gui's delicious black kale chili recipe, click here.
For more than 20 years, Chef Gui has cooked around the world, from French restaurants to the homes of the rich & famous. He also cooks delicious comfort foods at home, on a budget, for a family of seven.
His cooking secrets transform favorite recipes into fat-burning meals that you can OVEREAT and still lose weight — without sacrificing taste or requiring fancy, expensive ingredients.