This 1 Habit Hack Increases Your Productivity and Success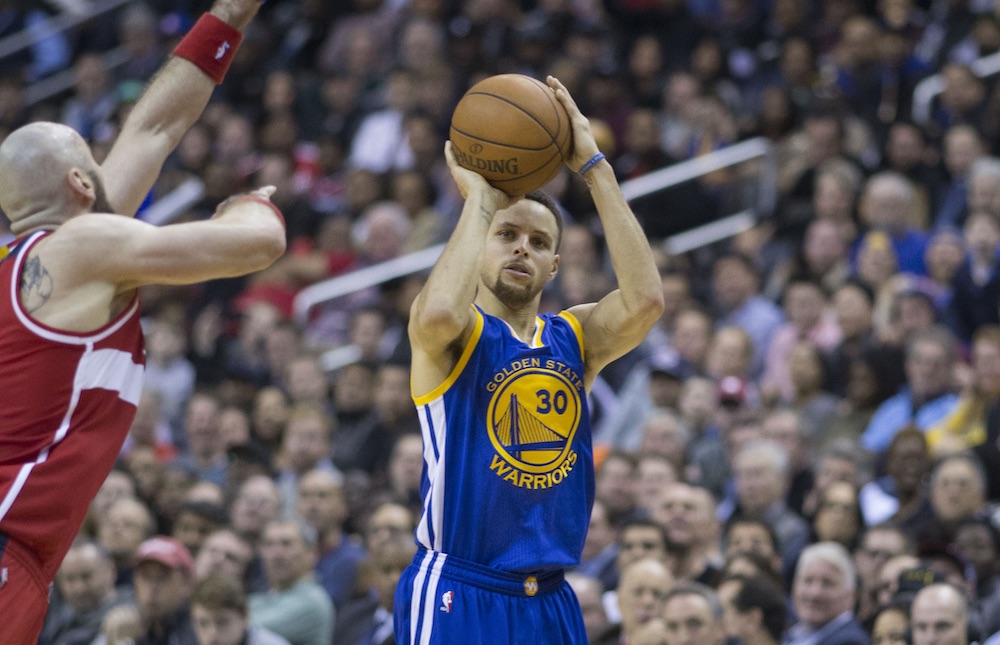 Have you ever heard the success story of basketball star Stephen Curry?
"At basketball camp, while every other player was still lounging in flip-flops and wearing headphones, Stephen Curry was completing 150 practice shots before the workout started," says Alan Stein, one of Curry's strength and conditioning coaches.
Now a Golden State Warrior and a two-time NBA MVP and 4x championship winner, Curry's habits definitely paid off.
Success wasn't a given, however. Curry was a mere 5'6" his sophomore year of high school. It didn't help that he looked about 10 years old. And when he graduated high school, there wasn't a single college willing to give him a basketball scholarship.
A future in professional basketball seemed highly unlikely.
But Curry was committed to landing in the NBA. So, he spent his basketball camps practicing before AND after every practice. 
"The most impressive thing that he did," Stein remembers, "was as soon as every workout was over, he would not leave the court until he swished five free throws in a row. Do you know how hard that is?
"That's the level of excellence he holds himself to. The moral of the story is that success is not an accident. Success is a choice. Steph Curry is one of the best shooters on the planet today because he made the choice to create great habits."
We've all heard stories like this. 
Arnold Schwarzenegger trained in the dark of his army barracks (after "lights out" to avoid detection) before his first bodybuilding competition.
Michael Jackson spent countless hours practicing his singing and dance moves as a child.
Beyonce Knowles used to run laps while singing so she could build stage stamina to avoid exhaustion during shows. 
These icons all built their success stories the same way—by building discipline through good habits. 
How? By using a technique called "habit stacking," named by entrepreneur Cathryn Lavery.
As Lavery explains, the formula for habit stacking looks something like this:
Before [CURRENT ACTIVITY/HABIT], I will [NEW ACTIVITY/HABIT].

After [CURRENT ACTIVITY/HABIT], I will [NEW ACTIVITY/HABIT]. 
Let's use Stephen Curry as an example. In his case, the habit-stacking formula would look like this:
"Before every team workout (current activity/habit), I will take 150 shots (new activity/habit)."
"After every team workout (current activity/habit), I will shoot 5 free throws in a row before I can go shower (new activity/habit)." 
Now, you're not likely to be aiming for NBA recruitment, so let's take a look at some everyday habits that you might stack.
For example…
Before you brush your teeth (current activity/habit), you can floss your teeth.
After you brush your teeth (current activity/habit), you can drink two cups of water (new activity/habit).
That's three good habits—including two ones—stacked on top of each other! 
Let's take this a step further and apply habit stacking to your productivity, focus, and "deep work." Take a look at the habits below—these are ones that that I've taught for years. But if you're having trouble getting the habits to stick, stack them with other good habits to ensure your habit-building is stronger.
Here's what I mean:
Limit phone time
I've written a lot about how your smartphone can sap your attention and hamper productivity. Even if people admit to this, they have a hard time separating themselves from their devices. 
If that sounds like you, try these techniques:
Before you get up in the morning, spend 15 minutes meditating (instead of checking email).
After you get up, take 30 minutes to exercise (instead of responding to emails).
Before you get ready for bed, set a "device off" alarm, reminding you to turn your phone off.
After you get ready for bed, put your phone (still turned off) in a drawer outside of your bedroom.
Write for your business
Many of my clients are in the process of writing a book. Many others are keen on writing one to demonstrate authority in their field. If you have a writing project in the works but struggle to make time for it, then it's time to stack some habits.
Try this:

Before you drink your coffee (or eat breakfast), take 15 minutes and write 1,000 words for your book.
After you drink your coffee (or eat breakfast), sketch out 2-3 ideas for your writing the following morning. Set these on a notepad next to your coffeemaker.
Be continually grateful
The frenzy of entrepreneurship affects us all, but nothing kills the joy of building your own company than a mood without gratitude. Gratitude is key to building strong relationships and developing a community around your big idea.
If you need to some help with that, try this:
Before you get in the shower, write down (or think of) 3 materials things you're grateful for.
After you shower, think of 3 people you're grateful for.
Keep this going throughout your day, sparked by various good habits already ingrained in your daily routine.
Read more
Recently, I wrote about the incredible value of reading 7 books at a time.  I know that sounds like a lot, but you don't have to commit to 7—just 2-3 articles or books every day that expand your mind.
First, decide what kind of content you want to read, then try this:
Before you leave the house in the morning, set your chosen reading material on your computer keyboard at home.
After you get home (and before you jump on the computer), open your book/article and read for 30 minutes. Be sure you keep your computer turned off!
#
I think you get the idea. None of the habits above are particularly sexy, but neither is shooting baskets for 30 minutes before every practice.
No one will ever give you an award for getting to bed on time every night or finishing a book, but these are the habits that set you up for championship results in life.
Good habits done daily are what separate the best from the rest. Stack those habits and you'll be well on your way to a high-performer, success-rich life.
You know what else sets you up for a high-performer life? An ironclad Morning Routine…
Sign up now to get our FREE Morning Routine guide—the #1 way to increase productivity, energy, and focus for profitable days. Used by thousands of fitness, business, and finance industry leaders to leapfrog the competition while making time for the people who really matter. Learn more here.