The TRUTH About Coconut Oil and Weight Loss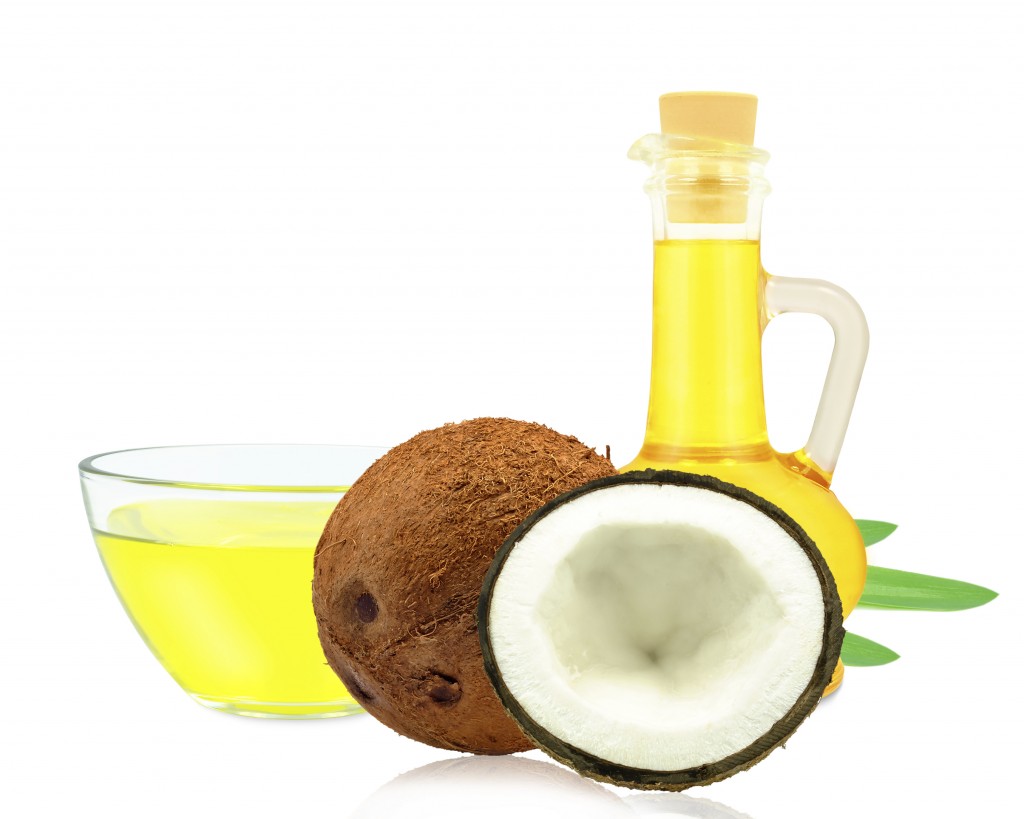 Hey, this is a SPECIAL Sunday nutrition alert. Ol' Bally the Exercise Dog and I are taking the day off to lie around like he ALWAYS does, so I called upon our Director of the TT Certification, Daniel Woodrum, to put together this article on the TRUTH about coconut oil.
I'll be reading this while eating my breakfast bowl of coconut oil, walnuts, almond butter, and a banana. I really like the Naked Coconuts brand of organic virgin coconut oil, and today Daniel will show you why you should too. Enjoy! – Ol' CB
***
The TRUTH About Coconut Oil and Weight Loss
By Daniel Woodrum, CTT
I couldn't believe my eyes! What in the world did I just witness?
Were my eyes playing tricks on me? I had to do a double take just to be sure I wasn't seeing things.
This was the scene on Monday night in the Woodrum household. I was cooking dinner on the stove trying to be a good husband. My phone rang and I stepped out of the kitchen for a brief moment.
As I came back in the kitchen I saw the most unbelievable thing ever.
My crazy dog Reese had her paws on the counter and was licking out of the coconut oil jar. I stood there frozen for a few seconds before yelling at her to get down. No wonder Reese is so lean and healthy!
Thank goodness we had a couple more jars in the pantry for backup.
Coconut oil has taken the world by storm over the past couple of years. And apparently even dogs are catching on.
I'd like to share with you some major health benefits associated with coconut oil, plus I'll give you 5 unique ways to consumer more in your diet.
Research shows that people who consume coconut oil reduce their chance of suffering from a lot of modern diseases such as heart disease, diabetes, and cancer.
One reason being coconut oil is nature's richest source of lauric acid. This is a natural saturated fatty acid that helps protect your heart by reducing cholesterol and enhancing your HDL cholesterol, the good kind! I bet Reese has great HDL!
And that's just the beginning…
Here are several more health benefits of coconut oil:
Coconut oil can increase energy expenditure helping you lose more fat
Coconut oil contains a unique combination of Fatty Acids
Coconut Oil can help kill bacteria, fighting off infections
Coconut oil can help improve blood cholesterol
Coconut oil can help protect against hair damage, and moisturizes your skin
You might have noticed that many of the most popular recipe books use coconut oil for baking. That's because coconut oil has a long shelf life and a melting point of 76 degrees (perfect for baking). You can get delicious fat-burning recipes from these 3 top fitness chefs:
Diana Keuilian, The Recipe Hacker
Flavia Delmonte, The Fitness Model Chef
Chef Gui Alinat, Eat More, Burn More
One of the common myths is that coconut oil is high in saturated fats and should be avoided, but the naturally occurring fat in coconut oil is  healthy.
Here are 5 Unique Ways to Consume Coconut Oil:
Put a tbsp of coconut oil in your skillet when cooking. It's great to cook meats, vegetables and squash. I even like to add some in my already cooked meal to add extra flavor.
Coconut oil goes great in smoothies. The coconut oil gives the smoothie a nice taste. The good news is if you're not a big fan of the taste you can add some fruit and protein powder to help mask it.
Use it in your breakfast bowl. I got this idea from Craig and I'm hooked. Yesterday morning I had blueberries, coconut oil, pecans and ½ scoop of protein powder. Yummy!
Sweet potatoes and coconut oil is an awesome combo. I like to cook a couple of diced sweet potatoes with coconut oil and cinnamon. It's the perfect healthy dessert.
If you really love it you can just eat it out of the jar like Reese. Just be sure not to double dip
That should give you some great ideas on how to use coconut oil. I suggest trying to get a tbsp per day using these different methods. Just be sure you don't go too crazy as it is still high in calories.
I want to hear from you! Do you have any unique suggestions to use coconut oil (Reese is curious)?
Please share on our Facebook Page
And that's the TRUTH about coconut oil.
Enjoy!
Daniel Woodrum, CTT
Director of the TT Certification
PS – If you're ever near Charleston, South Carolina, stop in at…
…our Fit Body Bootcamp in Mt. Pleasant and say Hi!
PPS – And if you want to become a Certified TT Trainer…
…Please watch this video Craig made for you
*****
Thanks Daniel!
Taking Care of You,
Craig Ballantyne, CTT
Certified Turbulence Trainer
PS – It's never to late to change and to improve…
Surround yourself with people who are better, smarter, happier, stronger, fitter, wealthier, friendlier, funnier, and wiser than you. Hang around people who are more successful, more disciplined, more family-oriented, more connected, more experienced, more energized, more loving, more relaxed, and more generous. Learn from everyone.