Why The Rich Have Big Libraries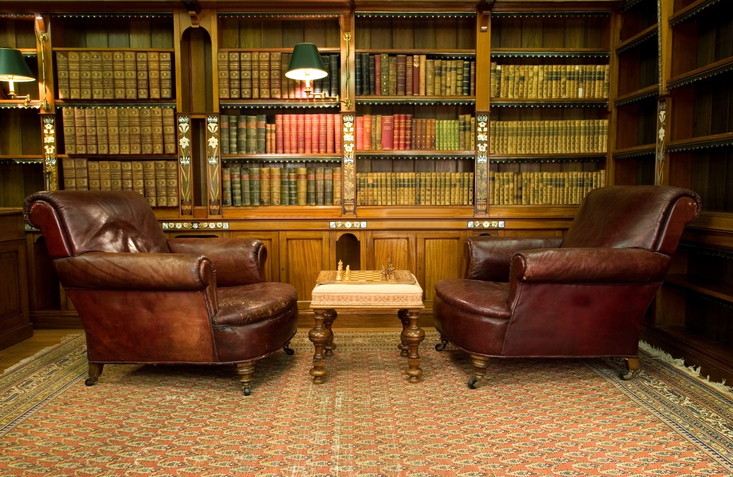 Over the last two days I've been going fully transparent to share with you what I believe makes someone truly successful:
Knowing your purpose

Knowing whether your impediment is an issue of skill or commitment
If you learned nothing else from me, you could use these two ideas to figure out how to achieve any goal you set your mind to.
But that process would be long, arduous, and you would be wasting your precious time by reinventing the wheel.
Instead, you need to do as rich people do and build a big library.
Why The Rich Have Big Libraries
If you've ever been to the house of a successful person, there's one thing you can't help but notice:
Their library.
Filled with hundreds of books on a variety of topics, the library is at the heart of a rich person's success.
Here's why…
The library is their "shortcut" to success. It's their collection of proven systems, designed and proven by other people, that they can simply pick up and deploy in their own life.
Think about it. They aren't going to waste time figuring out what the best form of advertising is, how to count calories, or how to look after their kids. Instead they build a library, filled with the works of experts, that they can refer to at any time to identify "what to do next."
And in this way, every successful person can quickly learn and deploy the skills they need to overcome the challenges impeding their progress toward their goals.
Start Building Your Own Library
Chances are you've already done this. You've picked up a few books to help you in your goals, whatever they may be.
But if you haven't achieved your goals of success yet, my guess is it's because you don't have all the systems you need. You don't have those proven shortcuts available at your fingertips, ready to be deployed at a moment's notice.
And until you do, you'll be stuck figuring things out for yourself. (Yes, it's possible to make progress this way… but it's slow, painful, and full of mistakes.)
When I started building my own library, a lot of the REAL success systems weren't being shared.
As a result, I had to hunt down reclusive, successful people. I learned directly from them to understand what made them "tick."
This process took years of my life, seeing me spend more than $300,000 on finding these successful people at tucked away estates in Nicaragua and Panama, at race tracks in Germany, and in hidden villas in little-known getaways in Tuscany and Thailand.
I carefully took what they taught me and began applying it to my own life, noting down the results. And they were dramatic.
I sold a company. With the help of Matt Smith, I purchase the business of my dreams. My relationships with the people I care about became deeper and more fulfilling. I began traveling the world and experiencing new cultures.
Finally, I was achieving my goals faster than ever before.
All because I'd discovered the exact systems that elite and ultra-successful individuals use to achieve their goals.
Before long my friends were taking notice of the exponential success I was having. They begged me to share my newfound knowledge with them – often flying across the country to spend a day with me so they could pick my brain.
And as they applied what I learned, THEIR friends began to notice too. Before long, people I'd never met were emailing me from countries around the world, begging for my success secrets.
There was no way I could ever teach them all one-on-one as I had with my friends.
So I began filming short video courses of my own, and recording interviews with other successful people.
I would distil the knowledge shared into step-by-step systems that anyone could use to:

Build a new business from scratch, escape the 9-to-5, and free up time to live the life of their dreams (people have used what was taught in these modules to build and grow 7 and 8-figure businesses)

Finally lose stubborn fat they'd fought against so long, making them look and feel young again (remember that feeling of being invincible? It DOES come back)

Finally get through a long to-do list, taking care of those important tasks that had to be done to make life better for them and their family, using proven time management and productivity secrets to get it all done in record time, and WITHOUT burning the midnight oil or exhausting themselves
And now you can get access to all of these proven systems and courses in one place.
We call it Early To Rise University.
This Is Your "Starter Library" — And It's Waiting For You
People have paid me as much as $25,000 to learn just some the secrets in the Early To Rise University.
And their investment has been returned many times over, and their lives have been transformed:
"If you want the focus and strategy you need to dominate in your career, then Craig's Perfect Day Formula is for you! This (Formula) has given me the financial – and time – freedom that I had always dreamed about. And thanks to Craig's system I have an even bigger plan in place to take my business to the next level."
– Tyler Bramlett, Fitness Expert
"The principles you'll learn in Craig's system are essential for every busy entrepreneur, as well as any busy parent who wants to feel accomplished each day. It has not only changed my life, but the lives of my children as well."
– Isabel Del Rios, Co-Founder, Beyond Diet
"It might feel like a stretch to imagine having a perfect day, but when you learn how to master the ideas Craig shares in his formula and you focus on what really matters, you'll be able to make better decisions, achieve your goals and create the life you want."
– Joe Polish, Genius Network
And since I opened the doors to Early To Rise University last year, people from around the world have joined and applied what they've learned:
"Since beginning this course I've been committed to getting in the gym every single day (minus rest day) and for the last two weeks I've not missed a single session. This has been a rule I used to have years ago but getting this back into my daily life has been a massive mindset shift for me. Loving the content and down to earth reality this course is bringing back into my life!"
– Steve Beedie
"My biggest struggle has always been time management. As an entrepreneur, my daily to-do list would take up an entire page, but at the end of the day I still wasn't moving forward. Through Craig's Formula I became 10X more productive and was able to work less and still make more progress in my business, all without stressing over time. It's like a snowball effect. Win your morning and use that momentum to win the afternoon and you've set yourself up for an evening of relaxing family time. Now, instead of waking up and feeling overwhelmed by everything that needs to get done, I wake up with a sense of calm and focus, knowing that with the Formula, everything else will fall into place. Craig helped my wife and I add more structure to our days. As a newlywed and a small business owner with 6 employees, focusing on what I can control has given me more free time in my life despite having so many responsibilities. That's a powerful feeling! It doesn't matter if you're an entrepreneur, employee, busy parent, or college student, everyone will benefit from Craig's system. Trust me, it allows you more fun and freedom in your life because you're able to make time for the things you love outside of work. Use Craig's Formula and I guarantee you will see a difference in just a few days. It changed my life, and it will change yours as well."
– Daniel Woodrum, Small business owner
But unlike my early consulting clients, you don't need to pay $25,000 to get access to these systems.
If you're a driven and ambitious person like most Early To Rise readers, then you can get access to this entire library for a fraction of this price.
Normally, an "All-Access Pass" to Early To Rise University – giving you access to every single course I've produced to date, and every single course I produce in the future – costs nearly $1,000.
Even at that price, it's a steal. But as you're a reader of Early To Rise, I want to extend a special offer to you.
I want to give you immediate access to my COMPLETE library of success systems, developed from the teachings of wildly successful mentors. These exclusive videos and audio training materials will help you to become:
Wealthier, to the point where you are completely financially independent, doing whatever you want, whenever you want, with whoever you want (one of my friends has spent the last four years traveling the world while working on his business interests from a laptop)

Healthier, giving you the fitness of your college self as you quickly lose any belt-hanging fat, and start building real, lean muscle (these approaches are quick and easy to follow, don't require long hours of boring cardio, mindless calorie counting, or giving up the foods you love)

More success in achieving the goals you set, getting more done in less time, creating your dream life in a fraction of what it will take other people (if they ever get there at all)
And you won't have to pay my $25,000 coaching fee, or even the normal $997 price.
When you purchase before Midnight on Friday, April 7, you can get all these materials for only $497 (a discount of $500).
That's less than half the price.
Plus, as an "All Access" member of Early To Rise University, you'll get access to EVERY new course we sell. Just last month we gave all our members free access to a course with ETR Partner and Royalty Exchange CEO Matt Smith which sells for $497 on its own.
There's One More Thing You Should Know…
Before I give you details about the offer, I want to do everything I can to help you reach your potential and unlock the life of your dreams.
That's why, when you join Early To Rise University today, I'll ALSO send you a copy of my Perfect Day Formula Kit (worth $447) for FREE.
This limited edition Kit will be sent directly to the address of your choosing, and includes everything you need to design your perfect day and create your perfect life.
"Craig's clever The Perfect Day Formula, packaged with guides, daily action pad, journal, and pocket sized summary, is just cool. You want to get it all out of the box and get into it. There is no digital substitute for getting the 'Perfect Day' kit, spreading it all out on desk or table; handling it all. Congrats to Craig on a package well done. The Perfect Day Formula is simple and solid, selling people on the virtue of self-imposed structure for their businesses and lives."
– Dan Kennedy, The Millionaire Maker
"You can sit back feeling helpless as the weeks, months, and years continue to pass you by while nothing changes…Or you can get Craig's system to put the future of your family, health, wealth, and happiness back into your own hands. It's going to change your life."
– John Romaniello, NY Times Best-Selling Author, Man 2.0: Engineering the Alpha
How To Get Access To This Incredible Offer
This offer is only available until FRIDAY, APRIL 7.
When you become an "All Access" member of Early To Rise before then, you'll get access to all the success systems and tools in our library – the same systems and tools that others have paid up to $25,000 to learn from me.
And whenever we release new success tools and systems, you'll get access to those for FREE, too.
Plus, you'll be shipped a copy of The Perfect Day Formula Kit, worth $447, absolutely free.
Here's how to get access
Click this link,

and select whether you want to make 3 monthly payments of $197, or pay the $497 at once

Confirm your contact information is correct (this will be used to create your All Access account

Login for the first time and begin exploring your new Success Library at Early To Rise University
Get your All Access Account for Early To Rise University here before this offer expires THIS Friday, April 7th.
I don't know if we'll ever offer such a dramatic discount again.
So if you're interested, take action now before this offer expires.
To your success,
Craig Ballantyne
P.S. Take it from me — success is easier than you think.
The key difference between people who achieve the goals they set, and those who don't, is that successful people follow proven systems and principles – like the ones outlined here