Over 1721 Early to Rise readers had their say in the first (but not the last) ETR survey. Plus, since our transition, new ETR publisher Matt Smith and I have read hundreds of your feedback emails.
We want to thank you for your help.
Working with ETR is a tremendous opportunity for Matt and myself, and we want to make sure we do it right – according to you. That's why we put together the survey, and today I want to share the results and outline our plans formulated from your responses.
Now I'll be honest, I was surprised by the data. I think you will be too.
The first surprise was in simple demographics. The majority (almost 75%) of ETR readers who completed the survey were male. I expected much closer to a 50-50 split, as I've found in my fitness business.
Almost 60% of ETR readers are between the ages of 41-60.  That's not surprising given the connection we've all had with Michael Masterson, but it's great to see that over 7% of our readership is still under 30. We hope we can inspire the next generation of leaders and entrepreneurs just as Michael Masterson inspired current business and community leaders.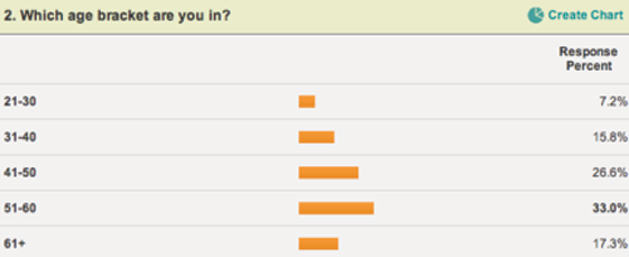 Our next question addressed your history with ETR. Both Matt and I have been subscribers for over 5 years, as have a significant portion of current ETR readers. But over half of ETR readers could be described as "new", having joined in the past three years, with over 27% discovering ETR in the past 12 months.
For those of you who are new, we welcome you to what we believe is the world's preeminent website for wealth and success information. And for our veteran readers, we thank you for being a part of ETR for so long and look forward to many more years together.

As different as our readers are in age and readership, they are even more varied when it comes to current levels of financial success. In fact, we have a significant portion of readers at each end of the income-earning spectrum – both established and just getting started.
Over 28% of ETR readers have an annual household income greater than $100,000, while over 26% have indicated that their household income falls under $40,000. This brings both great challenges and opportunities to our newsletter, as Matt and I must plan to address both levels of readership.
However, given our network of contacts and the incredible roster of past ETR authors, we know we can find great content to serve your needs and interests.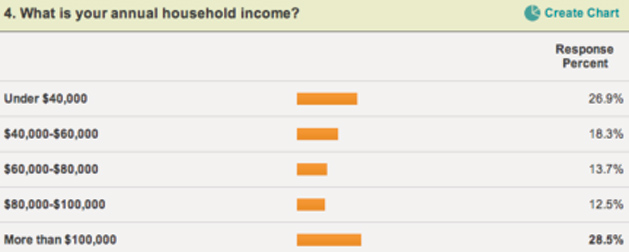 If you're new to ETR, you may wonder why we spend so much time addressing business owners. Well, here's why. Over 40% of ETR readers are self-employed, therefore we have many successful business owners among us, and we hope to hear your wisdom during discussion on the Early to Rise website.
In contrast, 28.1% of ETR readers are either unemployed or unhappily employed. First, I want to thank you for your candor. It is greatly appreciated. Second, I want you to know that Matt and I are tapping our networks and exploring alternative content markets for the best resources.
We're looking for authors who can deliver the information you need to make the improvements you desire – whether it is getting a job, making more money, or finding happiness in your career path.

Next up was one of the most important questions from the survey. The data is a little overwhelming, but the numbers are clear. ETR readers are interested in personal productivity and goal setting, improving their health, and starting or growing an Internet business.
Of course, we realize not everyone is interested in all of these topics, and therefore we'll continue to work on bringing you two powerful messages in each issue of ETR so we have a better chance of meeting your needs each day.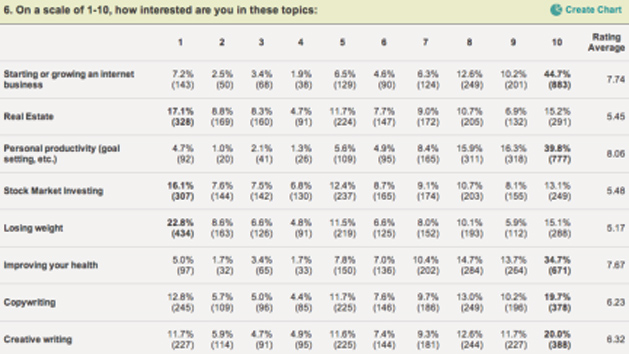 The next series of questions dealt exclusively with building an online business, and the majority of ETR readers (68.6%) currently has or wants an internet based business.
Again I'll say that this doesn't mean we'll neglect ETR readers who are brick-and-mortar business owners, or happily employed ETR readers who simply want greater productivity and help setting goals. Rest assured, you'll continue to get the help you need from great authors like Robert Ringer as well as new authors we'll be bringing to the daily newsletter.

While I won't spend too much time today on the Internet portion of our survey, it's important to recognize over 77% of ETR readers interested in building an Internet business are currently at a beginner or novice stage (and only 0.6% at genius level – I'll admit, I threw that choice in for fun).
Fortunately, Matt and I have over two decades of combined experience in building website businesses (which is a lot considering e-commerce has only been around since the mid-1990's).
We promise to bring you simplified, yet proven Internet marketing advice, techniques, and inspiration to show you that almost anyone can succeed with a home-based website business.
With many answering beginner or novice, it was no surprise to find that 79.5% of ETR readers are making less than $100 online per month right now. But what's inspiring is that over 71% would like to be making more than $10,000 per month. This was certainly my favorite response from the entire survey.


It seems the biggest obstacles to online success are finding the right niche market, creating a product for that market, and getting traffic to your website is also a major issue. Matt and I are currently working on special reports and articles to address all three of these difficulties.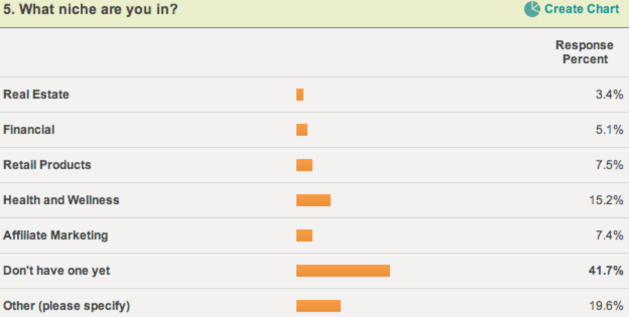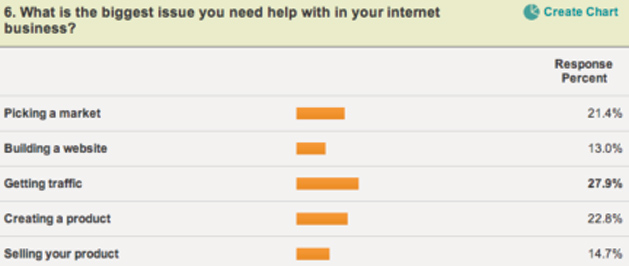 The survey ended with an opportunity for ETR readers to give extensive feedback on "What ETR means to you" as well as what you would like to see in the future. Reading your replies was both humbling and inspiring at the same time.
We take your input very seriously, and look forward to fixing what you think is broken and continuing to deliver on the promises you feel ETR has made to you in the past.
In fact, it was wonderful to hear that so many ETR readers read the daily messages primarily for motivation and inspiration, as well as a source for sparking ideas.

Of course, nothing is perfect and we thank you for sharing what ONE thing you would most like changed about ETR. Below is a compilation of the popular responses….
More focus on how to get started online
More international flavor
More ETR success stories
Cover a topic in more detail
Include more networking opportunities for ETR members
You certainly have our minds working overtime to bring these requests to you.
In addition, you also raised several important issues. When asked what the #1 factor holding you back from success was, many readers reported one of these five common responses…
Motivation
Fear of failure
No clear action plan
Not knowing your passion
Lack of productivity/time management
We cannot ignore the turbulent times around us. For many people, the uncertainty of today's economic conditions will only add to fear, hesitation, and confusion. That's why, again, Matt and I are dedicated to bringing you the experts and resources that will act as a beacon to guide you through troubled times.
By far, the biggest fear about the future for ETR readers concerned your financial future as well as a fear of not fulfilling your potential. With that said, you expressed an interest in having ETR help you create an action plan for getting started online, in addition to continuing with the motivating and inspiring posts
That has now become our #1 priority – developing a clear and concise blueprint to help guide you and all ETR readers on the path toward success – and if our international readers will forgive us, but towards our own American Dream.
You have our word that we'll continue to bring you motivation and inspiration – along with practical solutions – every day through the New Early to Rise.