I'm One of the Ten Million Transformations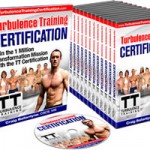 I'm One of the Ten Million Transformations by Mike Whitfield, CTT
It's hard to believe how fast time does go by. When you're young, a year or even two seems like an eternity, right? Maybe you remember the "Time Out" box in elementary school… where you have to sit facing the wall for ten minutes, which feels like an hour.
Well in January, my son Champ turned two and about a month later, we had our second son, Deakan. It was as if I blinked and I was a father of two.
In fact, I'm quickly approaching my two-year anniversary of being a TT Certified Trainer. It was this time less than two years ago I was managing a gym during the day, working with clients one-on-one, as well as small groups, plus I was running a few bootcamps. My wife was a 6th grade math teacher.
It was a dream for both of us for my wife, Sabrina, to be a stay-at-home Mom. I just didn't have the avenue to allow that to happen…. YET.
My bootcamps were averaging about three to five people. But that soon changed after I started to use the client attraction tools from the TT Trainer newsletter. About eight weeks later, I averaged twenty people.
That was just the beginning. Later that year, I launched my original product, Workout Finishers and started my online business, which was non-existent before that launch. Because I was a TT Trainer, Craig's readers ate it up and within hours of launching the program, my online business had exploded.
Fast-forward (and I truly mean fast-forward) to just five months later and I saw the momentum snowballing. It couldn't be stopped… the success snowball was way too big. Because of this fast-growing success, I was able to step away from my gym management job AND my personal training clients and focus more on my online business.
I knew this would make a bigger impact on the world and this would allow me to help more people, which is what the TT Ten Million Mission is all about.
This was huge for me, but it got even better. My wife and I made the biggest decision of our lives. We officially decided that she will no longer be teaching and become a stay-at-home Mom. Our dream of having her be home had come true well before we anticipated. In fact, we talked about her becoming a stay-at-home Mom in the fall of this year. So this happened over eighteen months sooner than we thought it would take.
I knew I wanted to be a part of the mission and contribute my talents. I wanted to be a part of something bigger than myself. I didn't anticipate that I was going to be one of the transformations.
Once I clicked the mouse to become a TT certified Trainer, I also had no idea things were going to happen this fast. There aren't many people in this world that get up and are excited to be "working". But I find myself in that position every day and I never take it for granted. Many people in this world struggle with the "Monday Morning Blues" and I'm fortunate enough to not have to deal with that thanks to the lifestyle that the TT certification has given me.
Today, I have a full time online business, while I do train my long time client of six years by choice. I get to see my wife take care of my two sons every day. The smile on her face when I see her at home during the day is priceless. You simply can't put a price tag on that.
Throughout the journey, I've developed my character and have discovered a sense of purpose in my life. Every time I get a TT Certification Newsletter, I get rejuvenated and refueled to make an impact in this world. There are always nuggets in there that will make an impact on your own transformation.
I have easily tripled my productivity and discovered how to leave my comfort zone for good to better myself every day.
Remember, a transformation is more than just weight loss. I lost 105 pounds before the TT Certification. What needed to be transformed was my mind, and I found that in the spring of 2011 once I became apart of the Ten Million Mission.
One thing I've learned in the last couple of years is that we are only here for a short time, and that time goes by way too fast. Thankfully, I eliminated the "maybe one day" mindset and contributed to something much bigger than myself, transforming who I am in the process.
To your own transformation,
Mike Whitfield
Certified Turbulence Trainer since 2011