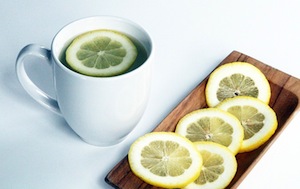 Yes, there was an SNL reference in my headline. You might remember Super Happy Fun Ball from the Phil Hartman glory days of SNL back in the early 90's. I loved that skit.
Almost as much as I love super insane open rates today.
Recently I helped out Mike Geary to share his "101 Foods that Fight Aging" program.
Here's what Mike told me to do:
"Yo CB, our 'lemon water' email has super insane open rates; broke my all time record. Give it a try."
So I did. And he was right,  the open rate was really high, even to my workout list that usually doesn't get too excited about nutrition.
He also gave another tip about using this email:
"Yo CB,
Important: If you send this, it NEEDS to be scheduled to go out at about 3am Eastern time.  This is strategic so that it has the best chance of being on top of the inbox when east coast people (the majority of the population) open their inbox first thing in the morning!"
Now silly ol' CB decided to send at midnight, but still, it worked (see below).
Here's the email…and notice the super insanely well-written subject line that got the click:
subject line:  Drink THIS first thing in the morning (3 major benefits)
your link:
http://cbathletic.mikegeary1.hop.clickbank.net/?pid=472&tid=drinkthis
(replace 'cbathletic' with your cb aff id)
If I could show you a simple drink (that you can make in about 20 seconds each morning upon waking), and this drink can help you to improve your digestion, detoxify your body, BOOST your energy for the day, and even possibly help you lose fat, would you try it?
Of course you would!
Check it out at today's article:
=> Drink THIS first thing in the morning (detoxify, improve digestion, boost energy, lose fat)
Cheers!
Sign off.
***
And then it goes to this page:

It converted okay for me, but should do much, much better for any email list interested in nutrition or general health.
And Mike was right about the timing… check the 9am open rates early on Sunday:


Right subject + right time + right market = Right result
Enjoy the right results,
Craig Ballantyne
"It's got to be a big idea that you and your team can 'get' within seconds." – Yanik Silver, Maverick Business Rule #1