Quick Fat Burning Workout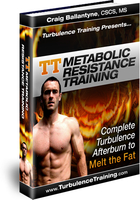 If you're in America, Happy Thanksgiving. If, like me, you're not, well Happy Thursday.
No matter where you are, you can always use a quick workout.
So that's my gift to you today. A short workout for busy folks.
Here comes the BOOM.
The TT Thanksgiving 2013 QUICK Fat Burner
MRT + MCT + MDT + MCF + BONUS ABS
Of course, it all starts with a total body warm-up…
Warm-Up Circuit
– 10 reps per exercise (per side, if applicable)
– No rest between exercises or circuits
– Repeat for 2 rounds
1A) Prisoner Squat
1B) Spiderman Climb
1C)
MRT: Metabolic Resistance Training
– 30 seconds per exercise
– No rest between exercises
– 60 second rest at the end of the circuit
– Repeat for 3 rounds
1A) DB Split Squats (30 seconds per side)
1B) DB Chest Press or Decline Close-Grip Pushups (use TRX if possible)
1C) Pullups or TRX Rows or DB Chest Supported Row
Take a 1 minute break and then move on to MDT.
*MDT – Metabolic Density Training with 20-10 Revolution System
– 20 seconds per exercise with 10 second rest = 1 round
– Do all rounds of the exercise before moving to the next
– Do not rest between exercises
2A) Goblet Squat – 8 rounds of 20-10
2B) Elevated Pushup – 4 rounds of 20-10 (alternate sides every 20 seconds)
2C) Kettlebell Swing – 8 rounds of 20-10
2D) Plank – 8 rounds of 20-10
That's all she wrote for this one. Should be no more than 30 minutes from start to finish.
And if you don't have that much time, just cut the number of rounds in half to get it down to about 20 minutes.
NOTE: Train hard but SAFE (but hard).
Then take all that time you've saved to go get more workouts in

The TT Black Friday Sale here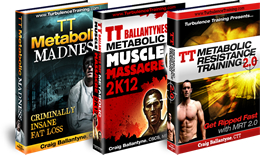 You'll be shocked to see what we're practically giving away, including:
– Metabolic Resistance Training Challenges
– Bodyweight Workouts
– Beginner Workouts
– And more
But hurry, the Black Friday sale ends before your next
workout week begins.

Grab all these workouts and steal the deal HERE <= sale ends soon
Give thanks for good workouts today,
Craig Ballantyne, CTT
Certified Turbulence Trainer

PS – ThanksGiver in that workout.
And then give thanks for the Black Friday TT Workout Sale.

Get thirteen workouts – including the workout of the year, TT Thermogenic 30 – while saving 93% off the regular price.
That's the best deal you'll get in any sale this weekend.