Best Delta 8 Carts
Best Delta 8 THC Carts
Delta 8 THC Vape Cartridges
Buy Weed Online
Best Delta 8 THC Gummies
THC Gummies
Best THC Gummies
Best Delta 8 Gummies
Area 52 Delta 8 THC Gummies
QnA: What I learned at Ryan Deiss' seminar
Without a doubt, the #1 thing I learned at the Ryan Deiss 'Digital Marketer/Traffic and Conversion' Summit was that I should have had more of my team there.
The content was excellent, but the networking was 10x's better.
And as well as I did — and I did very well for an introvert who would rather go to bed at 9pm than chat at the bar till 3am like most of the people there — I know my team would have been able to make even more valuable connections.
That's why you CANNOT afford to miss these types of events.
Believe me, NO ONE wants to stay home and skip this stuff more than "Introvert Craiggy" does…but "Smart Craiggers" (as Rob Poulos calls me) always buys the plane ticket, registers for the event, and books the hotel.
Now to today's QnA…
Question: What were some of the hottest tips from the weekend? – Jill
Answer: Well, Ryan and Perry are huge on getting your products on Amazon and they gave out a lot of cheap SEO tools.
I'm having our team put together an article called, "$5 SEO" for you based on what we use. Stay tuned.
Of course, Fiverr.com was mentioned every 10 minutes. It's a great place to get things done for el cheapo.
For instance, I just had this diagram created for my publishing model business (I know a lot of experts are following me into the publishing business, so go ahead and steal this concept for your own system).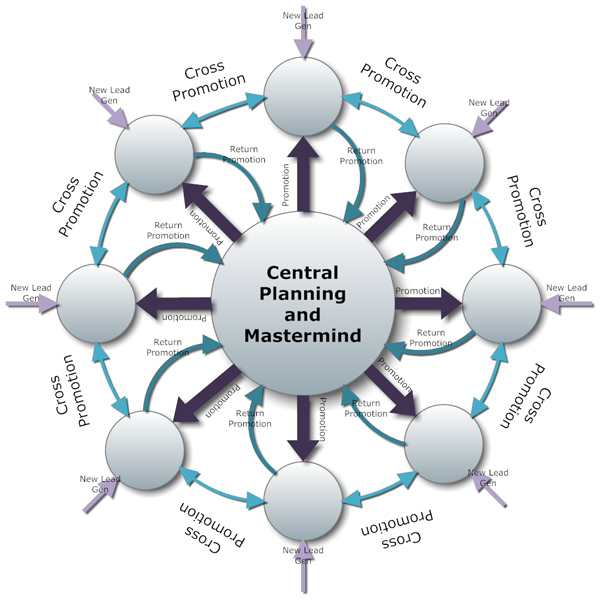 Again, total cost, $5. Total time on my part, 3 minutes to send instructions.
You can get lots of stuff done, including backlinks, comments on your site, etc., on Fiverr.com.
HOWEVER…don't make the mistake of becoming a Ph.D. in Fiverr.
Use it, don't abuse it.
One of the wealthiest guys at Ryan's events had never heard of it and pronounced Fiverr as rhyming with "Shiver", rather than "Five-R".
Sure, everyone laughed at him…but guess what, he has a metric buttload of cash more than anyone else in the audience.
So who's laughing now?
You're not in business to be an expert at getting goofy little things done at Fiverr.com…you're online to make money by creating incredible offers.
Don't forget that.
More details about the Deiss event in the March issue of Financial Independence Monthly.
Question: Thank you for the email newsletter and information.  I am looking at your ETR Premium service. I am wondering how many coaching programs you have. If I join this one, are there other ones that you have? Or is this the one to join. Please let me know. – Miguel
Answer: Hey Miguel, the most comprehensive program I have for you is the Financial Independence Monthly program here: MakeMoreMoneyOnline.com
Start there.
And you really should be going to Underground Online as well, if you are serious about growing your online business.
Question: Great information!  I was wondering what texting service do you use for the 60 days motivational texting?  Thanks! – Khalid
Answer: Hey Khalid, we are using CallLoop.com
These guys were at Ryan's event on the weekend…another networking opportunity people missed by staying at home.
Don't make the same mistake in March when you can be at the Underground event.
Question: Hey Craig, you and Matt are hitting the ETR premium and Financial Independence Monthly out of the park! Excellent info for folks like me who are making big things happen. I'm really digging the motivational stuff as well.
A number of the people who did the one day ETR coaching event in Florida are still in regular contact. In fact, Kung Fu Sue and I met up at the Ryan's. I might also attend Underground.
And my project is going AWESOME! We're in testing mode…and it's so cool to see our vision go from drawings on a sketch pad to an actual working demo. Hope all's well. – Carlos
Answer: Awesome Carlos, thanks so much for the update, and it was great to see you – albeit briefly – on the weekend at Ryan's.
We'll get more time to chat at Underground.
Question: I've installed many of your tips into my success plan for 2012, but this one seem tough. When should I read Early to Rise, Internet Independence, and TT Vip Newsletter?
Should I unsubscribe from some of the thought leaders I'm following until I become more productive?
I'm currently running…
Private Training Business
Weekly Newsletter
Weekly Video Show- MetaBurn Fit TV
Launching a Online Niche Blog- Will will be writing post for
daily
Just finished my first Online Product
Working on First DVD Product
Help, I need to be more productive.
Oh, and I've been getting up at 4:15am with you in mind. Weird, I know. But I thought is if Craig is up making it happen so should I. I've woken up at 4:15 12 out of 18 days this years.
Love the coaching you're providing here, Craig. – Rahz
Answer: Well, you've got a lot going on…
…your priorities among my newsletters alone are:
1) This newsletter – InternetIndependence.com
2) EarlyToRise.com
3) TurbulenceTraining.com
If you have to cut something, start with TT.
You also need to prioritize your 'to do' list.
Have you done everything to systematize and maximize your offline business?
If not, then drop all the offline stuff for 4 weeks and go hard to the core on your offline processes, then when that is done, you'll  have freed up more time so you can focus on the online stuff.
Don't do everything at once…especially when "everything" includes 15 different projects like you have.
Focused work gets you places faster,
Craig Ballantyne
"The rules remain: If you want money, it's a good idea to place yourself where there is plenty – and if you present someone with the ability to spend something they very much want or need, and SECURE their TRUST, they'll hand you their money." – Dan Kennedy