Best Delta 8 Carts
Best Delta 8 THC Carts
Delta 8 THC Vape Cartridges
Buy Weed Online
Best Delta 8 THC Gummies
THC Gummies
Best THC Gummies
Best Delta 8 Gummies
Area 52 Delta 8 THC Gummies
Hope all my American readers had an amazing Thanksgiving.
It was work, work, work as usual up here in Canadia.
I just finished an unprecedented 24-page autopsy on my recent 24-7 Fat Loss product launch results and it will be delivered to all Financial Independence Monthly readers on December 1st.
Time for a couple of quick questions and then I must go record another Fast Start Coaching Session for Financial Independence Monthly VIP clients.
Question: Do you have an affiliate program for Financial Independence Monthly?
Answer: Yes, and our affiliates are doing really well. One affiliate, who mailed to a financial stock tips newsletter had these incredible results (twice the results of their normal promotions):
4,974 clicks
273 orders (5.49% conversion)
Affiliate commission Earned $18,777
Earnings Per Click: $3.78
Just imagine the results that an Internet Marketer could get with a more targeted list. If you know of anyone who might be interested in promoting Financial Independence
Monthly, they can sign up as an affiliate here.
Then we'll send the best performing creative we have.
Question: Should I give more than 50% commission? I see you give 75% commission with Turbulence Training.
Answer: Yes, as we did in the 24-7 Fat Loss launch (where some affiliates even made 85% – as I'll explain in the Launch Autopsy). And we give 75% for Financial Independence Monthly as well.
But I'm going to pass this question over to my friend, who is the OG of online marketing...the Original Gangster. Let's hear what the OG has to say about this:
"Go to 75% commission and you'll never look back.
You'll start crushing everybody else in that niche if they aren't paying well.  And 50-60% commissions in this day are basically unfair in my mind.
If you think about it… if an affiliate only gets 50% comms, that means you both get equal money, but then the vendor gets to keep all those new customers for future revenue.
Think about it this way… a monster affiliate does $100k in gross sales, and you pay 50% commissions…
You make $50k
He makes $50k
Then you go and take all of those customers and make another $100k over the next year or two.
So you made $150k and the affiliate only made $50k. BAD deal for the affiliate compared to what you got.
That's why 75% to affiliates levels the playing ground a little bit more.
The other side to this is if you want affiliates buying traffic to even stand a chance, you NEED to pay 75-90% commissions, or they don't even stand a chance at profiting."
Thanks OG.
Question: Who's the great artist?
And would you please share their contact info? Thanks. – Shane
Answer: Vince Palko. His rate for these videos is $1000 per minute of video.
Vince also has an amazing "overcoming obstacles" success story, and I interviewed him for Financial Independence Monthly.
You can get Financial Independence Monthly, Vince's interview, and my upcoming Product Launch Autopsy here.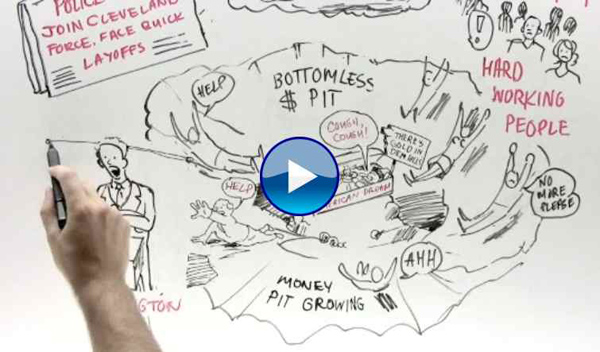 I guarantee you've never seen anything like the end of this video before.
Watch this video to the end for a unique twist on the American Dream.
Over-delivering,
Craig Ballantyne
"Success depends upon previous preparation, and without
such preparation there is sure to be failure." – Confucius