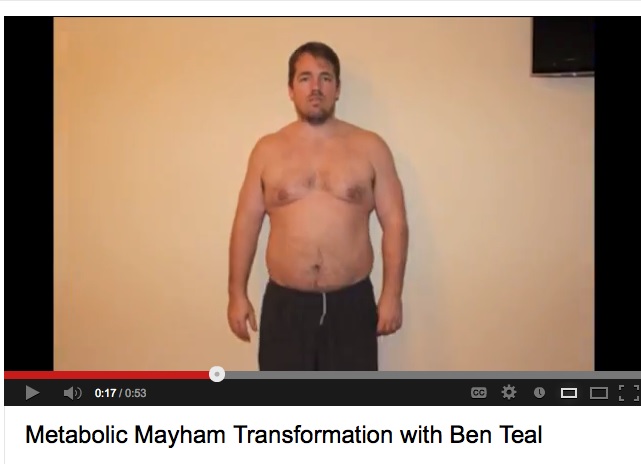 Listen, I've watched this man go through more ups and downs than a rollercoaster. Yet he never gives up and doesn't complain.
Instead, he decided to Man-Up.
Earlier you heard about how he was a bit disappointed by his launch…but today he's back with a motivational story to tell you how he kept on pushing no matter what.
Follow his lead. Learn from his mistakes. And find out how he revived his launch. – Craig
***
The Launch that Almost Wasn't
By Ben Teal, Certified Turbulence Trainer
Metabolic Mayhem
Seven days to go. I woke up that morning excited and ready to hit my "to-do-list" hard. It would be tight, but I knew that I had to hit my deadline. I had affiliates lined up and ready to rock.
I'd been talking about my concept for a month or two, at that point, but today was going to be the day it came to fruition.
With my wife and oldest son out of town, everything was planned out. I'd pick up and drop off at school my youngest, go to work, and then crush my launch checklist in the late afternoon and evening.
On that Monday morning, as I was getting ready to drive my boys off to school, the wheels came off the proverbial bus.
It's Not Murphy's THEORY, It's Murphy's LAW
This is a story about how this launch almost never got off the ground. And then, how it became my best week ever online.
It all started when one of my aging dogs became very sick, and needed an emergency visit to the vet. I took my son to school, rushed home and drove her to the vet.
While there, someone hit my car and ripped half the front bumper off. This is one of those Mondays that you only ever hear about.
The day became consumed by trips back and forth to the school, and several trips to the vet. With half a bumper. In between, I got as much day-job work done as possible, but that spilled over until late in the night.
Time was running out.
On Tuesday, there was opportunity to catch up. Until noon.
In all of his wonderful intelligence (and he really is an exceptionally bright kid), my youngest son shoved a toy up his nose so far as to require a trip to the emergency room.
But, since it wasn't a REAL emergency, that turned into 6 hours of waiting.
Another day gone.
At this point, I had to make a decision. I could postpone the launch, or I could put my head down and just get stuff done.
If you know me, you know which I chose.
I'm not one for making excuses. There are things that happen to me – some good, some bad – and then there's my reaction to them.
Listen. You can't control everything that happens to you – your dog getting sick, a freak car accident or a misplaced toy – but you can most certainly control your reaction to these things.
And here's my reaction…
Get it Done or Be Embarrassed
I judge myself incredibly harshly. It's both one of my biggest assets and one of my biggest flaws. As a result of the way I look at myself, I assume others judge me in the same microscopic way (they don't).
As much as it pains me, it's the one irrational thing I can't seem to shake.
Recruiting affiliates is actually, for me, a lot like taking my shirt off and taking a picture every day. It's WAY out of my comfort zone.
His shirt was chafing him. Every day!
In this case, it's a flaw because the "work" for me is reaching out and asking for help for the launch, and, if I don't clamp down on it, I'll put it off.
But, it becomes an asset as the deadline approaches. I don't want to embarrass myself by missing my date. I will hit the deadline. Period.
So, for days, I did nothing but crank away. At times, I felt like I had no chance of making it, and the "to-do-list" felt like it was getting longer instead of shorter.
Adding Complexity Through Simplification
When you go out on a limb to create a product that is unique, not only to you, but to an industry, you want it to work. You NEED it to work.
I was promising to deliver a workout program that "does everything for you except sweat on your carpet" (thanks, Craig, for that line), delivered one-day-at-a-time. On top of that, I was including all of the willpower, motivational and encouragement cues that many folks want and need to actually finish a fitness program.
I wanted to deliver a simple, clear system for people who've struggled in the past with their weight to get into incredible shape.
Ultimately, I was taking the exact system of Metabolic Mayhem workouts and my personal mindset techniques that I used in my transformation, and using technology to deliver it to the masses.
Pile my perfectionism on top of it, and it's enough to drive you nearly insane.
As the day drew nearer, I stayed up later and later. I pulled two all-nighters after my wife returned home.
That's the real power of a deadline and accountability. When you apply that tension, work gets done.
After 4 days of intense, caffeinated focus, it was ready to launch. I'd stared Murphy in his cold dark eyes, and I'd won. Or so I thought.
Are My Expectations Too High?
I'd set a goal of this launch grossing $10k.
Three days before the launch, I found out that four of my bigger affiliates weren't going to promote the first two days of the launch (bigger name, other line, so to speak).
Two days before, I learned my biggest affiliate wouldn't mail, but would instead only do a blog post (again, bigger name, other line). And yet another big affiliate had an offer to do a major list swap with a whale in the industry.
And I can't fault any of them because I know I'd have likely done the same give their situations.
I could have folded up the tent and rescheduled for a better time. But doing a launch is like planning to have a baby. There is no right time, and unless you're a titan, you can't always dictate your own slot on the calendar.
Head Down, Moving Forward. Period.
It had been a long week leading up to this moment. I was staring down a stern headwind. But these experiences – these challenges – are what make you stronger.
At that point, I could have adjusted my goal to reflect those challenges. But, you play to your goals. And I had no intention of playing down.
I didn't adjust my goal. I'd drawn my line in the sand, and that was that.
On midnight, Tuesday July 9th, Metabolic Mayhem High Definition officially launched.
The Fun Was Just Beginning
To say I was terrified is an understatement. I realized at 12:01 AM that this was my first real launch. I'd run some affiliate sales in the past, but that was for one or two affiliates. I'd lined up a dozen for this promotion and at some point during the week, they'd all promote.
You want so badly for everything to go perfectly. The interesting thing is that you can't always know what 'perfectly' looks like. You have this fear, as irrational as it is, that you'll get 10,000 hops to your site and make no sales.
Fortunately, I only had to entertain that fear for 5 short minutes.
At 12:05 AM, I had my first sale. And, with a sigh of relief, I went to sleep.
And by 4PM I'd already logged my biggest day ever on Clickbank.
Day two was slower (as expected). But slower still, until that point, rated as my second biggest day ever.
And then came day 3. Several new affiliates jumped on board, and sales sky rocketed, and I set another personal record.
I watched the total inch closer and closer to my goal. Over the next few days, sales continued to come in. When Sunday closed and the price doubled, gross sales stood at $7,278.80.
I'd put 172 new customers into my funnel and grossed 249 sales.
By nearly every reasonable standard, this was a glowing success.
But, as I said before, I judge myself harshly. I set a goal that I didn't hit. And now, I know I'll be obsessed with that next milestone. A blessing and a curse.
After the Storm, All You're Left With is Your Most Important Asset
When the dust settles and the sales are tallied, you're left with your most valuable asset – your customers.
In the fitness niche, people come to expect a pdf file to read or a stack of follow along videos. My program is not that.
And even though you mention it several times in the sales copy, some people still don't believe that what they bought really isn't that type of program.
But once you sort those folks out, you start getting these types of emails:
"For not having had a workout in a few years, today really kicked butt. That optional mini shred circuit after the metabolic workout….wow, intense. Keep it coming, I feel great."
"Still feeling good about the program and sticking with it. Which is more than I've done in the past, so I am proud of myself."
"Woke up slightly sore, yet it was a good feeling. The workouts today were intense, challenging, yet, I know that by doing them and pushing myself, I will achieve my outcome."
"I can relate to not feeling like it today. Very tired. Just got to my hotel. Going to do my interval work out anyway. Had to drive 4 hours today. Proud of myself that I didn't snack."
"It was pretty cool. The day started out pretty chaotic and stressful, but Teal's peptalk about the will kept me going. Never thought i'd submit my photo, but here goes. Thanks for the nice work. Cheers from Thailand."
"Workout went well. Cranked through all 5 rounds (surprisingly). Sweating like heck (although am in 30C weather right now!). Liked the willpower video. That will help."
It's feedback like that, after a week in the program, that make all of the stress and worrying and work worth it. My biggest fear was never about whether the launch would be successful, but whether this idea would catch on. And it will.
This launch is less a launch and more a launch pad. I'm creating something that people like and want more of. And as long as I'm helping people reach their goals, I know that I'll reach mine.
***
He just keeps on pushing.
Proud of you Ben for having the courage to Man-Up.
No excuses,
Craig Ballantyne
Identify the one BIG task you have to finish today. Make it your #1 priority. Don't let anything get in your way of finishing it.