Why do I go to Europe every summer for weeks at a time? Glad you asked. It all started the day after Joel & Lisa Marion got married. I woke up early (while Joel, Roman, Vinny & Siegel were still on the dance floor), had a quick swim in the Don Cesar pool, and hopped a flight from Tampa to Miami, followed with an overnight from Miami to Frankfurt, and then finally a short flight on to Vilnius, Lithuania. That was the 1st year of the BlackSmith Camp with Simon Black and our Lithuanian friend, Virgus.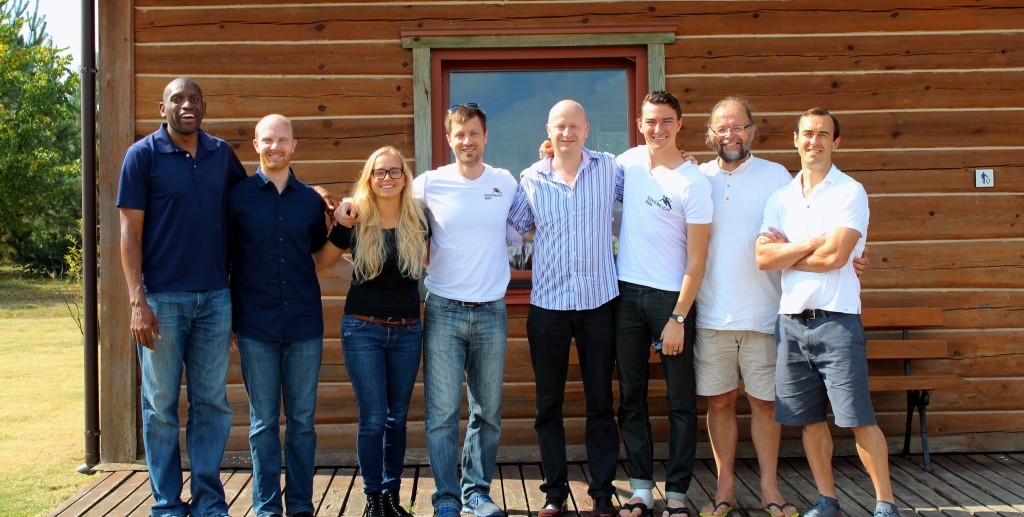 J., Jeff, Viktorija, Simon, Cliff, Franklin, Virgus, and ol' CB
This year was our 6th camp. Each summer the camp brings together over 65 Millennial-aged entrepreneurs to a rustic 'resort' in the middle of nowhere, Lithuania. The kids come from dozens of countries to learn how to change the world, make an impact, and figure out what to do with their lives. More about the camp in a moment…
Before and after my time in Lithuania, I tack on working holidays in new countries. This year it was Russia and Istanbul, followed by my 4th visit to London. St. Petersburg and Moscow were surprising clean. London was filthy. Istanbul traffic is aggressive (and even the pedestrians have no fear crossing busy highways on foot), while London was unfailingly polite (you have to love British mannerisms).
There were so many things to be grateful for on this trip. It started off with a great sleep on my overnight flight from Toronto to Zurich. That's my best tip to you for avoiding jet lag when you go to Europe. Eat before the flight, and then knock yourself out with a sleeping pill (I don't need one, but you might). Getting 5-6 hours of sleep really helps. I landed in beautiful Zurich (putting this on the list to visit next summer) and had an easy connection on to St. Petersburg. Going to Russia involves getting a Visa. It's a pain, and you have to send off your passport for a week or two, but it's worth it. Russians are like the Germans…neither friendly nor rude, and I was impressed by the green spaces, the waterfront, and overall cleanliness. Another pleasant surprise was the quality of the Russian ribeyes. If you make it to St. P's, visit www.Meat-head.ru for borscht and beef.
On my 2nd day in Russia I joined my friend Barry Dunlop (father of Michael Dunlop of IncomeDiary.com fame) and his companion, Barbara, and we took a 4-hour high-speed train to Moscow. There we had a 4-hour guided tour of the Red Square and the Kremlin. The history of these cities, with their centuries of war, invasions, and revolutions, can be a bit overwhelming and my head is swimming is useless facts. After the tour we took the train back to St. Petersburg, arriving at midnight, where it never gets dark in the summer. The streets were alive and full of more energy than in the daylight hours.
Finally, after one more refreshing afternoon tea with Barry (we'll hear more from him later), it was off to Lithuania. There I met up with Simon, Clifford Mee, Jeff Schneider, and J. Massey for a night of Argentinian steak and camp content planning.
The next day we piled into a stretch Hummer limo (quite a sight in Vilnius) and drove 90 minutes to the resort. Here's what happens at the camp…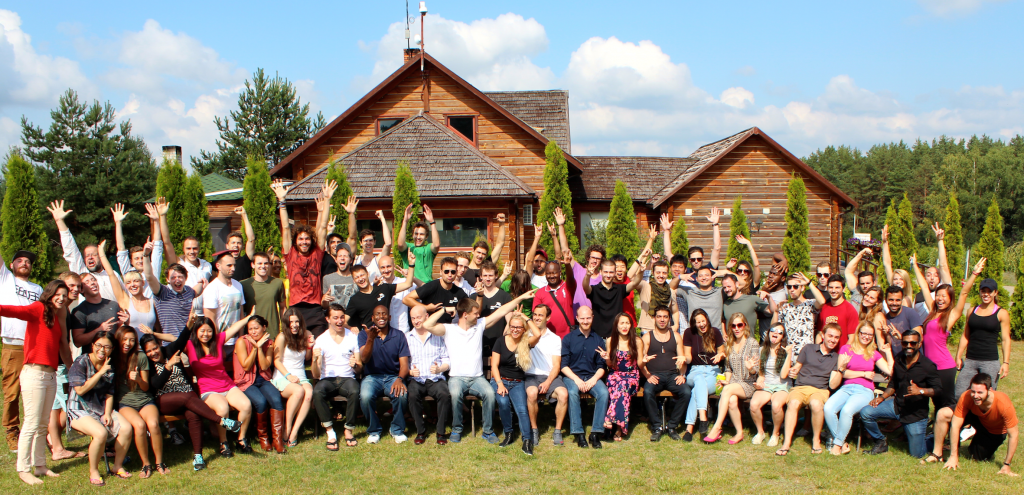 The students arrive mid-afternoon on Day 1. We have a big dinner where everyone introduces themselves, and the evening finishes with beer drinking and getting to know each other around a bonfire. On Day 2 we gather in the conference center and Simon talks about personal responsibility and the great opportunity in the world. Then ol' CB steps up and delivers his guide to living a good life and having Perfect Days (full details of my presentation are below). At 4pm we break the kids down…I mean, we enjoy a group fitness session with my no-equipment bodyweight workouts. The kids have terrible form, LOL, but they do their best to keep up with ol' CB.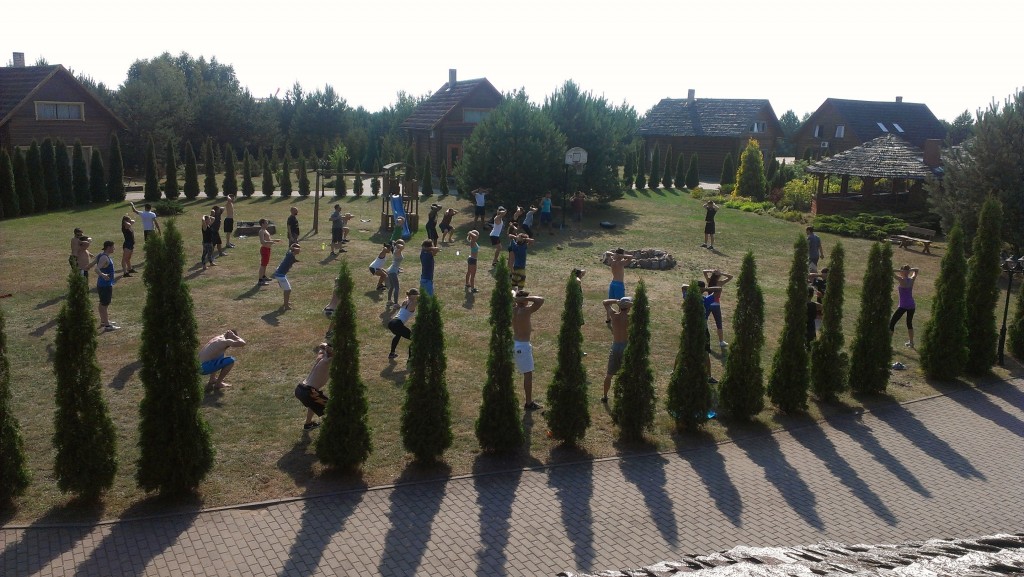 Prisoner Squats in Eastern Europe…a fitting exercise behind the Iron Curtain
Day 2 ends with a sauna and hot tub party. By Day 3 everyone is exhausted, but we spend another day in the conference room talking about copywriting, persuasion, cash flow, and business building. We finish with another workout and a 2nd bonfire. Day 4 ends the camp with Simon's motivational message and a QnA with all the instructors. Then it's the biggest party night of all. In addition to sauna, hot tubbing, pizza, and beer drinking, there are also Karaoke (Jeff & Simon do Regulators every year) and midnight fireworks.
At 10am on Monday morning everyone stumbles into the conference room for one last summary and then we break for hugs, kisses, and group photos. By 1pm the kids are the on the bus and heading back to party in Vilnius, while Simon, Cliff, Viktorija and I all clamored into the Hummer and headed to the airport for our trip to Istanbul. The camp changes lives. It's led to investments in multi-million dollar companies for me (like Sprayable.co). We've also hired several employees that have helped Simon and I make millions of dollars (our 6MinutestoSkinny.com copywriter, Gary, attended the camp in 2011, and his VSL has sold over 100,000 copies of my workouts!). This year Jeff and I met two young men that could be our next superstar copywriters. But most importantly, we all met 65 young, ambitious entrepreneurs that are giving Millennials a good name.
So that's the camp. If you know anyone between 18-30 that belongs there, tell them to watch BlackSmithCamp.com. Video applications are due in February for our camp on July 28-Aug 1st, 2016. I hope to visit Switzerland, Hungary, or Portugal before the camp, because immediately after I'll join Joel Marion for a trip to the Rio Olympics. This year it was off to Istanbul via Turkish Airlines (Europe's best carrier) for boat rides, palace tours (thanks to OSP reader Ryan Murdock for his suggestions), Turkish Teas, and walking through the shopping bazaars. I highly recommend the Hagia Sophia church tour, a trip over to the Asian side of the city, and the Spice Bazaar market. I stayed at the Ritz Carlton, but the Four Seasons on the Bosphorus looked even better.
My goal was to have a true holiday while in Istanbul, but the book edits couldn't wait. I wrote for several hours each morning before touring the city. That's okay. It was worth it in order to finish the legacy of my life. I'll forever fondly remember that final morning of edits in Istanbul as the sun rose over the Bosphorus Strait. On Friday it was time to say goodbye to the BlackSmith Crew and to head to jolly ol' England where I'd reconvene with Jeff (who had gone to Dublin to meet his brother) and Barry (who lives an hour south of the city). I stayed at Shangri-La Hotel in the Shard near London Bridge. The views are incredible. I spent my mornings writing and afternoons out doing touristy stuff, including my first professional soccer game.
Nice view from my room at the Shard          Phallic enough for you?
I'd been waiting to attend my first EPL (English Premier League) game for almost 30 years, and it didn't disappoint. It even featured a goal by Chef Gui Alinat's look-a-like, Olivier Giroud.
The field at Crystal Palace                            The "Crystals"
And then, just like that, my trip was over. I was kind of glad to settle into my 'pod' on the Air Canada flight back to Toronto. As much as I love traveling the world, I miss being at home in my comfort zone on the farm. But that, of course, is not where we grow and better ourselves. It is important to always be testing, pushing, and challenging yourself. Leave home. See the world. Deal with the downfalls of travel…it's so worth it in the end. Your days at home blend into one another, but your magical mornings and enchanted evenings experienced on your travels forever stand out in your memories. It's worth the hassle to leave the house. Pay the price to earn the Prize.
Next up…Nashville and then Austin. I'm sure I'll be seeing you soon…and I look forward to any travel advice you want to pass along.
To your success,
Craig Ballantyne, CTT