Healthy and Delicious Vacationing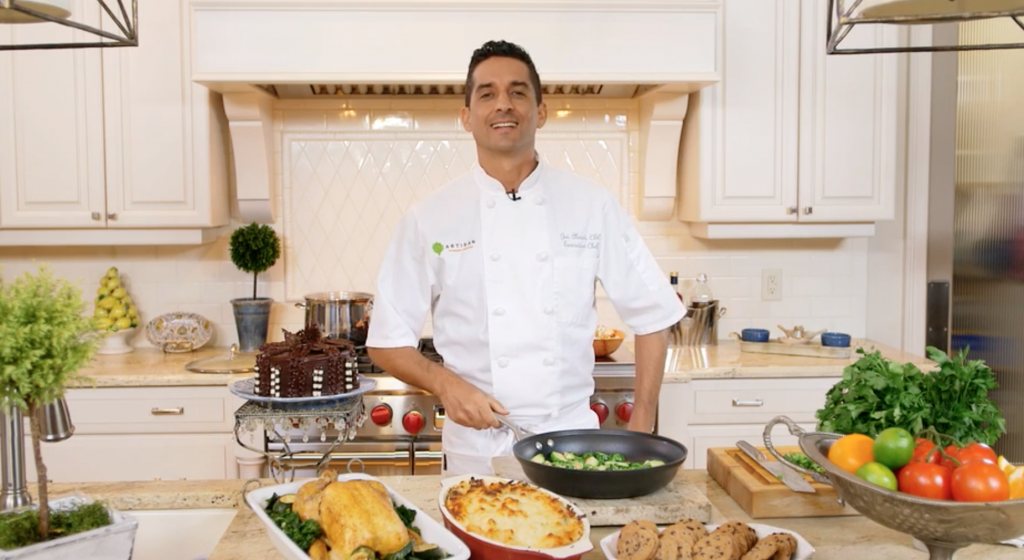 Good morning from a magical train station in Scotland where I am about to board the Hogwart's Express.
I'm not joking.
Today I'm joining Diana Keuilian, author of The Recipe Hacker, her husband Bedros, and their kiddos for a ride on the "Harry Potter Train".
To make up for the lack of manliness in today's adventure, Bedros and I are going to wrestle the Loch Ness monster tomorrow. Haha.
Bedros and me after a brisket dinner at Merchant's in Nashville
We're also hoping to eat some amazing Scottish salmon while we're here.And that brings us to today's lesson for you.
Here's the truth about eating while you are on vacation…
You CAN eat great and still lose weight.
Here are 5 secrets to keep the belly fat off while you travel…
1) Have only one special meal per day.
2) Don't snack mindlessly between meals.
3) Don't drink your calories.
4) Stay active and busy between meals so you avoid 2 & 3.
5) Eat slowly and know when to say, "That's enough."
I travel a lot, usually 150 days per year.
That means a lot of dinners out, special events, the temptation of high-calorie appetizers and delicious desserts, and of course, extra calories in pre-dinner drinks.
But using those 5 tips above – plus my bodyweight circuits done in hotel gyms and hotel rooms around the world – will help you stay lean during your vacations.
This doesn't mean missing out on amazing meals, though…
In fact, here's a list of the 5 best meals I've ever had… and I'd love to hear about your favorite travel meal, too.
CB's best meals…ever!
#5 – 24oz tomahawk ribeye at an Argentinian steakhouse in Prague.
The best steakhouse I've ever visited is in Prague in the Czech Republic. It's called La Casa Argentina, just a few steps from the old town square.
Live music starts around 8pm and it gets quite festive. They even have closed-circuit cameras in the kitchen so you can watch the chef cook your steak.
4 – Grouper at Il Gabiano in Miami
Geez, how can a simple fish in tomato sauce taste so good?
Well, when you go to one of the world's best Italian restaurants, they can make magic out of simple ingredients. I can't wait to go back.
3 – Japanese Kaiseki dinner
Back in 2013 I spent 4 days in Japan, with one night out at a traditional Japanese Inn (called a ryokan) in a small city an hour north of Tokyo.
During the 20-course meal, I had my first taste of true Kobe style beef.
The small cubes of steak, from Joshua cattle, were like eating butter.
Can't wait to go back there, too!
2 – Wild Boar Ragu in Italy
We had this delicious pasta at Rinuccio 1180, the on-site restaurant at the Antinori winery in Tuscany (where they bottle Chianti Classico.)
Mamma Mia! What a meal.
By the way, if you think you can never eat pasta while losing weight, my friend Chef Gui has very good news for you.
Get his free pasta cooking tips and recipes for fat loss here
And finally… the best meal ever…
1 – Mom's Meatloaf & Mashed Potatoes
Fortunately I only have to travel two hours for this one, from the big city of Toronto out to the farm where Mom and Bally the Dog live.
Like America's 40th President, Ronald Reagan, I love meatloaf. So simple.
It's a good choice for dinner too, because a new study from Columbia University found that a high-protein meal helps you sleep better.
But just make sure to avoid heavy desserts, because the same study found that a high-sugar, high-fat meal causes you to toss and turn at night.
Alright, time to board that train and chase down another amazing meal in Europe.
Watch your email tomorrow for a 10-minute Swimsuit Circuit workout to get your body back in shape for summertime.
Talk soon,
Craig Ballantyne, CTT
Certified Turbulence Trainer
PS – Think back…
Think back to when you were a kid…and the best memories you had with your parents…
My best memories were going to Dairy Queen in a beat-up old pick-up truck with my dad to bring home ice cream cones, or watching Disney movies on Sunday nights with my family, or playing catch in the backyard…
…none of my best memories required my parents to do 60 hour work weeks or have $1 million in the bank.
It's the little things that matter… So give them and live them as much as you can.
Make it a great week and an amazing summer.