Chocolate Dessert (Paleo-Friendly!)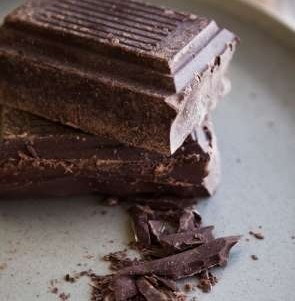 If you're trying to lose weight, your sweet tooth might be feeling deprived with a lack of dessert options. And if you're following a Paleo diet, you might have resigned yourself that desserts are off limits altogether. That couldn't be further from the truth.  You don't have to deprive yourself of sweet, delicious desserts in order to be healthy.
Delicious treats have their place in a healthy diet. And when it comes to weight loss, study after study has proven that the more you deprive yourself, the less likely you are to maintain your weight goals over the long term.
That's the entire premise of Eat More, Burn More. Whether you're trying to lose weight, or follow a specific way of eating, delicious foods don't have to be off limits. And that includes chocolate treats, too!
By following my chef tips and secrets, you can still make — and enjoy — delicious treats that will satisfy your sweet tooth.
You see, desserts aren't inherently bad or unhealthy. It's the added sugars and other nutrient-devoid ingredients that sabotage your healthy, fat-burning efforts.
But you can choose to replace those unhealthy options with whole, delicious ingredients without sacrificing a bit of taste and enjoyment. And I can show you how.
Dessert should be fun and delicious, not a source of stress. That's why I've created these Paleo-friendly, chocolate almond dessert balls. They contain simple, delicious ingredients and they're easy to make and keep on hand for anytime you need a sweet treat.
Active time: 30 minutes | Cook time: 5 minutes | Yield: 24 balls |
Ingredients:
24 oz of 85% dark chocolate
1 can of coconut milk (13.66 fl oz)
4 oz of slivered almonds
1 cup of cocoa powder
Preparation:
Pour coconut milk into a container.
Microwave on high for 5 minutes, or until hot.
 Pour hot coconut milk onto the chocolate.
Let sit 5 minutes.
Mix well with a hand blender or a whisk until the mixture is smooth and shiny.
Pour the chocolate and coconut mixture into a bowl.
Put 4 oz of almonds on a pan and toast in the oven at 350 F until lightly brown and fragrant.
When chocolate mixture is cold, shape it into balls.
Roll the balls in 1 cup of dark cocoa powder.
Roll the balls in the toasted almonds.
Refrigerate for at least 2 hours
Enjoy!

More Paleo Recipes: