Healthy Breakfast Idea: Overnight Oats (Quick & Easy Oatmeal Recipe)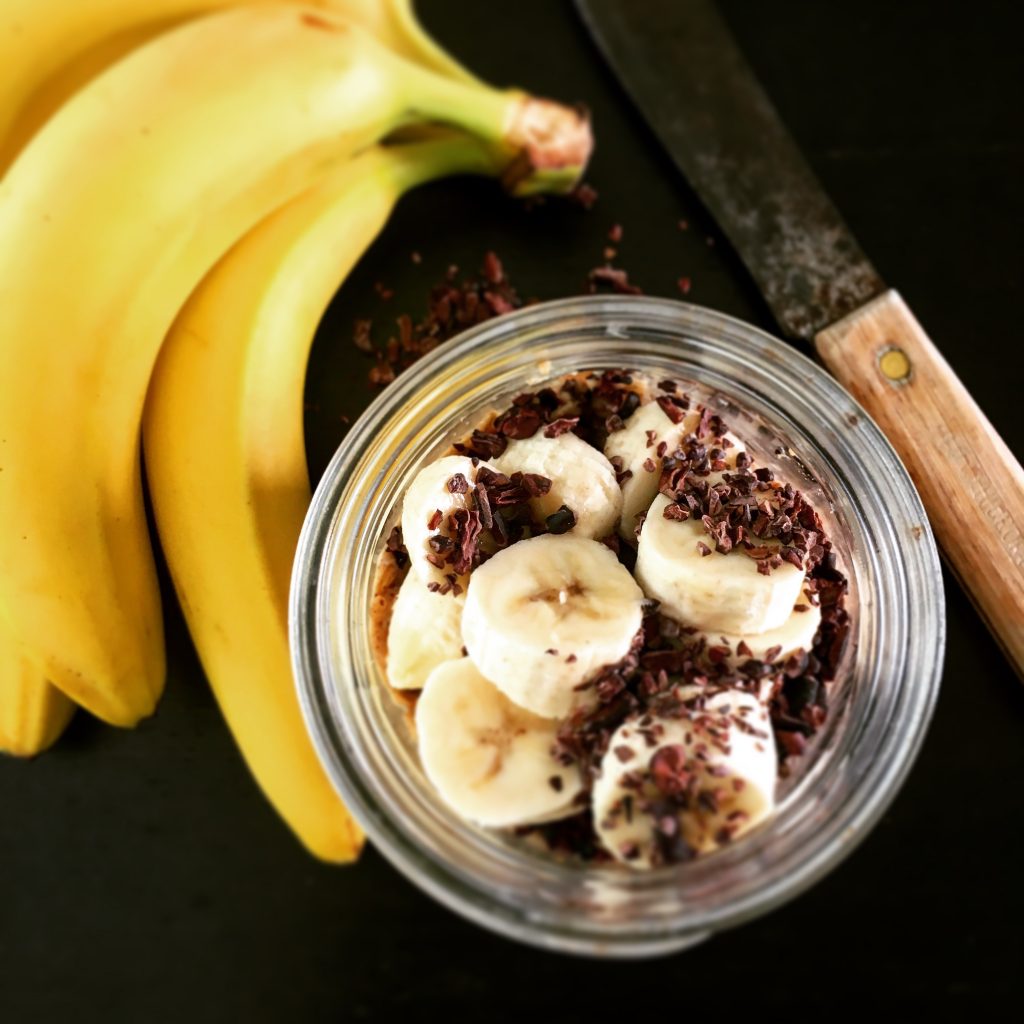 Are you struggling to find healthy breakfast options? You're not alone.
Breakfast is tricky. Especially for those of us that aren't morning people to begin with. Add kids to the mix and mornings can be more than a tad hectic. My wife Carissa and I have five children, so trust me, I get it. Both of us have jobs that keep us very busy, so even when all of our children make a great effort to help and get ready on time, our mornings are hectic.
Breakfast can be nutritionally challenging, too. It's the first meal of the day, so we need to get a lot out of it. Breakfast should rev up the metabolism and provide the necessary nutrition our brains and muscles need to carry us through until lunchtime. Nobody wants to feel that late morning hunger and hypoglycemic crash. It's not fun, and it's not safe.
Skipping breakfast? Don't even think about it.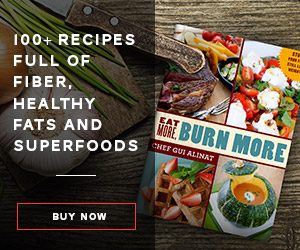 That is not a good solution, and may lead to weight gain.
But you won't get the most out of breakfast if you're relying on the prepackaged foods at your local supermarket. Store aisles are filled with sugary cereals (avoid!), puffed grain cereals (avoid!), processed eggs or bacon (not great!), and other nightmare options.
The bottom line: you need to start your day with a bang — and you can start tomorrow morning. That's where overnight oats come into play.
Eating oatmeal for breakfast will keep you feeling full longer in the morning. That's because it's is full of soluble and insoluble fiber, which really help with weight loss. Oatmeal is also gluten free. But beware, not all oatmeal is created equal. In fact, most oatmeal from your supermarket should be avoided.
Do NOT buy prepackaged or instant oatmeal. These have a high-glycemic index and will destroy your weight control efforts.
To start your day off right, I have a delicious recipe that requires  just five ingredients and some toppings.
Even better, it's an epic food pairing of almond butter, banana, and chocolate. Yum!
You may be asking, "How is this fat-burning?"
That's easy. First, you must make sure that the rolled oats are organic and 100% whole-grain. Look for the label below. That's important if you want the maximum nutrition, and optimum fat-burning fiber.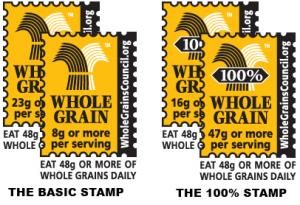 Second, almond butter is full of good protein, healthy fat, and wholesome fiber too. Bananas add even more fiber and vitamin C. And finally, I replace "chocolate" with cocoa nibs, a virtually sugar-free, roasted cocoa bean that has the taste of chocolate without its negative effects. Plus, cocoa nibs add a nice crunchy texture.
The result is a breakfast that has almost no sugar added and is full of fiber-rich carbs that will get you through the morning.
But perhaps the best news about this breakfast is that it requires just 5 minutes of prep time and no cooking. In fact, the oatmeal "cooks" overnight. You're simply mixing 5 ingredients in 5 minutes, throwing the mix in the fridge, and the next morning, it's ready! That's genius.
Give this healthy, delicious breakfast a try and get your day started on the right foot!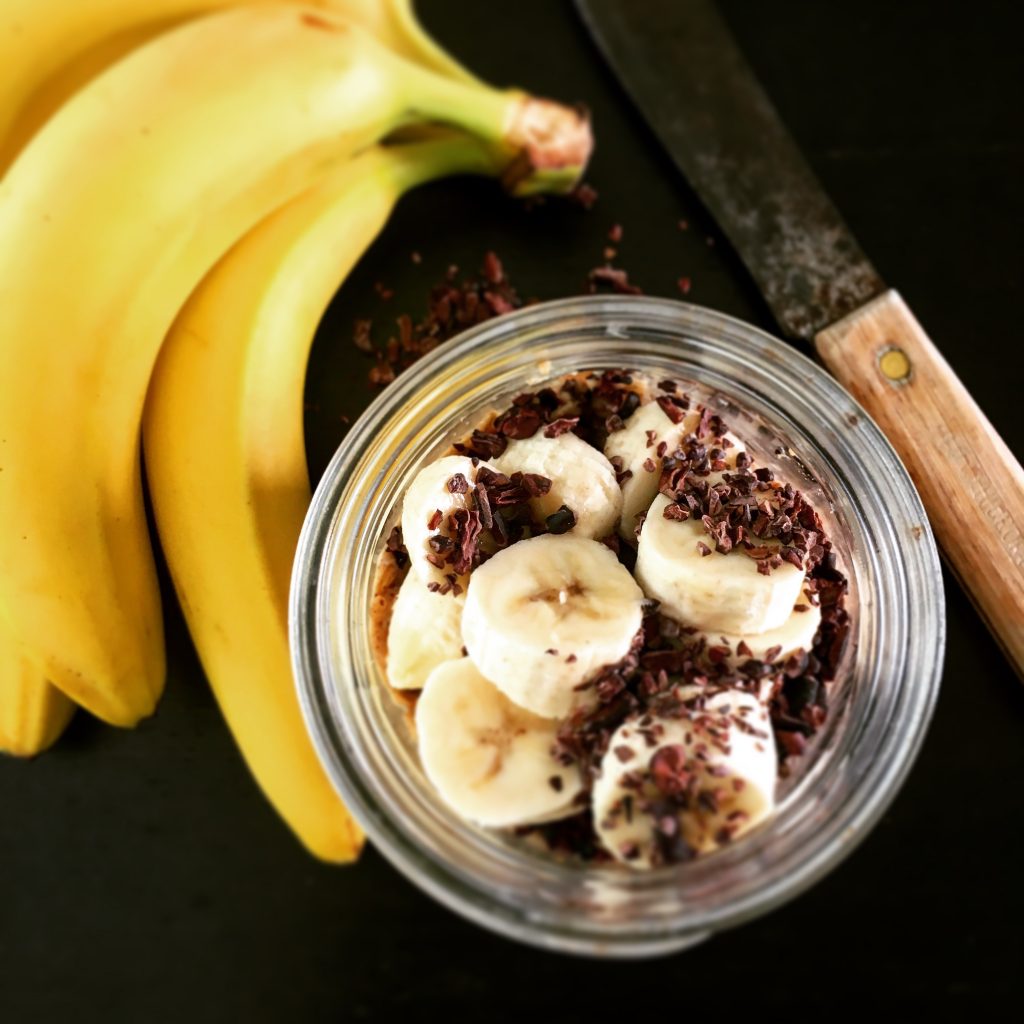 Almond Butter & Banana Overnight Oatmeal
Active time: 5 minutes | Resting time: overnight | Yield: 2 servings |
Ingredients:
1 cup organic whole milk
1 cup toasted walnuts
4 tbsp natural almond butter
2 tbsp pure maple syrup
1 cup organic whole grain rolled oats
1 tbsp cocoa nibs
1 banana, sliced
Preparation:
1. Add milk, walnuts, almond butter, and maple syrup to a mason jar and stir with a spoon to combine quickly. Don't worry about mixing it all completely.
2. Add oats and stir a few more times, then press down with a spoon to ensure all oats have been moistened and are immersed in milk.
3. Cover securely with a lid or plastic wrap and set in the refrigerator overnight.
4. Before eating, open and garnish with banana slices and cocoa nibs. Enjoy.
Check out all of my tips for the best whole grains for your health and weight-loss efforts: