Meet the New Online Superstar
I'm a lucky man.
In just a few minutes I'll be off to San Diego for a week of Masterminding with dozens of online business superstars…including one woman that is
about to have a MASSIVE breakthrough in her business this week.
Her name is Shawna Kaminski.
And all of her hard work over the last four years is going to be paying off this week with her new launch. If you want to help her out, drop her a line  via www.ChallengeWorkouts.com.)
She put together some lessons for you today…Over to Shawna.
***
Less Stress – More Cash
Hi, I'm Shawna Kaminski, a member of the $100K Info Group and a  Publishing Partner with my friends, Bedros Keuilian and Craig Ballantyne.
I've been in their Mastermind group since October, 2009, and every year my business grows and grows and grows.
Accountability is a great motivator. When I first started working with Craig  as a Publishing Partner, he suggested I make a weekly monetary goal that I'd  reach for. The goal was just outside what I thought I'd be able to achieve.
Remarkably, I managed to make my goal or close to it most of the time.
Then I hit a wall. It was weeks in a row that I didn't meet my goal. I  expressed  my DEEP frustration to Craig. I was doing EVERYTHING I could to get to  my goal.
With Craig's suggestions, I changed my approach and this is what I'm  currently doing:
I've stopped focusing on short term weekly goals and I'm looking at the bigger picture
I'm planning promotions more strategically – if I can't mail out three times  for something, or if I wouldn't consider doing a bonus with purchase, then I don't mail out
Generally I provide BETTER content with all promotions for my list whether  it's for an affiliate promotion or for me
I've stopped doing 'charity' promotions
I'm focusing more on seeking affiliate support for my upcoming launches
I do a weekly report to assess my sales and progress from the previous week, and  I'm LESS stressed and I'm able to meet my weekly goals again, even though I  raised my weekly goal by 50%.
I'm not 'married' to this weekly goal, it's just a ballpark figure that I'd like to hit.
It helps to have a general idea of what I'd like to achieve weekly. I'm happy to say  that the new strategies of thinking bigger picture has been a load off my shoulders and added a load to my wallet.
Thank you Craig for these suggestions. As always you've come through with ideas to help me move my business ahead.
This monthly planning will allow you better FOCUS on what really matters.
***
Thanks again Shawna.
One more cool story about Shawna and how she turned $50 worth of M&M's  into $10,000. It's one of the best investments she'll have made in her life (aside from joining the Mastermind group).
You see, several years ago we had Joel Marion speak at our Mastermind group.
During his talk he mentioned that he liked peanut M&M's.
After the meeting, Shawna sent Joel a few big bags of the amazing snack (it's  my favorite too, after chocolate covered almonds, of course).
Every time I'd visit Joel he'd ask, "What was the name of that nice woman that  sent me the M&M's?"
And I'd remind him it was Shawna.
Eventually he got to know her, and even invited her to his Superbowl party this  year because as he said in the invite email to her, "You're an action taker."
That weekend allowed Shawna to connect with many big name fitness experts that will promote her product this week.
And it gave her a chance to connect with Joel, and he's going to mail for her Challenge Fat Loss launch on May 9-11.
That's how it works. That's the power of taking action, being a pioneer, sending  M&M's, adding value, and networking.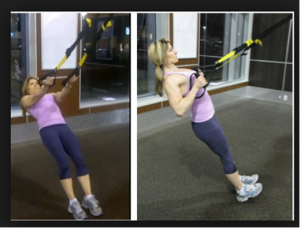 Shawna T-R-Rocks
Remember to contact Shawna at www.ChallengeFatLoss.com and help her out this week.
More power to all of you,
Craig Ballantyne
"People will do anything for those who encourage dreams,  justify failures, allay fears, confirm suspicions, and help  them throw rocks at their enemies." – Blair Warren