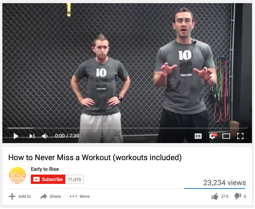 Yesterday I told you about my friend Scott.
Like many people, Scott gained weight because his friends were overweight.
You might know the feeling.
Your friends eat hot dogs, chicken wings and chocolate cake.
They drink soda, beer, and sugary coffees at Starbucks
And worse…
They pressure YOU into doing the same.
It's a sad story.
But fortunately, things CAN be different for you.
You just have to do this one thing – starting today.
Here's what I told my friend Scott who gained weight because of his friend, Peter, the "big eater and drinker".
The best way for Scott to lose weight is to help Peter.
And the best way to help Peter is for Scott to Live & Lead by Example.
Scott needs to be the change that he wants to see in Peter.
That's what my friends Missi Holt and Chef Gui do for you.
When Missi shows you that she can stay active and eat healthy while traveling, it shows you how to do it and eliminates your excuses.
When Chef Gui cooks a quick and delicious meal with healthy ingredients for his family of 7, he's proving that you can do it too, no matter how busy you are.
Missi and Chef's examples give YOU the power to succeed…
…because they are living and leading by example.
And hen I film short bodyweight exercise videos for you…
…it proves you can get fit and lose weight in just a few minutes per day.
And every time we choose to do the right thing, it strengthens our habits.
Just like it will for YOU, too.
So the ONE thing you need to do is:
Live & Lead by Example for all of those people in your life.
Back to my friend, Scott.
He needs to step up and live and lead by example.
He needs to be a role model for Peter.
Just like you need to be the role model for your friends.
Sure, some of them will tease you.
But when they see you stick to your plan, they will notice.
You're helping your friends – day-by-day, meal-by-meal.
Eventually they will change.
I've seen this happen time and time again with my friends (like you!).
People see me making the right decisions about bread, booze, food choices, portion size, and dessert, and they start making the right decisions for themselves.
Imagine what you could do for your family and friends if you committed to being a powerful role model in their lives.
I know you can do it.
And you don't have to give up everything.
You just have to say "no" to the wrong choices 90 percent of the time.
You just have to Live and Lead by Example.
Your friends and family will thank you for it.
And so will your health.
When you have the courage to make the right decisions for your life, you will finally get the body that you desire.
It IS possible.
You can – and WILL – succeed when you never give up on what is important to you.
Thank you for being an inspiration.
Your coach,
Craig Ballantyne, CTT
Certified Turbulence Trainer
PS – Let this guide you…
Concentrate on what counts. Make a list of what matters. Keep it with you at all times. Create a vision board around these areas in your life: Family, Friends, Health, Wealth, Personal Development, and Spiritual Growth.
PPS – Here's today's workout video…
…where I explain how to get more results in LESS time.
But judging from this picture, Brian doesn't believe me.
Watch this video to see how to do it