Where and When is the Next TT Certification Event?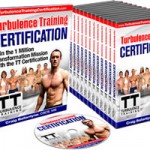 The most common question I get from trainers around the world is, "When will there be a Turbulence Training Certification in my area?"
Well, the great news is that you can have the certification in your house, at your computer, right now.
You see, every 4-6 weeks I accept up to 5 new TT Trainers into the Certification and get them started with their exam that is delivered both online and to the doorstep as DVDs.
Because of the global audience attracted by Turbulence Training, we now have TT Trainers in Australia, Ireland, the United Kingdom, Dubai, Holland, and Hong Kong – all thanks to the online delivery system.
After all, even with my travel schedule, I wouldn't have the time or funds to visit all of those locations myself.
So if you want to become the next Certified Turbulence Trainer, I have just opened up 3 more spots here:

=> http://www.turbulencetrainingcertification.com/firstfifty.html
As you know, the Turbulence Training Certification is different from every other certification out there.
When you become a TT Trainer, you'll instantly become part of the fitness industry's biggest and boldest mission of helping over 1 million men and women transform their bodies and their lives.
Plus, you'll received advanced program design education and Client Attraction secrets that have – until now – been limited to the world's top trainers.
Here's exactly what you'll receive when you join the Turbulence Training Certification 1 Million Mission:
1. The Turbulence Training Certification Seminar (Value: $997)
You'll receive instant access to the online video AND you'll have the DVDs "delivered-directly-to-your-doorstep".
The TT Certification was filmed live in Toronto featuring the best fat loss program design material of any Personal Training Certification.
2. Exclusive Licensed Access to the use of the registered Turbulence Training trademark (Value: Priceless)
You can't put a value on being able to set yourself apart from every other trainer in your city when you become one of the limited number of trainers to get licensed access to use the Turbulence Training Registered Trademark in your business. Only Certified Turbulence Trainers will be able to give their clients OFFICIAL Turbulence Training workouts.
(I take the TT trademark VERY seriously, and have "dealt" with trainers in the past who have used the Turbulence Training name without permission.)
3. A Certified TT Trainer Listing on the Turbulence Training "Find a TT Trainer" Website (Value: Priceless)
As a TT Trainer, you will have your own dedicated webpage on the Turbulence Training Certification website, where you will be able to promote their services for your area.
I have a team of website experts standing by to drive traffic to those pages so that when folks in your town go on the Internet to look for a personal trainer, we'll be working on getting your name to the top of the rankings.
Again, you can't put a price on this benefit, because it could lead to any number of clients investing in your services.
4. Turbulence Training for Fat Loss and Turbulence Training 6-Month Bodyweight DVD Set. (Value: $297)
Along with the TT Certification Seminar videos, you'll get a copy of the Turbulence Training for Fat Loss and Turbulence Training 6-Month Bodyweight DVDs to show you the complete library of exercise demonstrations for the most popular TT workouts. These will ensure you have everything you need to provide the perfect TT workouts to your clients.
5. "Done-for-You" Automatic Client Attraction Tools (Value: $795)
This bonus seminar footage shows you over a dozen tools you can use instantly and automatically in your business to attract more clients. And because they are easy to use, these tools will allow you to get more clients while you focus on what you want to do – and that is training clients.
6. Monthly Turbulence Training "Fat Loss Program Design and Fat Burning Research Update" Newsletter (Value: $97)
Each month, the latest issue of my TT Fat Loss Program Design and Research Update will be delivered directly to your doorstep, featuring exclusive access to the latest fat loss workout tips, fat burning exercises, and program design secrets of Craig Ballantyne and other Certified Turbulence Trainers.  You'll also receive my insights on the latest fat burning research and how to use this science to help your clients get more results and transform their bodies.
7. Monthly Turbulence Training Audio Interview CD (Value $47)
This hour-long interrogation of one of the world's best personal trainers will also be delivered directly to your doorstep each month. I'll be grilling world-famous trainers, as well as "underground transformation specialists", including other Certified Turbulence Trainers, so that we can discover new ways to get more results. It might even be YOU one day.
You're easily going to be the most knowledgeable trainer in your town with these monthly updates.
8. Monthly Automatic Client Attraction "Done-For-You" Tools
(Value: $97)
With each month's "Done-for-You" client attraction system, you'll be able to just "plug and play" the system for more clients. This tool is delivered directly to your doorstep, for instant implementation to get more clients into your business and into the 1 Milllion Mission.
9. Monthly Client Attraction Audio Interview CD (Value: $47)
I'm really excited about this feature that gives you an insider interview with one of the world's most successful fitness professionals, including other Certified Turbulence Trainers. Again, it might even be YOU one day. This audio will share exactly what you need to do in order to get more clients, build the best bootcamp, or open the best personal training facility in your town. Each CD will be packed with instant success tips and action plans.
10. A Turbulence Training Platinum Membership. (Value: $297)
For the life of your TT Trainer career, you'll always receive a complimentary Platinum Membership to the TTMembers.com website, where you'll have access to every program in the Turbulence Training library.
Total Value of the TT Certification – $2674
(Although frankly, it's potentially priceless because of the access to the TT Trademark and your listing on the "Find a TT Trainer" website.)
But of course, that is not all. No way, not when you're joining the First Fifty Club of the TT Certification.
Join the First Fifty Club here:
=> http://www.turbulencetrainingcertification.com/firstfifty.html
In addition to all of that, you'll receive these bonuses if you are one of the first 50 trainers to get certified.
* Free Access to yearly TT Certification event (Value: $497)
* You'll be "on my radar" for life, and I'll be looking for new prosperity opportunities to offer you on an exclusive "first-dibs" access (Value: Again, priceless)
The total value of the TT Certification is well over $3000.
And if you add in what you'll save by NOT having to fly half-way across the world to study in person and pay for a couple of nights in a hotel, and leave your business, the value of the online TT Certification delivery exceeds $7000.
But for the next 29 TT Trainers to join and fill out the remainder of the TT First Fifty Club, the investment in your TT Certification is only $995.
(There is also a two-payment plan option available.)
If you have any questions, please let me know. If not, I hope you're as excited as I am to get started.
Reserve your TT Certification here:
=> http://www.turbulencetrainingcertification.com/firstfifty.html
To the 1 Million Mission and beyond,
Craig Ballantyne, CSCS, MS
Creator, Turbulence Training Certification