New 10-Minute (evil) Flat-Stomach Workout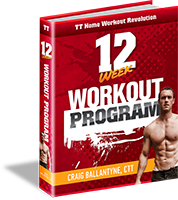 Apologies in advance!
This is an evil workout idea that came to me on the flight over from Toronto to London last week.
Now don't get scared off…
I did this circuit in my hotel room in Scotland…
…and it's deadly for belly fat.
It's a fun little workout unlike anything you've probably ever done before.
You'll do one exercise twice in your workout…
…leading to more muscle carb depletion…
And when you deplete (burn off) your muscle carb stores…
…that leads to MORE fat burning.
Plus, this type of exercise increases your body's natural fountain of youth…
…and one of the best fat burning hormones => Growth Hormone
It's responsible for making you look and feel younger… and slimmer.
Alright, enjoy this circuit and let me know what you think!
10-Minute Evil Flat Belly Workout
– Do each exercise for 30 seconds.
– Do not rest between exercises.
– Repeat the circuit 3 times for a 10-minute fat burning workout.
1) Jumping Jacks
2) Burpees
3) Total Body Extensions
4) Punisher Squats (20 seconds squat, 10 second hold)
5) Close-Grip Pushups
6) Punisher Squats (20 seconds squat, 10 second hold)
7) Iron Cross Hold
Here's a demo of the unique Iron Cross Hold.
If you liked that workout idea…
… then  you'll LOVE this workout video.
And it's FREE!

Enjoy that evil fat-burning finisher.
Be back soon with more workout treats! 🙂
Talk soon,
Craig Ballantyne, CTT
Certified Turbulence Trainer
PS – Believe in yourself!
It's what makes your dreams come true.
"Whatever you vividly imagine, ardently desire, sincerely believe, and enthusiastically act upon must inevitably come to pass." – Paul Meyer
PPS – Here are some pics from London and Edinburgh.
– Big Ben from the London Eye – where we had good weather…
– London "hydration session" with Bedros Keuilian
– Pointing out the Pancake House for my friend and Certified TT Trainer, Mikey "Workout & Pancake Finishers" Whitfield
– Train ride with the Keuilian family, including Diana Keuilian, author of The Recipe Hacker
– Castle view from Edinburgh hotel