NEVER do these 10 exercises if you are overweight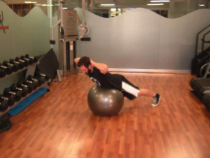 I bumped into Michelle, an old high school girlfriend last week at the YMCA. She was using the weight machines while I did Density Squats and Box Jumps in the back corner (details below).
Michelle was frustrated. She walked over, pinching the fat on the back of her arm.
"I am so sick and tired of this baby weight, Craig," she said. "Ever since I had kids and turned 35 I can't get rid of it. But do you remember how good I looked in high school?"
Do I ever, I thought.
"I've tried everything," she said. "Walking, lots of cardio, and now these weight machines, but nothing's worked. What can I do?"
"Well," I replied, trying to give her the truth without breaking her spirits, "The good news is that none of those work for anyone. And these weight machines you are using are a waste of time."
Let's take a look at what she was doing:
Leg Extension
Hip Adductor/Abductor
Back Extension
Ab Curl
Butt Blaster
Cable Crossovers
Triceps Pressdowns
Biceps Curls
Calf Raises
And then 20 minutes on the Elliptical
None of those are going to change your – or Michelle's – body.
And now let me say something that is going to sound really, really weird…
If you're overweight, God's blessed you. That's right. Look on the bright side. God has given you the best 'weight machine' in the world – your body.
This little extra weight will allow you to get more out of bodyweight exercises than any weight machine could ever give you.
So you can quit the gym, stay home, save time, spend less money and FINALLY get results when you start doing exercises like my Total Body Extensions, Prisoner Squats, Narrow-Stance Squats, 1-Leg Hip Extensions, Mountain Climbers, Pushups (kneeling, close-grip, decline, spiderman, and all the other variations), and more.
When you do those workouts in my short burst style, the weight WILL come off.
But…
In truth, it will feel harder than sitting in that awkward abductor/adductor machine at the gym. It won't be as easy as using the Elliptical.
But it will be shorter and it will WORK!
So… as I said to Michelle…
Love yourself. Love your body. Love this chance for change.
Love the transformation you're going to go through.
Love all the lessons you're going to learn about what WORKS for your body.
And best of all, LOVE the results you're going to get. You'll look and feel as great as you did in college or even high school once you learn to do short, burst workouts that emphasize QUALITY over quantity.
Bodyweight exercises help you fight aging. They keep you looking and feeling young. (Just look at martial artists from all over the world – those men and women always look 20 years younger than their age.)
So stop spending an hour in the gym doing circuits (and driving thirty minutes getting there and back).
You don't need any equipment at all to look good, lose weight, and get the body back that you'd love to show off at your next high school reunion (or even when you just see an old high school flame when you're out on the town).
Success is that simple. It's not easy, but it's simple. Follow the proven path that experts like Dr. Kareem and I have laid out for you.
Can't wait to hear about your results.
To a NEW you,


Craig Ballantyne, CTT
Certified Turbulence Trainer
PS – Oh, and what was that workout I was doing?
It's a muscle-building (i.e. getting big and stronger) workout that I call "Density Squats." It's where you do back-to-back-to-back sets of squats increasing in weight and decreasing in reps followed by one back off set. My 7-minute squat workout went like this:
95 pounds x 20 reps, 135×15 reps, 185×20 reps, 205×8 reps, and then I dropped the weight back to 135 and did 12 reps.
Whew. Heart rate was sky-high and legs were shaking by the end but I got a lot of results in just 7 minutes of work. I'll send you more workouts like this soon.
I trained like that in high school and I still do today because it releases the Fountain of Youth hormone (Growth hormone) in my body. That's why I'm 40 but look 35 or younger… and still feel like I'm 17!
PPS – No matter what your goal, think about this…
What can you do right now to make progress on your #1 priority in life?
Overcome Fear. Tackle Problems. Destroy Distractions. Attack Weaknesses.
Stop procrastinating. Do not wait. Just do it. Take massive action today on what matters now.