Training for Warriors at the TT Summit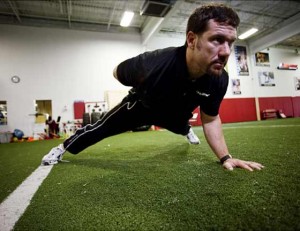 Martin Rooney is one of the world's best trainers. And he's going to bring his unique bootcamp workouts and bodyweight exercises to YOU in June at the TT Summit. Let's give you a sneak peak here.
Click here to listen to the call.
********************************
Craig: I am here with a very special guest for you today, Martin Rooney. Martin has super high energy, he's absolutely the best speaker I have ever witnessed, and he is also an amazing trainer.
That's why I've invited him to come down and be our guest speaker at the third Turbulence Training summit in San Diego in June, on the 21st and 22nd of June in 2013. Martin, how are you?
Martin:
Hey, great to be here, Craig. As ever, since the last time we saw each other up in Canada, I'm fired up and ready to get more people fired up to come see us out in San Diego this summer.
Craig: Absolutely. A little bit of background; you have an amazing YouTube channel, you have an amazing certification, and you also have a book called Warrior Cardio, right?
Martin:
Yeah, at Harper Collins. Warrior Cardio is the newest in the Training for Warriors series. There are two before that called Training for Warriors and Ultimate Warrior Workouts. Between the three, there were over 100,000 copies sold all over the world, so people are definitely getting into the training.
That's exactly what we're going to be sharing out in June with everybody out there where people are going to get an opportunity to not only see you and see what you can do for everybody, but then get a chance to really experience the training firsthand and see what it's like for an in person workout with me and a lot of other great people.
Craig: We have an amazing location at the Turbulence Training Summit to do boot camp workouts with you. We're going to be outside on the rooftop at a hotel, so it's going to be really fantastic. Tell us what we can expect from a Martin Rooney workout.
Martin:
If anybody's familiar with me or not, one thing you're going to expect is I'm going to motivate you. I think one of the secrets of being a great trainer, of course you have to know your stuff, but you have to be able to fire people up. You have to be able to get people out of their shell, out of their comfort zone. The way I do that is with high energy, with humor, and really showing people empowerment, that this is something they can do.
Without a doubt, everybody who's coming out to this, you are going to hear amazing stories, you're going to get motivational training, but you're also then going to see how I apply that to actual workouts.
One of our mantras in Training for Warriors is to bring out the warrior within. I believe everybody has something great inside of them, but so few people ever tap into it. It's hard to tap into it by yourself, but with a coach and somebody bringing that out of you and with the high energy of the rest of the group as well, it's an easy opportunity to do that.
I cannot wait for people to come out on that rooftop and see what we're going to do under the sun in San Diego.
Craig: Yeah, so why don't you tell us a little bit more about your background. You have trained everybody in everything and champions this and champions that. Tell us a little bit more about how you got started, what your passion is, and what you're doing these days.
Martin:
I started off as a track and field scholarship athlete in college, then I went to the Medical University of South Carolina and got my Physical Therapy degree and my Master's degree in Health Science.
After that, I was on the U.S. Bobsled Team for a number of years, but I became an orthopedic therapist. What's weird is I became that because so many people told me that's what I should do or everybody else was telling me that was what was hot, but I had this knot in my gut that was kind of saying that wasn't what I wanted. The sad part is that it took me a couple of years before I even really started to listen.
I was an orthopedic therapist. I liked what I did, but I didn't love it. Like that word that you just said, that passion. That passion wasn't there to be the best in the world at something. I knew that it was fitness, I knew that it was sport, so I started just going to every seminar I could, and we're talking this is back in the mid 1990s.
An old friend of mine, Bill Peresie and I, we founded the Peresie Speed School and really got this thing going. Now we have 80 locations across the country and my training programs that I've developed for that, I've trained over a million kids.
I found my niche. It was kind of training for performance. I started working with the highest level fighters in the world, I had 150 draft picks to the NFL, I started working with first rounders in every major sport and consulting many top professional sports teams all over the world. I really found that niche in what I wanted to do, and that's kind of my background.
Now, between Peresie's and Training for Warriors, what excites me most is to meet with other trainers and give them the tools and the skills that I've found to be successful and help them learn how to do that, too. We've now created businesses for people where they can get involved in our licensing and add this to their current programming and make more money.
It really has me jazzed up on exactly what's going on right now, but at the same time my passion is still there with sport, fitness, and really sharing with other people.
Craig: I met you in person for the first time ever in Regina, Saskatchewan of all places, where you, Alywn Cosgrove, John Berardi, and myself were speaking at a science conference. You did a little comic routine before you got into literally the highest energy presentation I've ever watched. I won't give away everything you did there, but man did you ever bring the energy. Tell us a little bit more about how that equates to an amazing training session.
Martin:
Think about it, if you want to get motivated or you want to motivate somebody, you have to fire yourself up first. What I've learned, it's kind of one of my rules. I learned this from my old man. He always would say, "Hey son, high energy will never fail you. No one is ever going to tell you you're too positive. Nobody is ever going to tell you you're too strong or you're too motivating." There just isn't a limit to that.
What I've tried to do is push the limit to that because as you hear what I said during that speech that day, and you saw it, it's a show. Every training session is a show. You have to put on this act, if you will, and be this Broadway star and your ultimate goal is to get a standing ovation at the end.
What I did that day is I realized, and you saw it. Guys, there could be nothing more boring than speaking at a science convention, and that attracts a type of person that maybe their expectation of high energy is not there. What I knew was if everybody was going to be a one or a two on the energy scale in the crowd, then I had to be a 10. If I was a 10, at least I'd make somebody a five or a six.
Ultimately I brought that 10 that day, and you knew it was hard if we went late in the day. The whole day had gone, people had already left. There wasn't a ton of people left for the quality of the presenters that were there. I knew I could either back down or I could push forward harder than ever.
That's the direction I went and that's exactly how I've attacked every speech, every training session, every meeting, even every call like this. Right now, I have to bring the energy over the phone even more because it's hard for people to feel. The more you do this stuff, the more people you get excited. If you can get people excited, you can make people change and energy is a big part of that.
Absolutely! We'll have to end it here for today but will be back with part 2, with Martin Rooney.
Craig Ballantyne, CTT
Certified Turbulence Trainer
PS – If you're ready to train with Martin and me in San Diego…
…then reserve your spot at the 3rd Turbulence Training Summit here.
Join Craig and Martin in an amazing bootcamp workout
But hurry, there are only a few more days to get VIP access to this event.