How To Make More Money With Email
Another travel day for ol' CB today as I am heading down to Michigan for the weekend to film some new workout videos.
Well, weather permitting. It's terrible out there now…oh dear. I might have to hook up ol' Bally the Dog to a sled and yell "Mush" for a few hundred miles. We shall see.
So while I'm out dogsledding, I'm handing over today's column to Mikey "Pancake Finisher" Whitfield for great advice on writing emails to your readers. Thanks Mikey!
Email Your Readers Like They are Your Best Friend
By Mike Whitfield
One thing that most people don't know about me is that not only do  I love pancakes and run my Workout Finishers business, but I also  have a second internet business that is really starting to pick up steam.
It's geared towards bootcamp and bodyweight workouts, with a chunk  of this list being bootcamp coaches and trainers. Of course, I didn't  know this until I surveyed them in the fall of last year. (Remember  – survey your list to see what kind of readers you have).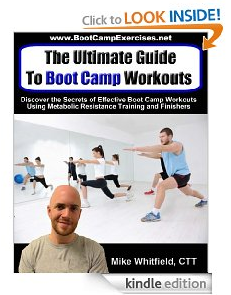 "Bootcamp" Whitfield also likez wafflez.
This second business is actually an affiliate business, and so I've  promoted my own stuff (duh) as well as other offers that I feel those  readers would benefit from.
I started this in the spring of last year with my business partner, and  I'm really excited about the momentum we're gaining, especially  with Joel Marion's BioTrust supplements.
So when something amazing comes around like Adam Steer's  Bodyweight Burn did last year, I knew my Finishers list and my  Bootcamp list would benefit from it.
Both lists did really well, but the key was to tweak each email to  tailor to each list so they felt I was emailing them personally.
This does two things:
1) Connects with your readers on a deeper level (and they appreciate this)
2) Increases your sales
Let's compare. First, let's take a look at the first little bit of text I sent to  my Finishers List for Adam's offer:
Finishers List
Subject – Latest Workout Trend and Density Finisher (Video)
What a fun, yet nasty density bodyweight finisher on today's agenda. Good  times are ahead for you my finisher friend.
*************************************************
And now, let's look at the start of the Bootcamp email broadcast:
Bootcamp/Bodyweight List
Subject – Weird Exercise for Bootcamps (Video)
There's an easy way to give you and your campers an "unfair"  fat-burning advantage.
**********************************************************
Now BOTH emails had the exact same offer and went to a cool exercise  video that Adam had on his site, but I tweaked the swipe emails from  Adam to talk specifically to my lists.
If I were a bootcamp coach and saw the second email, I would be interested  for sure. The same if I was a finisher freak (in which I am) and saw the first one.
That's the power of connecting and understanding your readers. Even if a bootcamp coach didn't buy Adam's program, I gave them a great idea to use with their bootcamp. That's adding value. Had I not tweaked it, perhaps they wouldn't have thought of applying it to their own bootcamp.
Connect deeper with your tribe and you'll improve your income and add more value.
To pancakes, finishers, and connecting with people,
Mike Whitfield
*****
Thanks Mikey, as always, this is really great insight from an action taker like yourself. We appreciate you.
And that's killer advice for everyone, everywhere – Add more value.
That's how you get ahead in life.
Well, that and a strong dog that can pull you through snowstorms.
Have a great weekend,
Craig Ballantyne
Everyone, like it or not, is "in sales." No matter what your  career, no matter what your industry, your entire day is based  around persuading other people to help you or do things for you.  Just another reason why everyone should become better at selling.