How To Make 10 Grand Profit In 2 Weeks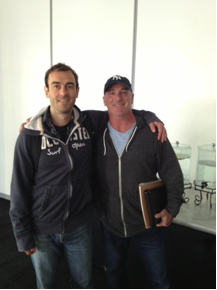 It was another jaw dropping, absolutely beautiful sunny day in San Diego. The Padres had an early 12:30pm ball game, so thousands of fans were walking by the windows of our Mastermind meeting on the way to the stadium.
But the real show was going on inside the Hard Rock Hotel at our meeting.
Five ambitious entrepreneurs, ready to stop "working for the man," had traveled in from all over the United States to work one-on-one with Bedros Keuilian and myself.
Big B and I had been planning out this day for several weeks now. We've run over a half-dozen one-day masterminds in the past, and we finally figured out the perfect formula for the day's events.
We started with a quick intro from everyone. Then we moved into two-and-a-half hours of incredible content. I went first and delivered a proven plan for creating killer copy that converts. Then I showed the group how to get affiliates.
After a short break Bedros was back to open their eyes to every single significant source of online traffic, plus he walked them through his incredible system for writing emails that sell, connect, and close clients.
He is a master of marketing. I even jotted down a few HUGE opportunities for ETR and a couple of pages of notes. Bedros brings brand new – and proven – what's working now information to every meeting that we do.
Bedros is a great guy, marketing machine and a workhorse, and that's why, despite being a college dropout, he's now a multi-millionaire and creating the world's fastest growing fitness franchise – Fit Body Bootcamp.
 
Just being in the room with him will motivate even the most advanced entrepreneur to rush back to their room and start implementing his action step secrets.
I can't wait to share what I learned from him with the gang back in the ETR office.
Next it was time for a well-deserved lunch break. The food, salmon and grilled vegetables, was delicious (as it always is at our meetings). Refreshed, we were now ready for the final act of the day – individual hot seats.
Having covered the marketing, sales, and content creation blueprints of the morning, we were now free to focus on generating big ideas for our attendees.
They all arrived confused, a little intimidated, and completely unsure of what steps to take now. Some had small gems of ideas that Bedros and I just needed to help them expand and explore.
Others, like Steve Preston, already had a working model, but thought they were 'tapped out' and thus were looking for new opportunities.
With long-time fan and new MM member, Steve Preston (our advice should triple his online income this year…and it was so easy to help him…he just couldn't see the opportunities because he didn't have the experience)
For each mastermind member, Bedros and I put our collective three decades of marketing and entrepreneurial experience to work for them, helping them to uncover hidden profits, triple their current revenue, and identify the exact step-by-step blueprint to follow for the next 30 days.
Each attendee should be able to make $10,000 in the next 2 weeks. They all have big ideas and all the tools they need to succeed. What are some of them are missing, however, are the invaluable connections that you can only get through a Mastermind group (like the 7-figure in-person group that we run) or the ETR Virtual Mastermind.
It's essential to have access to affiliates and joint venture partners if you want to make quick cash by adding extreme VALUE to the world.
But the big question they were able to answer – and the reason why they will be able to make five-figures fast – is what I refer to as the EGO CHECK question:
"Why do you deserve traffic, affiliate partners, and sales? Why do you deserve to have customers pick your products or services over all the other competitors out there?"
If you can answer that clearly and concisely, then you're on track for success.
If you can't, then you need to go back to the old drawing board and come up with a compelling reason for the existence of your business in this crowded and competitive environment that exists today.
How can you add more value than others?
How can you differentiate your product or service from competitors?
How can you create what Dan Kennedy calls, "A category of one" for your product or service?
Get out of the office, away from your computer, and let your mind go to work on those tasks. Take a walk. Take a shower. It's in those places that your brain will deliver the idea.
Trust me, it will hit you when you're not ready, so you better be sure to write down the particular articulation of the answer to this question – because the answer will be "money in the bank".
Find a way to add massive value now so that you can deserve traffic, affiliates, and sales. That's what building a real business is all about.
And if you think you'd benefit from the 3 decades of experience that Bedros and I have to offer, make sure you join us at our next 1-day Mastermind meeting in Las Vegas, September 11th.
Email Frankie@keuilian.com to set up your free call with Bedros to see if it's right for you.
See you soon,
Craig Ballantyne
To achieve a goal you've never achieved you need to do 5 things: Plan better, get accountability, recruit social support, provide yourself an incentive, and set a hard deadline.