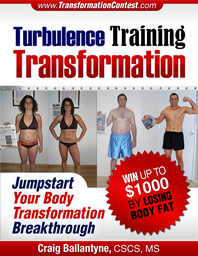 Happy New Year. I hope you had a great celebration. Our family had a good time at a young cousin's wedding. It was the perfect celebration to end 2011 and kick-off 2012.
But, a lot of my cousins were asking me for advice…like you, they are wondering how to lose those holidays pounds.
Well, no need to wonder or be frustrated any longer.
You have the solution.
Follow these 5 MUST-DO steps immediately, and you could lose 3-5 pounds BEFORE you go back to work.
And it would be a great way for you to kick-off your potentially winning transformation in our TT Contest.
Find out how you can win $1000 for losing belly fat here.

Now to those tips…
1 – Start a Morning Ritual
Simply getting into a healthy ritual to kick-start your day will help you stay on the fast track to fat loss.
– Drink 2 cups ice cold water and take 1g Vitamin C
– Workout (with supersets and intervals)
– Have a high-protein, high-fiber breakfast (such as an omelet with spinach, or a blender drink with berries, spinach, and protein powder)
– Drink 2-4 cups of Green Tea before lunch
– Take 1-2g of EFAs <= essential
These steps will keep you full of energy, fight hunger, and support fat burning. Nothing magic in any of them, but combined, this is a powerful plan for fat loss.
(If you workout later in the day, that's okay. There's nothing metabolically magic about working out in the morning, but it will help you avoid missed workouts.)
2 – Take Advantage of Others
The SUPPORT of others, that is…
Research shows that online, in person, and in the gym social support helps you lose fat faster.
Get a workout partner and a diet buddy, and add this one simple little act to your morning ritual:
Take a minute to visit your favorite fat loss forum, such as www.TTMembers.com, and post your daily diet and exercise progress, plus ask for help where needed.
Research shows that the more frequently you use a fat loss website, the better your fat loss results. It's no surprise that our most successful contest winners are men and women
who use the TT forum EVERY day – often twice a day, in the morning and at night.
You can take advantage of ALL of these social support tips when you enter the 13th TT Transformation Contest (where you could also win up to $1000 just by losing your belly fat).

For all the details on the contest, go here (it's on)
In just a few short days you could lose that 7-15 pounds you gained over the holidays. In fact, past winners have lost 33-36 pounds in just 12 weeks.
One gentleman, James, who placed second in our most recent contest, was able to lose 46 pounds in 12 weeks. You can check out his amazing results here.
3 – Avoid the Cardio Confessional & Switch to MRT Supersets and Intervals
Just say NO to the cardio confessional. Listen, the truth is that you simply can`t jump on an elliptical machine and make those big meals from the weekends just disappear.
Cardio doesn't work that way.
In fact, cardio for fat loss remains the BIGGEST fitness myth in the industry today (just ahead of using crunches for six pack abs).
In fact, new research shows that interval training works faster than slow cardio for fat loss (Medicine & Science in Sports & Exercise: January 2011, 43:115-122).
Add in metabolic resistance training to sculpt your body and get lean (and sexy), fast.
But what EXACTLY should you do?
Well, you could go to a busy commercial gym and hire a fresh out of college personal trainer for $60 an hour, but why bother when you can get the complete – and proven –
Turbulence Training for Fat Loss system for only $19.95.
Click here to save 50% and get started losing fat with TT on your way to potentially winning the $1000 Grand Prize in the 13th Turbulence Training Transformation Contest.
This includes a 30-day membership to the TT forums.
4 – Track Your Body Composition
Start by getting a baseline of your body fat level (percent) and then take the following body measurements.
Waist Circumference (at navel): _____
Mid-Upper Arm Circumference:_______
Mid-Thigh Circumference: ________
Hip Circumference (Widest point between legs & navel):______
These are essential to know because while your weight might not move, all that matters is that your body fat goes down.
REMEMBER: No one else but YOU knows your scale weight, so do NOT get obsessed with what you weigh.
Instead, focus on how your clothes fit and how your body measurements change on a week to week basis.
Seeing the inches drop will keep you motivated and frustration-free. Your weight can fluctuate depending on salt and water intake, and of course, if you're a woman then your weight will be on a roller coaster ride because of your hormonal cycle.
So again, don't get obsessed with body weight…focus on these measurements instead, and this next tip:
5 – Take BEFORE Photos
As much as you may dislike this, it might be the most important thing you do on your fat loss journey.
After all, the most common element of all fat loss success stories is having that BEFORE photo.
It encourages and motivates you to continue sticking with your rituals and making the right choices.
Workouts and diets might differ, but the BEFORE photo is always there to remind you of how far you've come.
Take your photo – it is really, really important, and you'll
thank me later when you compare the NEW you to that old photo.
Alright, now you have the 5 steps you must take immediately in order to have the COMPLETE BLUEPRINT to your fat loss
success in 2012.

Add the full TT for Fat Loss program (at 50% off) and get
started losing fat today.
More powerful fat loss tips coming soon,
Craig Ballantyne, CSCS, MS
Creator, Turbulence Training
PS – You can win up to $1000 in the Transformation Contest just for losing your belly fat.
So here's what you need to do now:

1) Go to this fat loss website
2) Click on the Get Started Link or Big Yellow Start Button
3) Download your copy of Turbulence Training and all of the workout bonuses and start using the workouts and nutrition advice today to lose that holiday blubber.
4) Create your username and password for the TT Member's area.
5) Post any personal workout and nutrition questions on the TT forum and I will answer those for you within hours.
That's all you have to do to get started losing fat today.
It's the perfect way to start your body transformation and kick-off the New Year to make 2011 your best year ever!
PPS – Still not sure?
No worries, I understand your skepticism, so I've written down 3 amazing reasons to get started with Turbulence Training today.
Reason #1 – Turbulence Training is guaranteed to help you lose fat(and you get a 60-day guarantee so you can try out the program for 2 months to judge for yourself).
Reason #2 – In the 13th TT Transformation Contest, the winners of the male and female divisions get $1000 cash PLUS a 3-year Platinum Turbulence Training Membership.
Reason #3 – The most important reason to get started with Turbulence Training immediately is the fact that it's on sale for 50% off.
Click here to get TT for 50% off
This is going to be your BEST YEAR EVER. You deserve it.
Looking forward to receiving your success story in 2012.