Kern Steals From This Guy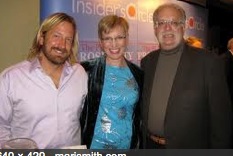 Did you also know that Kern says he just rips off Dan Kennedy's info, makes it cooler, and then repackages it for his audience?
Check your wallet, Danny Boy
Interesting…I guess that proves Kennedy is still the master to learn from. Recently in one of Kennedy's CD's, grumpy ol' Dan gave us this advice:
"The customer has zero tolerance for anything that is ordinary."
"Entrepreneurs need to turn a commoditized product into an experience. Emotional connection is one of those things. People are responsive to those who give them attention, not to those who ignore them."
"Customization, personalization, good message to market match equals natural competitive differentiation, lifting of price limitations. Look to create products and services that are more matched to segments of your list, instead of a one size fits all."
"People want what is for them, not for everyone else. People are being taught that the world will customize for them. This attitude can be really useful to the marketer who adapts, acknowledges and utilizes." – Dan Kennedy
Kennedy finished by suggesting these 5 keys to building your business:
1.    A more complicated business that can't be easily copied
2.    A Unique Value Proposition
3.    Differentiation in marketplace
4.    Customer retention strategies
5.    A premium pricing strategy
But don't stop there. Kennedy wants you to FOCUS. Here's his Focus Checklist:
1)    Focus on self-awarement & self-reflection
2)    Focus on time, money, & energy management based on objectives (Ask yourself: "Is this use of my time, thought, energy, money this moment moving me measurably closer to my personal, meaningful goals?")
3)    Focus on relatively few, dearly understood, critical success factors in one's business
4)    Focus on what works, what is measurable (& manageable), & what provides best ROI
Kennedy also recommends doing an analysis of what works for you. So take some time to rank your activities from most to least profitable.
Mine are:
– Email promotions
– New product & copy creation
– Mastermind coaching & private personal coaching
– Membership site participation
– Blogging
– Free report creation
– Facebook participation
Based on your list, focus on spending more time on the most profitable activities, and less time on the least profitable activities.
That means planning, delegating, and working.
Work your plan,
Craig Ballantyne
"Plan your work and work your plan." – Dr. Nido Qubein