Jump Rope Workout Challenge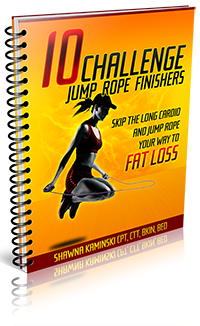 101 reasons to hate Craig Ballantyne…
…that's one of the workouts I'm filming for you this weekend. It's 101 reps of pure Hatorade for Craig Ballantyne. Can't wait to get it to you…going to post the full, follow-along video to YouTube soon.
I'll be filming that workout in a scary place -"The Cage".
It was in this cage where I got my butt whooped by Shawna Kaminski's Burpee-Jump Rope challenge workout last year. I shudder every time I go into the cage to film a workout (at Certified Turbulence Trainer Brian Kalakay's gym down in Lapeer, Michigan).
Still have nightmares about how much I loved/hated that workout. It left me buzzing all day long. And it was so simple.
6 rounds of:
30 seconds of burpees
10 seconds rest (LOL, if you can call it that)
30 seconds of jumping jacks
10 seconds rest
And away we go. You've probably watched this video and laughed at me.
But it was awesome. And now Shawna has dozens of jump rope workouts for us.
Seriously. These are no joke.
Research shows that just a few minutes of jumping rope is MORE effective then jogging for 30 minutes!
But even BETTER, using a jump rope has also been found to reduce tension and raise energy levels.
And the BEST part is this – because of all the muscles involved in using a jump rope, you can burn a whopping 285 calories in only 15 minutes… all without unnecessary impact to your joints.
Get 31 done-for-you Jump Rope Workouts here
You'll challenge yourself and get all of the health and fat-burning benefits from Shawna's NEW Jump Rope Challenge workouts.
Here's one of her shorter workouts that burns 19 calories a minute from her Jump Rope Finisher manual:
Jump Rope Finisher #10 – "Hang Man"
Equipment: Pull up bar (optional)
Do the following exercises AMRAP style for 6 minutes:
Skipping: high knees 30 reps
5 pull ups (OR 5 wall sit stick ups)
Skipping: 10 double unders (OR 30 reps of high knees)
5 hanging leg raises (OR prone leg raises)
*AMRAP means 'as many rounds as possible'
Get all of her 31 workouts on her best sale ever here:
Burn 19 calories a minute with these 31 workouts <== SALE
Take the challenge,
Craig Ballantyne, CTT
Certified Turbulence Trainer
PS – This could be the best…
…piece of fitness equipment because you can take it EVERYWHERE.
A simple jump rope.
Try the workouts out at www.ChallengeJumpRope.com