A Healthy Spin on A Classic Mexican Breakfast: Huevos Rancheros
Read my lips. There is NO BETTER breakfast recipe than Huevos Rancheros. Now, do you have any further questions?
The truth is, this classic Mexican breakfast is absolutely delicious, and very close to my heart. I spent a lot of time in Mexico. I explored the country from Guatemala to the U.S. border, and from Cancun to Acapulco, visiting most of the historical sites and museums, eating in fancy restaurants and from street food carts alike, and meeting hundreds of local folks along the way.
One of my very best friends has been living for years in the tiny coastal village of San Agustinillo, along the Pacific Ocean. I still visit him and his adorable family from time to time, and breakfast revolves around either Eggs a la Mexicana, or Huevos Rancheros. Imagine that: a wholesome, rustic tortilla, spread with refried beans, topped with eggs, a delicious tomato-chili sauce, fresh avocado and cilantro.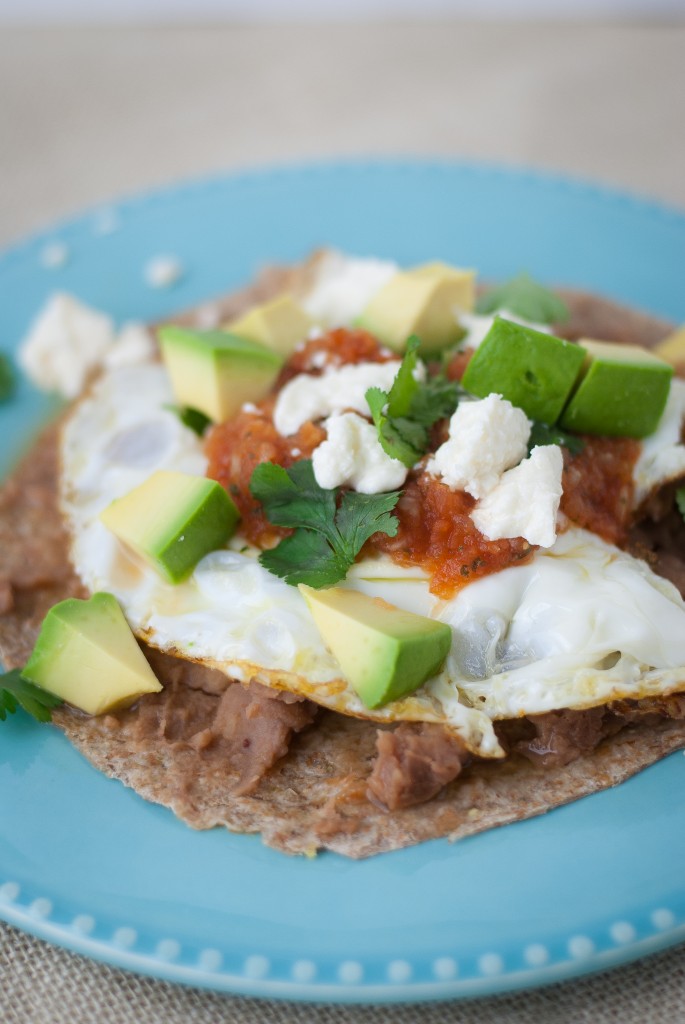 Huevos Rancheros
Active time: 15 minutes | Cook time: 20 minutes | Yield: 4 servings
Nutrition: 300 calories, 11g fat, 39g carbohydrates, 15g protein, 12g fiber, 5g sugar
Quick Tip: Wear plastic gloves when handling chili peppers.
Ingredients:
1 small can whole peeled tomatoes
1/4 cup fresh cilantro leaves, plus more for garnish
1/2 onion, diced
1 clove garlic, peeled and smashed
1 jalapeno pepper (seeded if desired)
Vegetable oil or coconut oil
Four 6-inch corn tortillas, plus more for serving, optional
1 small can refried beans
8 egg whites
1 avocado, pitted, peeled and diced, for garnish
1/3 cup crumbled queso fresco, for serving
Preparation:
In a food processor, combine the tomatoes, cilantro, onions, garlic, jalapeno, and salt; puree until smooth.
Transfer the sauce to a small skillet and simmer over medium heat until slightly thickened, about 10 minutes. Cover and keep warm over low heat.
Wrap tortillas with a clean, lightly moist cloth. Microwave on high approximately 1 minute, or until hot and pliable. Transfer each one to an individual plate.
Heat the refried beans, in a small saucepan. Spread the beans on the tortillas.
Add a tablespoon of oil to a skillet. Working in batches of 2, crack the eggs into the skillet. Cook until the bottoms are set and the edges golden, 1 to 2 minutes. Turn the heat to medium-low, cover and cook until set, about 1 minute more. Place 1 egg on each tortilla and spoon the warm sauce over the eggs. Sprinkle with the avocado, cheese, and additional cilantro.
15-minute Timesaver: You can make a quick version of the sauce with your favorite salsa. Just blend it and heat it up. Then start the recipe at step 3 (or step 4 if you don't mind tortillas at room temperature).
This recipe appears on page 30 of Chef Gui Alinat's Eat More Burn More. Get his supercharged guacamole recipe here.