How to Burn 200 Calories by Eating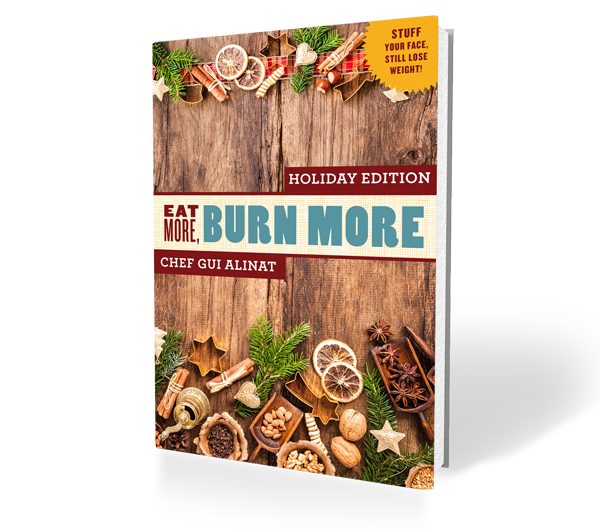 Wow, you're about to discover how to burn more calories EATING than you could with 20 minutes of slow cardio!
Last week, before I made the journey down to Austin, Texas, my weekly issue of Women's World magazine arrived in the mail. I'm serious. I read it every week to stay on top of the latest and greatest diet programs.
Most of the time the magazine makes ridiculous claims about Dr. Oz diets, like lose 11 pounds in 3 days, or 27 pounds in a week. One diet promised you could lose 16 pounds in a week, LOL. I hope Bally doesn't go on that one… he'd almost disappear!
But sometimes the magazine has info that even ol' CB didn't know. For example, a new study from the University of Massachusetts (yes, I Googled how to spell that) found that eating 30 grams of fiber helps YOU shed an extra 130 calories per day – WITHOUT exercise.
And according to registered dietician, Tanya Zuckerbrot, the digestion of fiber burns off another 75 calories.
So just by eating 30 grams of fiber per day, you can lose over 200 calories… it would take you over 20 minutes of doing slow, boring cardio to burn 200 calories. I know which one I'd rather do, and that's why I use this diet secret to stay lean and ripped 365 days a year – even over the holidays when I eat a LOT more.
Even better, fiber helps activate your healthy, skinny bacteria in your digestive system. And YES, according to a great book I read this summer (Gut, by Giulia Enders) there is such thing as GOOD (weight loss) bacteria and BAD (weight gaining) bacteria in your belly.
It's why some people can eat more and burn more, while others get stuck at a weight plateau even when they starve themselves.
The secret to getting more GOOD weight loss bacteria is eating the right foods.
But you do NOT need to starve yourself on rabbit food to do this, or to lose weight.
You can pack the flavor and sneak some fiber into delicious foods that you can eat at EVERY meal, from breakfast to dinner (and even pre-bedtime snacks). And even better, you can even do this with your favorite Holiday meals.
But the ONLY person that can show you how to do this is a professionally trained Chef. It's not Dr. Oz, or even Giulia Enders, no matter how cute she is. Ha!
So let's get you eating more, burning more, and losing more. You'll be able to do this today, through the holidays, and every day for the rest of your life with these brand NEW and IMPROVED holiday recipes from my good friend and professional fat-burning recipe expert chef, Gui Alinat.
  Get Instant Access to Full Flavor Fat Loss Holiday Meals here
But hurry, today's the FINAL day that these are available.
You must take action now.
And the best news of all… is that action you must take is to eat MORE food!
So enjoy an early start to the holiday season with Chef Gui's professionally fixed high-flavor, good-fiber, healthy belly recipes.
And start eating more to burn more,

Craig Ballantyne, CTT
Certified Turbulence Trainer
PS – Seriously, today is your last chance to get these at such a big discount.
The offer expires tonight.
Don't miss out on your chance to eat amazing meals while boosting your GOOD weight loss bacteria that will give you a flat belly… and all without sacrificing flavor.
  Get Instant Access to Full Flavor Fat Loss Holiday Meals here
Enjoy!
PPS – One more kickbutt mindset motivation tip to start the week right!
The best thing you can do tomorrow is get up 15 minutes early and attack your number one priority first thing in the morning. Your success is your personal responsibility. Take action. Do the first things first. Do what matters even if you don't feel like it.