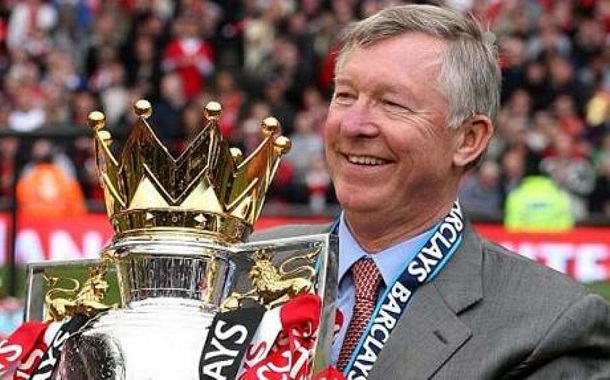 While I'm in Asia this week (having a night out in Tokyo while you read this), I thought it was fitting that since I'm in the land of dynasties, that we'd talk about building one today.
The hero of today's email was the most successful boss in his world.
He built a dynasty from scratch. This is a remarkable article I found in the Harvard Business Review about how Sir Alex Ferguson built the dynasty at Manchester United.
United has been one of European football's powerhouses for almost two decades, and they did it the same way we should build our own dynasties.
I've summarized the article below, although it was tough to cut much. The insights are wonderful in both education and entertainment. Enjoy. – Craig
***
How to Build a Dynasty
By Anita Elberse
Sir-Alex-Ferguson-Manchester-United
1. Start with the Foundation
There is a difference between building a team, which is what most managers concentrate on, and building a club.
Says Ferguson, "I wanted to build right from the bottom. That was in order to create fluency and a continuity of supply to the first team.
"The job of a manager is to inspire people to be better. If you give young people your attention and an opportunity to succeed, it is amazing how much they will surprise you.
"The young players really became the spirit of the club. Give them better technical skills, make them winners, make them better people, and they can go anywhere in life.
"When you give young people a chance, you not only create a longer life span for the team, you also create loyalty. Once they know you are batting for them, they will accept your way."
2. Dare to Rebuild Your Team
"Fergie's never really looking at this moment, he's always looking into the future," Ryan Giggs told us. "Knowing what needs strengthening and what needs refreshing–he's got that knack."
Our analysis of a decade's worth of player transfer data revealed Ferguson to be a uniquely effective "portfolio manager" of talent. He is strategic, rational, and systematic.
Young players were given the time and conditions to succeed, most older players were sold to other teams while they were still valuable properties, and a few top veterans were kept around to lend continuity and carry the culture of the club forward.
"The hardest thing is to let go of a player who has been a great guy–but all the evidence is on the field. If you see the change, the deterioration, you have to ask yourself what things are going to be like two years ahead," Ferguson explained.
3. Set High Standards–and Hold Everyone to Them
Ferguson speaks passionately about wanting to instill values in his players. More than giving them technical skills, he wanted to inspire them to strive to do better and to never give up–in other words, to make them winners.
He recruited what he calls "bad losers" and demanded that they work extremely hard. Over the years this attitude became contagious–players didn't accept teammates' not giving it their all. The biggest stars were no exception.
Says Ferguson, "Everything we did was about maintaining the standards we had set as a football club–this applied to all my team building and all my team preparation, motivational talks, and tactical talks.
"For example, we never allowed a bad training session. What you see in training manifests itself on the game field. So every training session was about quality. We didn't allow a lack of focus. It was about intensity, concentration, speed–a high level of performance. That, we hoped, made our players improve with each session.
"I had to lift players' expectations. They should never give in. I said that to them all the time: 'If you give in once, you'll give in twice.'
"And the work ethic and energy I had seemed to spread throughout the club. I used to be the first to arrive in the morning. In my later years, a lot of my staff members would already be there when I got in at 7 AM. I think they understood why I came in early–they knew there was a job to be done. There was a feeling that 'if he can do it, then I can do it.'
"I constantly told my squad that working hard all your life is a talent. But I expected even more from the star players. I expected them to work even harder. I said, "You've got to show that you are the top players." And they did.
"That's why they are star players–they are prepared to work harder. Superstars with egos are not the problem some people may think. They need to be winners, because that massages their egos, so they will do what it takes to win.
"I used to see [Cristiano] Ronaldo [one of the world's top forwards, who now plays for Real Madrid], Beckham, Giggs, Scholes, and others out there practicing for hours. I'd have to chase them in. They realized that being a Manchester United player is not an easy job."
4. Never, Ever Cede Control
"If any players want to take me on, to challenge my authority and control, I deal with them," Ferguson said.
An important part of maintaining high standards across the board was Ferguson's willingness to respond forcefully when players violated those standards. If they got into trouble, they were fined. And if they stepped out of line in a way that could undermine the team's performance, Ferguson let them go.
Responding forcefully is only part of the story here. Responding quickly, before situations get out of hand, may be equally important to maintaining control.
Says Ferguson, "Your personality has to be bigger than theirs. That is vital. There are occasions when you have to ask yourself whether certain players are affecting the performance of the team. If they are, you have to cut the cord. There is absolutely no other way.
"It doesn't matter if the person is the best player in the world. The long view of the club is more important than any individual, and the manager has to be the most important one in the club.
"Some clubs have changed managers so many times that it creates power for the players. That is very dangerous. If the coach has no control, he will not last. You have to achieve a position of comprehensive control. Players must recognize that as the manager, you have the status to control events.
"Some might say I acted impulsively, but I think it was critical that I made up my mind quickly. Why should I have gone to bed with doubts? I would wake up the next day and take the necessary steps to maintain discipline.
"It's important to have confidence in yourself to make a decision and to move on once you have. It's not about looking for adversity or for opportunities to prove power; it's about having control and being authoritative when issues do arise."
5. Match the Message to the Moment
When it came to communicating decisions to his players, Ferguson worked hard to tailor his words to the situation.
During training sessions in the run-up to games, Ferguson and his assistant coaches emphasized the positives.
"You can't always come in shouting and screaming," Ferguson told us. "That doesn't work. No one likes to be criticized. Few people get better with criticism; most respond to encouragement instead. So I tried to give encouragement when I could. For a player--for any human being–there is nothing better than hearing 'Well done.' Those are the two best words ever invented. You don't need to use superlatives.
"At the same time, in the dressing room, you need to point out mistakes when players don't meet expectations. That is when reprimands are important. I would do it right after the game. I wouldn't wait until Monday. I'd do it, and it was finished. I was on to the next match. There is no point in criticizing a player forever.
"Generally, my pregame talks were about our expectations, the players' belief in themselves, and their trust in one another. I liked to refer to a working-class principle.
"I would tell them that having a work ethic is very important. It seemed to enhance their pride. I would remind them that it is trust in one another, not letting their mates down, that helps build the character of a team.
"If you are too soft in your approach, you won't be able to achieve that. Fear has to come into it. But you can be too hard; if players are fearful all the time, they won't perform well either.
"Showing your anger all the time doesn't work. You have to pick your moments. As a manager, you play different roles at different times. Sometimes you have to be a doctor, or a teacher, or a father."
6. Prepare to Win
Ferguson's teams had a knack for pulling out victories in the late stages of games. Our analysis of game results shows that over 10 recent seasons, United had a better record when tied at halftime and when tied with 15 minutes left to play than any other club in the English league. Inspirational halftime talks and the right tactical changes during the game undoubtedly had something to do with those wins, but they may not be the full story.
When their teams are behind late in the game, many managers will direct players to move forward, encouraging them to attack. Ferguson was both unusually aggressive and unusually systematic about his approach. He prepared his team to win. He had players regularly practice how they should play if a goal was needed with 10, five, or three minutes remaining.
"We practice for when the going gets tough, so we know what it takes to be successful in those situations," one of United's assistant coaches told us.
United practice sessions focused on repetition of skills and tactics. "We look at the training sessions as opportunities to learn and improve," Ferguson said. "Sometimes the players might think, 'Here we go again,' but it helps us win."
There appears to be more to this approach than just the common belief that winning teams are rooted in habits–that they can execute certain plays almost automatically. There is also an underlying signal that you are never quite satisfied with where you are and are constantly looking for ways to improve.
This is how Ferguson put it: "The message is simple: We cannot sit still at this club. Winning is in my nature. I've set my standards over such a long period of time that there is no other option for me–I have to win. I expected to win every time we went out there.
"I am a gambler–a risk taker–and you can see that in how we played in the late stages of matches. If we were down at halftime, the message was simple: Don't panic. Just concentrate on getting the task done.
"Of course, you can lose on the counterattack, but the joy of winning when you thought you were beaten is fantastic. I think all my teams had perseverance–they never gave in."
7. Rely on the Power of Observation
Over the years Fergie increasingly delegated the training sessions to his assistant coaches. But he was always present, and he watched. The switch from coaching to observing, he told us, allowed him to better evaluate the players and their performances.
"As a coach on the field, you don't see everything," Ferguson noted. A regular observer, however, can spot changes in training patterns, energy levels, and work rates.
"The key is to delegate the direct supervision to others and trust them to do their jobs, allowing the manager to truly observe. Observation is the final part of my management structure.
"Delegating the training was the best thing I ever did. It didn't take away my control. My presence and ability to supervise were always there, and what you can pick up by watching is incredibly valuable. Once I stepped out of the bubble, I became more aware of a range of details, and my performance level jumped.
"Seeing a change in a player's habits or a sudden dip in his enthusiasm allowed me to go further with him: Is it family problems? Is he struggling financially? Is he tired? What kind of mood is he in?
"I don't think many people understand the value of observing. I came to see observation as a critical part of my management skills. The ability to see things is key–or, more specifically, the ability to see things you don't expect to see."
8. Never Stop Adapting
Off the field, Ferguson greatly expanded his backroom staff and appointed a team of sports scientists to support the coaches.
United recently unveiled a state-of-the-art medical facility at its training ground so that all procedures short of surgery can be handled on-site–ensuring a level of discretion impossible in a public hospital, where details about a player's condition are invariably leaked to the press.
Says Ferguson, "One of the things I've done well over the years is manage change. I believe that you control change by accepting it. That also means having confidence in the people you hire. The minute staff members are employed, you have to trust that they are doing their jobs. If you micromanage and tell people what to do, there is no point in hiring them.
"The most important thing is to not stagnate. I said to David Gill a few years ago, 'The only way we can keep players at Manchester United is if we have the best training ground in Europe.' That is when we kick-started the medical center. We can't sit still.
"My job was to give us the best possible chance of winning. That is what drove me."
***
Overflowing with wisdom.
Makes me wish I'd have paid more attention to Fergie when he was there.
Build a dynasty,
Craig Ballantyne
Give yourself the best chance of winning every day. Well done on you for reading this article.
In the end, it is important to remember that we cannot become what we need to be by remaining who we are."