How I Lost $75,000 at the TT Summit But Still Won Big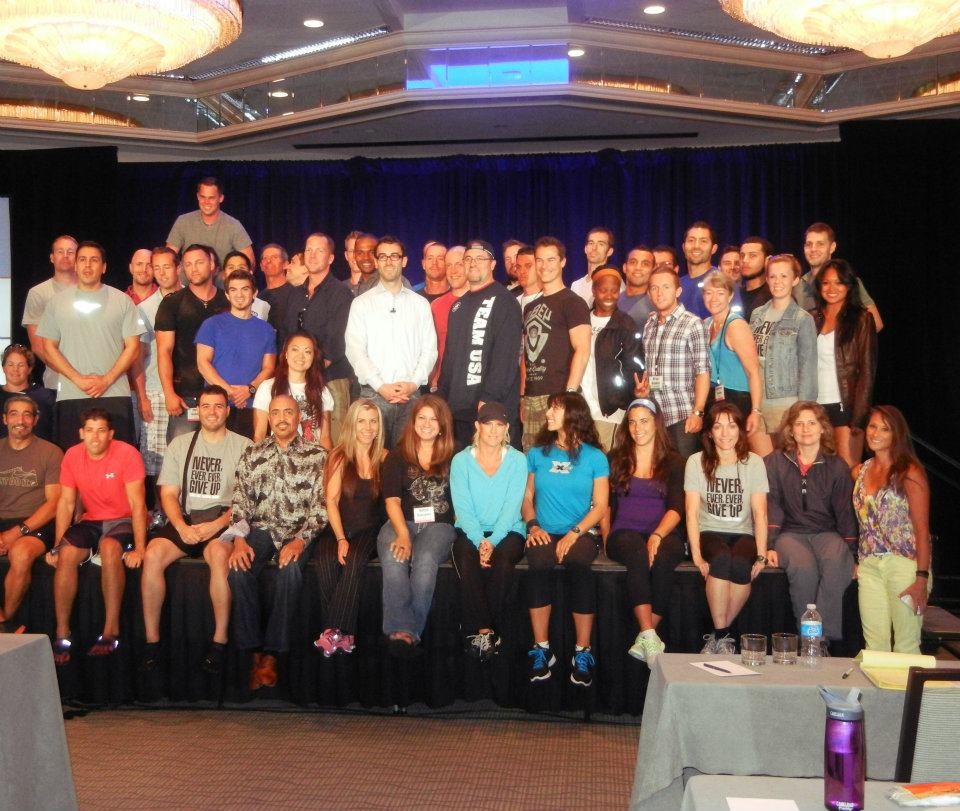 Yeah, I know, that's a lot of money. But it was for a good cause. Besides, I won something much more valuable than money.
You see, every year I hold the TT Summit in San Diego (most of my fitness guests speakers and many of our attendees are based in California, so that's why it's in beautiful San Diego…besides, it's also Classy, right Ron Burgundy?)
We go ALL out for this event, flying in rock stars from the fitness industry, like Martin Rooney, who blew away the crowd this year with his presentation and his mini-bootcamp workout.
That's why I'm "doubling down" next year to bring in BOTH Alwyn and Rachel Cosgrove as my guests.
Plus, we always hold the event at an amazing hotel, and deliver an incredible experience (with awesome mid-session snacks, a VIP reception on the 1st night, and a private Super-VIP dinner on the final evening for 40 of my closest fitness friends).
Add it all up, which my business partners did to their dismay, it sets me back about $75,000. (A lot of that is the film crew and hotel food…and then bringing in our rock stars, giving out prizes, and many other bonuses.)
But it's all worth it. Because each year I end up WINNING big time. (Details below.)
The TT Summit event is actually an Appreciation weekend for all TT Trainers (they get free admission as part of the TT Certification program), and next year it will be FREE for all TT Lifetime Partners as well. If you're in either group, you won't have to invest $297 to attend.
We have attendees come from as far as Malaysia (thanks Noel!), Japan, Australia, the UK, and even Russia.
And last year I flew my Mom and Sister out so that they could finally understand what I did for a living (but I couldn't bring ol' Bally the Dog because his passport had expired – and the lazy ol' pooch didn't renew it).
I could go on and on about how great the TT Summit weekend. At next year's event, on June 6-7th, we'll do bootcamp workouts on the beach with Rachel & Alwyn Cosgrove, and then spend the rest of the day learning advanced training, nutrition, and motivation strategies to transform our lives.
…and then on the Saturday we'll give out the TT Trainer of the Year award…this will involve a really cool competition next year.
And in the end, even though I almost go broke having it each year, I win a Life-Changing weekend.
As we wrap the TT Summit up on Saturday afternoon and people begin to say their goodbyes, tears are shed, hugs are shared, promises are made to return, and lifelong friendships (and social support accountability success partners) are cemented.
It's worth every ounce of energy that goes into the TT Summit. And I'm still going to find a way to make it even better next year…
Still skeptical about this weekend? Listen to Mikey "Pancakes" Whitfield, CTT, and TT Trainer of the Year 2012, as he shares his experiences:
"Ahhh, the TT Summit. Chuck, this is where it all started for me. Meeting everyone alone is worth it. I've made numerous friends that have made an impact on my growth (both personal and business) because of this event alone.
The TT Summit is a party where you learn and have a good time at the same time. Each year has gotten better. You'll leave inspired to elevate your life. This is where I discovered my true potential. We're talking more than business… and that's why I used the word "life".
The fat loss training is great, but it's so much more than that. It was here where I truly discovered what I'm made of.
Hope to see you there – I love meeting other TT'ers." – Mikey "Summit Pancakes are the Best Pancakes" Whitfield
And from new attendee, Brent Neevel, after his first summit this June:
"I have to second what Mikey said. Finding TT is one of the best things that's ever happened to me. I'm not sure I would have decided to become a trainer without Craig's message. I'm constantly amazed at all he's able to do.
I still fight with my inner resistance to take the leaps I know I need to make, but I'm inching toward that line slow but sure.
I got certified as a trainer in the spring, went to the TT Summit with 3 clients (now I have 13, and I've quit my boring desk job). I know I'll continue to grow as we close out 2013, and I'm looking forward to following in the footsteps of Mikey, Dani, Catherine, Kate and all the other CTTs. It's really an inspiring group, and I'm honored to be part of it!" – Brent Neevel
Just imagine the amazing time you'll have at TT Summit 2014.
Get Lifetime Access to the TT Summit and all TT Workouts here
And NO, the TT Summit is NOT just for trainers…here's a TT Member that is looking forward to her first event next year…
"Knowing that I have an open invitation to every TT Summit from now on, how could I NOT enter into this lifetime commitment. This solidifies my commitment to MYSELF. To continue to make strides in my physical well being, and also my mental well being. Being able to share with my fellow forum members makes all the difference. Thanks Craig, and thanks to all who contribute.You make this work. Next goal-save money for a ticket to San Diego!" – Concetta, long-time TT Member
See you in sunny San Diego next year,
Craig Ballantyne, CTT
Certified Turbulence Trainer
PS – What else do you get besides the TT Summit when you become a TT Lifetime Partner?
Well, just to be clear, it's not like we're getting married…we're not that kind of partners…so you aren't getting a ring or flowers (or my snoring)…but…
You will get access to:
– Every TT workout I've ever created
– Every TT workout I ever will create
– All TT workout videos for life (including some amazing new follow-along fat burning workout videos coming in 2014)
– The TT Forum (for LIFE, where you'll maximize your new positive people support group)
– And a very cool "goodie bag" sent to you in the mail (featuring some sweet Turbulence Training swag and a special life-changing book)
I'm sure that I'll figure out some more amazing bonuses for you over time…after all, we've got a few years to give you some extra gifts, right?
Here's to you becoming a TT partner for life!

Become a TT Partner for Life <= Price increases $200 on Friday