HOT Flash cure ('recipe' & workout inside)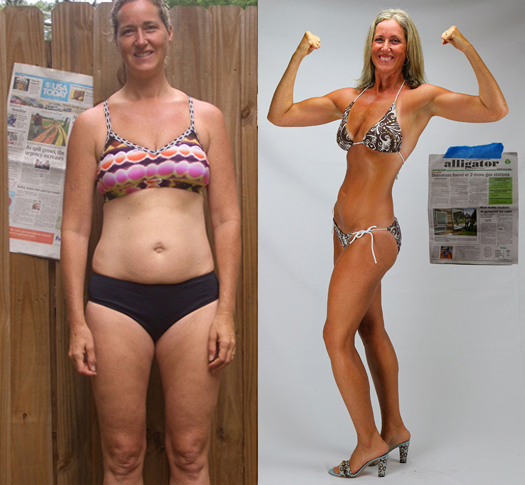 Last month on our private Facebook coaching forum, we had an incredible discussion about dealing with Hot Flashes.
Well, yesterday I was reading Women's World magazine (as I do every week!) and they had a great tip….
According to the Mayo Clinic, drinking hot, caffeinated beverages increases the risk of hot flashes.
Therefore, the magazine recommended drinking iced green tea.
Iced green tea is cold, contains less caffeine, and also has L-theanine, a compound associated with lowering stress. That's why it helps you cure hot flashes.
I hope that helps all of our menopausal readers.
And that's why I read Women's World every week… to help YOU!
Of course, to make up for reading Women's World, I then watch some NASCAR and shot at a few paint cans with my dad's old rifle. ☺
Or I go to the gym and put a client through this workout… like I did on Saturday morning at the Four Seasons hotel here in Denver.
My buddy Joe flew in for a Perfect Day Formula coaching session, and part of the program includes a couple of workouts with me.
Here's what Joe did…
1A) Pause Pushups
1B) Neutral Grip Pullups
1C) Goblet Squats
2A) DB Incline Press
2B) DB Chest Supported Row
2C) Ball Rollout
2D) DB Split Squat
The night before Joe's workout we had dinner with my mentor, Bill Phillips. Hopefully you remember Bill from his book, Body For Life, and the supplement company EAS. His biceps tried to eat my book after dinner, ha!
He's a really funny guy, and because he lives nearby, I'm going to work on a few projects with him.
But more importantly, Bill was the man who introduced me to the Transformation Contest.
He inspired me to hold my own contests, and now we are on contest #26. It's FREE for you to enter. All you have to do is:
Take a before photo
Follow one of my programs or train with a Certified TT Trainer for 12 weeks.
Take an after photo
Write up a 300-word summary of your physical and mental journey to success and all of the big goals and dreams you accomplished.
Submit your photos and summary here.
(Save this email so you have the details!)
But hurry, you need to get started soon.
May 10th is the last day to enter if you want to do the full 12 weeks of the transformation contest.
And you'll want to do that to maximize your body transformation results… and the incredible confidence boost that you'll get from changing your life and your habits.
I can't wait to read your success story.
Remember, the contest is free.
Check out our past winners and the official rules here
And watch your email tomorrow for a very controversial story from the world of weight loss about the Biggest Loser TV show.
It's really shocking … and sad… what happened to some of the past contestants.
Till tomorrow,
Craig Ballantyne
PS – Use this plan.
Plan ahead. Know your obstacles. Identify at least 2 solutions for each roadblock.
For example, for your diet, do your shopping and cooking and meal prep on the weekends, so that during your busy week you have your meals ready…and you avoid vending-machine regret.
For your workouts, always have one of my no-equipment short, burst circuits at the ready…for when you can't get to your normal routine.
Or if you want to get REALLY serious, use my famous Turbulence Training program to lose fat and gain muscle at the same time.
You can succeed if you plan and prepare. No excuses. Let's go!
Taking care of you,
Craig Ballantyne, CTT
Certified Turbulence Trainer