Healthy Habits: Planning Lunch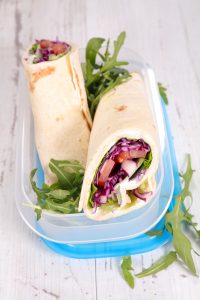 There are major benefits to packing a healthy lunch for you and your kids. It helps you control the quality and quantity of food you're eating and avoid urges to grab junk food. Plus, you always have a nutritious, energy-boosting meal readily available when you're hungry — not to mention the savings in time and money.
Prepping for lunch, on the other hand, is the one aspect that seems to trip many people up — and that's where all those great benefits can quickly go out the window. If you're not prepared, it becomes too easy to buy overpriced junk food and fall back into old habits that may seem like a quick, easy option, but lead to long-term disadvantages.
Here are 4 Easy Tips to make taking your lunch to work or school a healthy habit:
Get Organized: The proper tools make all the difference. Invest in:
Tupperware or other containers (lunch-sized and larger for storing bigger batches of food)
Plastic baggies
A portable and reusable lunch box
Ice packs
Rotate Favorite Meals: Choose 3 or 4 go-to meals that are enjoyable, satisfying, and budget-friendly. Make a batch of chicken salad with veggies ahead of time; separate into 3 containers and you're ready for a few lunches this week. Next week, choose another favorite meal, and so on…
Pack Dinner Leftovers: Making a little extra at dinner time then packing it away for lunch is one of the best time saving, money saving, and health-conscious tips you can follow. Do this twice per week to supplement your pre-packed lunches (from tip #2) and you're ready for a full week of healthy,
satisfying lunches.
Pack the Night Before: I don't know too many people who have time to prep lunch in the morning — often just getting in a healthy breakfast seems monumental. To pack your lunch the night before:
Organize everything you need into Tupperware and plastic bags as needed.
Place items together in the fridge for an easy grab & pack in the morning.
Place utensils and napkins along with non-perishable items into your lunchbox and set the lunchbox on the counter where it's visible.
In the morning, put Tupperware and all your food into the lunchbox with an ice pack and you're set for the day.
Being prepared and having what you need to be successful is the first step. Follow these 4 easy steps to lunch prep and check out these great snack ideas to maximize you and your kids' happiness and health!
In Love & Gratitude,

Missi Holt
These healthy lifestyle tips are one example of Missi's expert knowledge on how to live a healthier life. Learn more with her Transformation Challenge!