Getting Momentum in Your Life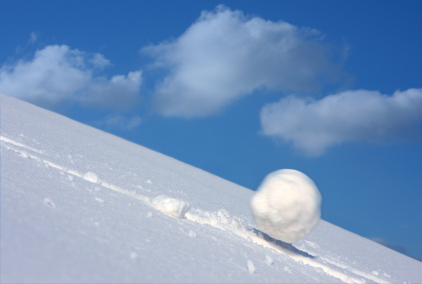 I was personally offended. It felt like I had been punched in the gut and as though someone had dishonored my family name. That sounds harsh, so let me give you a little background…
Matt Smith and I were sitting in the offices of the old Early to Rise in Delray Beach, Florida. It was July 18th, 2011, and we were there to look at the numbers of the business. Needless to say, it wasn't what we had expected. The monthly expenses matched the monthly revenue. There were 15 people running around the office, with one person at the fax machine sending faxes non-stop. What could all these people possibly be needed for? The company wasn't making nearly enough money to justify even a third of them being here.
But what really hurt was the open rate on the emails. While the list size itself was large, the open rate was a pitiful 5%. This made me physically ill. Again, perhaps it's not logical but for some reason I took personal offense to this number. Here's why…
This was the ETR that I came of age with in 2001. This was the same ETR that guided me to my first sale online, that helped me become a better writer, and that in 2005 even started publishing my health briefs. This was the ETR that mattered dearly to me and yet it had slipped into disarray. Like an old antique left out in the rain it had weathered in the elements and was barely recognizable.
But Matt and I knew what lay underneath. We knew that with some hard work, many repairs, and a little polish that this old ETR could be reborn. It could rise, like a phoenix from the ashes, and become a proud, new Early To Rise.
And so we began working on it.
We "picked up" ETR and moved it to the Denver area, where Matt had employees in place to take on the administrative roles. I remained in Toronto and cranked out the content. Once every couple of months I'd visit Matt in Denver and we'd spend hours searching for ETR's big idea.

Last October we thought we had found it.
We went all-in and bet the farm on our Financial Independence Monthly (FIM) program.
It did okay. Well enough that we got the farm back, and then some. It continues to build momentum today.
The biggest benefit of FIM has been our newly created Virtual Mastermind (VM) group. The VM coaching program has turned into something I am extraordinarily proud of because so many members are rapidly having success and making big breakthroughs. More about those success stories in a moment…
But first, the rest of the ETR story.
As it turns out, FIM is not the only key component in the future of Early to Rise. Recently Matt and I stumbled across an even bigger way to help hundreds of thousands of people around the world.
It's interesting. The new idea seems so simple, so obvious, and yet Matt believes it's the one we've been looking for all along.
Although I agree with him, this new big idea feels a bit anti-climactic. I knew we would always have a BIG IDEA moment, but I expected it to be this glorious "angles on high" moment, perhaps marked by a flash of lightening from the gods. Instead, it was more like, "Why didn't we think of this earlier? It's just so bloody obvious."
And you'll hear more about that soon. Stay tuned. I promise it will be worth it to you in almost every aspect of your life.

But we're still not done with the Truth About Momentum.
With ETR, it has taken a while to find ourselves, to really get in the groove and identify what it really is that we should be doing.
Had you been a member of our Virtual Mastermind forum, you would have noticed many members announcing huge success stories. But those too did not happen overnight. Some have taken longer than others.
Mike Whitfield, whose story you can now hear in full in the member's only FIM Success Story section (get access to this on your own terms here), had another great launch this week, but it was almost exactly a year ago when he was starting from scratch. His first launch last September was full of mistakes but he never gave up. He continued to seek the best path for his business, and luckily, he was quick to find himself. But never forget, as you hear his full story, that he's been with me (first as a Certified Turbulence Trainer and then as a member of Mastermind that I run with Bedros Keuilian) for over a year now. He's had a long time to build that momentum that exploded into another launch this week.
Another Virtual Mastermind member, Rick Kaselj, has been working with me even longer. My memory is foggy, but I believe Rick started phone coaching with me back in 2009. With that coaching he's built a $100K per year online business in a tiny and tough niche (selling low-priced exercise rehab programs to personal trainers). What he's done has certainly been impressive. Rick has kept the momentum going, each quarter better than the last, each year significantly better than the one before it.
But now Rick is banging on the door of a big breakthrough with a BIG IDEA that people can get behind. As a result, he has a big launch coming up and he'll be getting support from the biggest names in the fitness industry. It wasn't easy, and it didn't happen overnight, but it's turning out to be a massive turning point in his business.

So you see, the truth about momentum is that it takes some time to build…especially to the level we all desire.
An analogy, if you will…
On your journey to success, you will be like the young college student that treks off to Europe to find themselves. Instead of traversing through museums and sleeping in hostels, you'll be making your way through the only-slightly-less-romantic hallways of identifying a big idea, discovering your Optimal Selling Strategy, building a web presence, finding your optimal way to communicate with prospects and clients, and implementing prospect and customer follow-up sequences.

You will keep searching to find yourself, your voice, your idea, and your way to add value to the world.
You will stumble back into the self-improvement hostel late at night, perhaps after too much cheap wine and you'll bump into the kernel of a big idea sitting in the common room.
At first, the meeting might be awkward. "Could this really be it?" you'll think. It seems so simple. You traveled all this way and suffered all this heartache to discover that this was your big idea all along? Though your big idea might now seem so obvious, it will be what you know you must follow.
You'll commit to it.

And like the prodigal son you'll return home, realizing the acres of diamonds that were beneath your feet all along.
But you'll also have momentum on your side. All those lessons you learned about yourself while out on your own, struggling, fighting, loving, testing, exploring, experimenting, failing and learning; will all come to a head.
All of these lessons, all of these things that you've discovered, all of this "new you" that you have found will align perfectly and you'll have your big breakthrough…but only after your journey has gone through some dips.
So the Truth About Momentum is that it can take a while to build. In fact, the momentum you build up on one project can be completely wiped out when you realize, "This is not me. This is not where I want to be going. I have to start ALL OVER again."
That said, what you learned in your first attempt leads to greater momentum in your second attempt. That's what we mean when we say fail forward fast. Get going. Learn from your mistakes. Cancel a project if it's not right, because the next one you start, the RIGHT one for you, will start fast because you've already started something before.
So go, my friend, go out there and find yourself. Learn from everything, both good and bad. Then come home, riding your momentum, and the breakthroughs will be yours.
And when you do have yours, please share them. Post them on the Early to Rise website, our Facebook page, or the community wall in the Virtual Mastermind forum like Rick and Mike. Share them and spread that momentum and energy around, sharing what you've learned on your travels with other like-minded value adders, and showing them that YES, it can be done.
It's these actions that make the Early to Rise world so special.
Welcome home.
[
Ed. Note
. Craig Ballantyne is the author of Financial Independence Monthly, a complete blueprint to helping you take control of your financial future with a web-based business that you can operate from anywhere in the world – including a coffee shop, your kitchen table, or anywhere around the world where there is Internet access.
Discover how you can achieve the American Dream and your financial independence here. You've never seen anything like this before.
]