How to Get 16X's More Viewers for Your Videos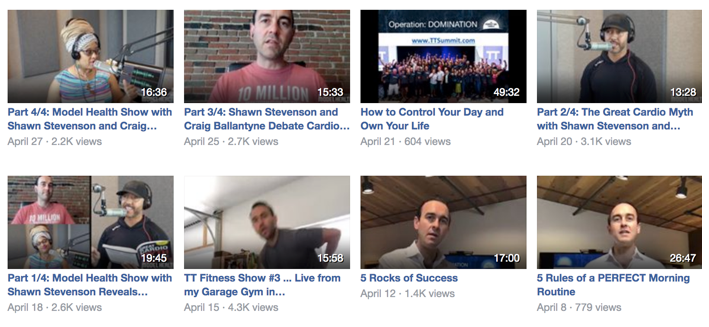 Get more viewers for your videos this month.
Last month I was interviewed on the #1 podcast in the iTunes Health & Fitness category. Not only did it help me sell a few hundred copies of my new book, The Great Cardio Myth, but it also allowed to leverage the exposure into hundreds of "Likes" and subscribers.
Here's the little trick I did to leverage my one-hour podcast into massive reach.
The leverage you can get from one podcast interview includes:
Podcast views, of course
YouTube views
FB views
Twitter link
Linked In views / link
Instagram views
Blog traffic (if reposted)
3-10X increase in your views if you chop it all up
More podcast requests and traditional media (like radio and TV) to sell more products and services!
Wait, how does that work?
Well, it was a video podcast, so after the show I had the host send me the video file.
It was MASSIVE (an HD file of over 1GB).
That meant we had to break it up into four parts for posting on YouTube.
But that was good, here's why…
You 4X your video views by chopping up content into smaller parts for YouTube.
And then you 4X your video views by posting your Youtube videos on Facebook.
By my Canadian math, that's a 64,000% increase in views.
Take a look at these two screenshots… pay attention to the 4-part video series (it's a video podcast I did with Shawn Stevenson from The Model Health Show… the top fitness podcast in the world).
Adding the videos to YouTube resulted in an "ok" 2,000 views total for the 4 parts.
But adding the videos to Facebook resulted in 7,500 views. Pretty cool. Definitely worth chopping up and adding to socials!
Let's round up to 10,000 total views. 🙂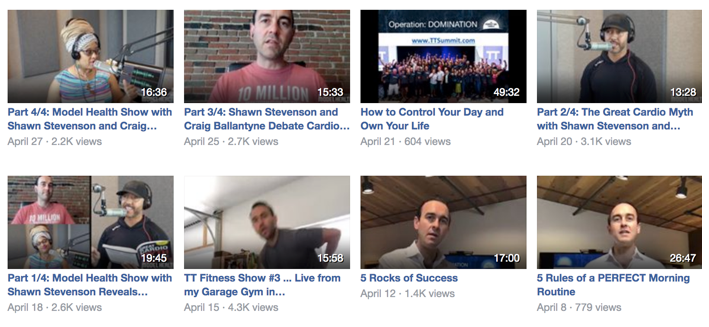 Add in exchange rate from US to Canadia, and that's 64,000%!
🙂
And this doesn't even count the views you would get from adding 1-minute clips to Instagram (which we didn't do) and posting the links on LinkedIn and Twitter.
The big lesson is:
You can 10X your reach when you are strategic about scaling your efforts.
Bedros Keuilian is the master of this!
This is just a fraction of the knowledge and insider info that both Bedros and I can give to you in our mastermind. That's why I keep telling you to take action and join us at our next meeting in May!
Watch this video to find out how to join us and 10X your results!
See you soon,
Craig
PS – Start strong. Finish stronger!
The faster you go, the more momentum you'll build, and the easier it becomes. So just start. Take massive action. And get it done.