How Your Friends Make You Fat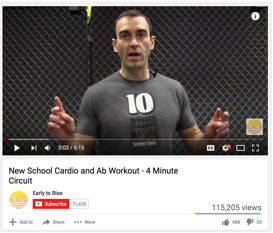 Last Monday, while driving from Edinburgh, Scotland to Loch Ness, an old friend emailed me for help.
Scott, aged 41, had gained 20 pounds due to work, a long commute, and his new marriage.
"CB," he said, "I've been exercising hard 5 times per week, but I need you to make me a new fat-burning miracle workout."
"Whoa, Scott," I said, "Let me ask you a few questions."
"Are you still hanging around your boss, Peter, after work?" I asked.
"Yeah," Scott said. "He can eat!"
A wealthy man, Peter enjoys eating a lot of rich foods, and drinking (too much) expensive wine every night.
"He also said he was giving up on ever trying to get back in shape." 🙁
Sigh. It hurts to hear things like that…
When I've helped so many people get big results by making small changes.
"Alright, here's the harsh truth…
"If you're exercising 5 times a week and not losing weight, you know the problem."
"It's your diet."
"You've been playing this game long enough.
"You know that all those meals with Peter are holding you back," I said.
It's not that Peter is trying to make Scott fat, but that's just how…
Our friends keep us fat.
Perhaps you've heard the old saying:
"You are the average of the 5 people you hang around most."
It goes for everything in life.
Research from Harvard shows that…
If you hang around overweight people, you have a greater risk of gaining weight.
If you hang around people that smoke, you are at risk of taking up smoking.
But if you eat your meals with healthy folks, and if you spend time with people that exercise, you will end up healthy and slim.
If the people you hang around with are negative, spend time with more positive people.
If the people you eat with try to sabotage your diet, find new lunch buddies.
There's no shortage of folks out there who are happy to help you reach your goal.
There are a lot of people with the same goals as you.
Find them.
The good news is that ONLINE friends work just as well as 'real world' friends.
So…
Bottom Line:
Use my exercise videos 3 times per week.
Go on 2-3 mile walks on non-exercise days with healthy friends.
Sound good?
But wait, there's one more thing you can do…
Click here to read the rest of the story
Stay tuned.
Your friend and coach,
Craig Ballantyne, CTT
Certified Turbulence Trainer
PS – Here's a simple little tip to start eating better.
Just try one new vegetable and one new fruit each week. Over a year, that will add up to 52 new fruits and vegetables that you've tried. And you're bound to like something along the way!
PPS – Here's a classic workout video for you to use today.
Click here to get a great one!