Foolproof Thanksgiving Turkey Cooking Tips (Perfect Turkey & Gravy Recipe Inside)
My favorite holiday is Thanksgiving. Call me a glutton, but I can't help thinking all year long about gigantic turkeys, massive amounts of gravy, sausage stuffing, cranberry relish, casseroles, and endless hours at the pretty table.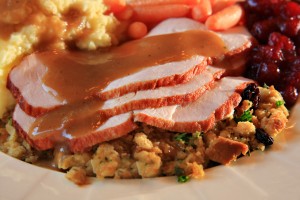 If you landed on this page, you want specific secrets and chef tips on how to cook a turkey — and you've come to the right place. But before I dump My Best Thanksgiving Turkey Tips on you, let me break the ice with something hilarious. I almost feel compelled to start with a disclaimer: Please, do NOT try this at home.
Here are excerpts of my favorite cookbook. It is appropriately named: "How To Cook a Turkey" and it was written by my 5-year old son's pre-K class. Here are the kids' recipes on how to cook a turkey.
My son Julian writes: "Ingredients: hot sauce, rice and broccoli. Directions: Bake at 16 degrees for 6 hours." A little low temperature-wise, in my humble opinion.
Brook has a different idea. Not quite in terms of how to cook that turkey, but she's being creative in her list of ingredients: "Sprinkles, seasoning and hot sauce. Directions: Bake at 1 degree for 2 hours."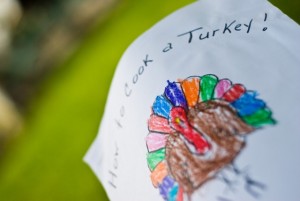 Rachel favors "popsicles and candy" and doesn't hesitate to add that to the list of ingredients. For Xavier, it's "marshmallows" that need to be added, or the turkey wouldn't be good enough. He has a point.
Elena is more radical in her cooking style: "Ingredients: salt, rice (forget the turkey). Directions: Bake at 1000 degrees for 4 hours." Probably for a nice, golden, crispy outer skin.
More subtle (from Ray): "Ingredients: turkey, chicken. Directions: Bake at 1 degree for 1 minute."
And my personal favorite, courtesy of little chef Andrew: "Ingredients: turkey, eggs, milk, food coloring and chef's clothes. Directions: Open turkey, put food coloring in it, add eggs then put on chef's clothes. Put into oven on warm for 2 minutes."
Cute. I thought you'd enjoy these. But now, straight to the more practical Thanksgiving Turkey Tips.
Here are my 10 tips to successfully cook a delicious turkey: 
Choose the right bird
All turkeys are not created equal. Some are much better than others. Try to find a heritage turkey. They taste the way turkeys used to taste 50 years ago. They are raised outdoors, have richly flavored meat, they're succulent and juicy, and are naturally well-proportioned, with more dark than white meat, and by nature are more moist and tender. One pound per person is a good rule of thumb.
Allow adequate thawing time
If you must use a frozen turkey, remember that it takes forever to thaw. Always thaw it in your refrigerator. It takes about 2 days.
Dry the skin before roasting
Any moisture on the skin will prevent a nice, golden browning. Dry it with paper towels.
Rub it with EVOO
Rub the turkey all over with a bit of extra-virgin olive oil. This helps the turkey brown evenly. Sprinkle the turkey with kosher salt (unless you've already brined it) to help crisp the skin.
Cook at the right oven temperature
I prefer to blast the turkey first with high heat (425 degrees F) for 30 minutes, and then reduce to a low, steady temperature of  325 degrees to finish it off.
Roast on convection
Most ovens have a convection setting. The only differences are convection eliminates "cold" spots and cuts down cooking time by 20%.
Baste for desired crispness of skin
Don't baste if you like crispy skin. Baste if you prefer a moist skin.
Keep the oven door shut
If you ever want your turkey to cook, that is.
Use a thermometer
Use an instant-read thermometer to determine temperature; it should read 170 degrees F at the thigh when it's done. If you stuff your turkey, check the internal temperature of the stuffing as well.
Let the bird rest
This is the key to a moist turkey. Providing you took the turkey out of the oven as soon as it has reached 170 degrees, then let it rest for at least 30 minutes, covered with 2 aluminum foil sheets. The internal moisture will rehydrate the bird from the inside out.
Roast turkey breast with healthy gravy
Active time: 20 minutes | Cook time: 2 hours, 30 minutes | Yield: 8 servings
Ingredients:
For the turkey:
1 (6 to 7) pound turkey breast, on the bone
1 tbsp extra-virgin olive oil
Salt and pepper to taste
For the gravy:
1 shallot, minced
4 cloves garlic, minced
1 sprig rosemary, minced (about 1 tablespoon)
1 sprig thyme leaves, minced (about 1 teaspoon)
1 bay leaf
2 tbsps whole-grain flour
2 tbsps coconut flour
4 cups low-sodium chicken stock
Salt and pepper to taste
Preparation:
Pat the turkey breast dry and set aside. Preheat the oven to 325 degrees F. Brush the entire turkey breast with the olive oil. Season generously all over with salt and pepper.
Place the turkey breast side up in a roasting pan. Roast for 2 hours to 2 hours, 45 minutes, or until an instant-read thermometer inserted into the thickest part of the breast registers 165 degrees F. Transfer the turkey to a cutting board and tent loosely with foil for 30 minutes.
Pour any pan drippings into a degreasing cup or small bowl and refrigerate. Once the fat is solidified, reserve 2 tablespoons, discard the rest and add the separated juices to the stock.
Add the reserved fat to the roasting pan and place on a burner over medium-high heat. Add the shallot, garlic, rosemary, thyme, and bay leaf, season with salt and pepper. Cook until shallot is tender, about 3 minutes.
Sprinkle both flours over the shallots and mix well to form a paste. Add the stock and scrape up any browned bits from the bottom of the pan with a wooden spoon. Bring to a simmer. Simmer until sauce thickens to make a gravy, about 4 to 5 minutes.
Adjust seasoning, to taste. If the gravy is too liquid, reduce by simmering it down. If the gravy is too thick, add a bit of stock. Remove and discard the bay leaf. Serve.