#1 Lesson From Your Fat Loss Journey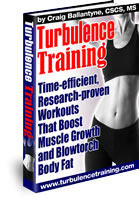 Thank you to everyone who shared "the most important lesson you have learned on your fat loss journey" at www.TurbulenceTrainingFanpage.com. Powerful stuff! I appreciate everyone and your entries. Thank you again.
We have 2 Grand Prize winners of 1-Year Platinum TT Memberships, and 5 runner-up winners of TT 3-month basic level memberships.
Here are our winning Grand Prize entries:
1) From Liz Neilson Tennyson
I learned while my husband was training and then fighting overseas.. I could be a great mother, friend, wife and so on. Working out is what found that strength for me. I learned that the high you get from a good workout was "enough" for me and my endorphins pumping until I could have my husband back. It saved my family and kept us all having a positive outlook on life. I lost 60 pds that year while raising my four kids on my own and have never been more empowered in my life. Now that he is home I keep up the same mentality and when he leaves again I will be still living the same lifestyle.
2) From Betty Rasmussen
The most powerful lesson I have learned about myself in my fat loss journey is that with determination and hard work, I *CAN* get the results I want. It's been a rather long journey for me 2+ years, but if the weight had just magically melted off over night I wouldn't have learned nearly as much about CONSISTENCY! Same habits different day. I have a little saying I stole from John Berardi. "Are these behaviors matching my goals?" I just pulled my size 8s from the closet yesterday and BUTTONED THEM UP!! 😀 I am now 70 pounds lighter by eating smart and busting my butt in the gym. People give in and give up because it's HARD to change. And not just to lose some extra weight to gain it back again, but to make changes along the way that WILL LAST!! Because when you get to where you want you have to apply the SAME habits to keep you from going BACK! And I'm not EVER going back!! 🙂
Runner-up Winners: All receive a 3 month TT Membership.
1) N. S.
The most powerful lesson is twofold.  Most everybody including myself/yourself is capable of achieving their fat loss or fitness goals, but at the same time you are your own worst enemy.  And on those days where your conscience is your enemy, you have to prove yourself wrong every time and decide what you want more in the end.
2) Mehul Parekh
I've learned that the "just one bite, it can't hurt you!" excuse that friends and family give me (and possibly themselves) is a complete cop-out. Sure, it can't hurt me. But how can it *help* me? George Allen, the coach of the Redskins, had a plaque on his desk that said, "How is what I am doing today getting me closer to my goal – winning?" I've learned to frame every decision – what to eat, whether or not to train, how much sleep to get, whether or not I have a beer – in the context of progress, as opposed to merely avoid regression.
3) Patty Graves
The most important lesson I've learned about myself is that strength comes in more forms than you can imagine and everything is connected: strength in body connects to strength in mind connects to strength in spirit. Having my mind in the right place has been essential as I learned to actually have a relationship with food and exercise that is positive, whole and clean. As a result I seriously haven't had a single day when I felt like I was "dieting" or that working out was a chore. No deprivation. Just choice. It's been such a joy to get here after 52 years and I'm looking forward to being fit and healthy for the next 50!
4) Tatjana Kuhar
First lesson that I have learned that I cannot out train my bad diet. My diet before this journey wasn't so bad – I almost never (maybe few times per year) eat junk food – but I was definetely eating too much calories, and also cookie here and there, even a healthy one, can contribute to weight gain. I was using my marathon training as an excuse to eat more than I should. Now that I am keeping track of my eating and doing weight training instead of just cardio training (running), my pounds of fat are falling of me. And the best thing is that my performance in running is also getting better. I have more power and energy. Before I had constant problems with my left hamstring and piriformis, and now they stopped hurting me. Therefore second lesson I have learned is that with less training I can get more are better results. Not just in terms of weight loss, but also in performance.
5) Debbie Corey
Fat loss and fitness is exactly what Craig wrote in the question – "a journey". I know I'll never reach my destination because there is no "end-point" to a "journey." This is going to be life long, with pit-stops (social events), rabbit trails (life's trials), short term holding patterns (maintain for a period of time then start losing some more) – I will never, ever be "done" with this life-style or as some would call it, "diet". The important thing I've learned is that despite the derailments of life – we can't give up, we have to get back on track and keep doing it.
**************
Congratulations to everyone. Thank you!
We'll have another contest next Monday.
Stay strong,
Craig Ballantyne, CSCS, MS
Author, Turbulence Training