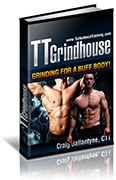 Happy Monday. It's time for Bally and I to go for his morning walk down to "Bally's Gulch", but before we head out on this beautiful Toronto morning, I wanted to give you the latest diet and workout updates to kick-off your week.
First, Brad and I discuss the latest in fasting for fat loss and health in this new free audio…just download it to your favorite listening device here:
http://InstantTeleseminar.com/?eventid=43521627
We cover…
– Gender differences in fasting
– The effects of Ramadan fasting on body composition
– What happens when you take 6 weeks off dieting and exercise (his latest personal experiment)
– Why a single 24 hour fast is better than daily 16-8 fasting
– And the one diet program that almost all TT Transformation Contest winners seem to be using
Enjoy the audio. Post your follow-up questions for Brad on the TT Facebook page here.
Now over to a new TT Workout Report Card…this time, the TT #Grindhouse program was reviewed by Certified Turbulence Trainer, Dani Woodrum, down in Charleston, South Carolina.
Review of TT Grindhouse – By Dani Woodrum, CTT
Loved the workout. The second circuit was classic in my opinion. Workout B from Grindhouse certainly ranks up there as one of my top TT workouts.
1) Deadlift/Prisoner Squat Jump/Pike Pushups
I loved the deadlift and prisoner squat Jump combo. And the prisoner squat jump was perfect after the high reps deads. I love doing an explosive movement like that after a grinding exercise…excellent combo!
As for the pike pushups, I believe I got 20 reps on the first 2 sets and 17 on the 3rd set.
Overall score for first Set: 8/10
2) Bulgarian Split squat (AKA "The Devil")/Cross Body Mountain Climber/Ab Rollout/Jackknife
One word describes this little circuit, "Awesome"! I have absolutely no complaints or suggestions about these 4 exercises. It was a perfect combo and everything seemed to flow well together.
In fact, this morning I was walking the dogs, suddenly let out a huge sneeze and my freakin abs were so sore, I couldn't believe it!
Overall score for 2nd circuit: 10/10
***
And that's just part of the workout.
If you want to experience the full Workout B, the perfect 10/10 2nd superset, and Workouts A & C as well, just grab the full TT #Grindhouse program here.
TT Member response to this program has been legendary, and it is certainly a front-runner for TT Workout of the Year 2013.
Get the full TT Grindhouse workout here (only $9)
Have a great week,
Craig Ballantyne, CTT
Certified Turbulence Trainer
PS – Dog walk time!
Later this week I'm heading down to Lapeer, Michigan to film 20 new Youtube videos. If there's something you'd like to see me film, please post your suggestions on the TT Facebook page here or just reply to this email.
Can't wait to film those videos and help you out!