Best Delta 8 Carts
Best Delta 8 THC Carts
Delta 8 THC Vape Cartridges
Buy Weed Online
Best Delta 8 THC Gummies
THC Gummies
Best THC Gummies
Best Delta 8 Gummies
Area 52 Delta 8 THC Gummies
Exactly What to Eat to Start Your Day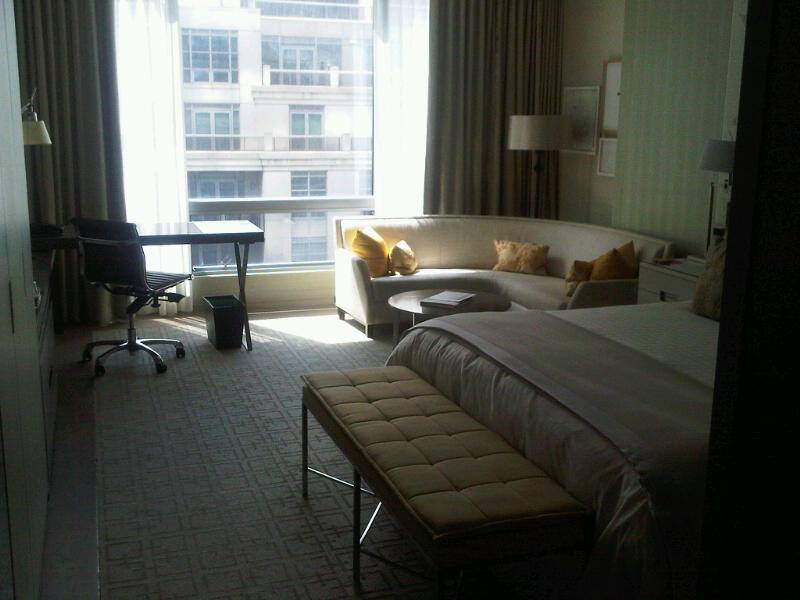 "You have a unique accent," I said to the maître d' as he led me to my table at Café Boulud. "Where are you from?"
"It's French. I'm originally from Normandy, near the coast, but I've been working in London for the last several years. Monsieur Boulud recruited me from his restaurant there to join the team here."
He sat me down for breakfast in the beautiful dining room of the new Four Seasons hotel in Toronto. Having given up my apartment in the city, and needing a place to stay for some meetings, I had chosen the Four Seasons for their fitness facility and because I highly anticipated a healthy and delicious Saturday morning breakfast done exactly the way I wanted it.
When choosing a hotel, the gym, the location, and the restaurant/bar, are the most important factors, and the Four Seasons in Toronto is the second best hotel that I've ever stayed at, behind only the St. Regis in Bangkok. When traveling on a more modest budget, I prefer Westin hotels in America. The Westin chain is going the extra mile to provide superlative healthy eating and exercise options to road warriors like you and I.
As an ETR reader, your health and fitness is something you take seriously whether you are eating at a hotel or if eating at home. You know that you need to eat the right breakfast to perform optimally, both mentally and physically. At home, it's easy, or at least it should be, but you still might be making three big diet mistakes that will be revealed below. On the road, eating can be difficult. You are likely to be tempted by the hotel's free continental breakfast, the gratis muffins and sugar-laden yogurts laid out for you in the conference room, or worse, a coffee and a pastry from Starbucks.
You might as well go back to bed if you make one of those choices – as those so-called meals will have you nodding off in thirty minutes or less. But those are still not the biggest breakfast mistake you can make.
Cornell University scientist, Brian Wansink, has made a career out of exposing our bad food choices. In his entertaining and informative book,Mindless Eating, Wansink reveals mistake after mistake we make, and trick after trick used by restaurants, that increase our daily food intake – and our bad diet decisions. For instance, his research has found that using smaller plates reduces food intake. On the other hand, if you head to a buffet with large plate in hand, you'll consume 45% more food. That's the biggest breakfast blunder you can make and leads to a complete diet disaster. You are much better off following my lead and eating the healthy breakfast I had at the Four Seasons.
But even healthy eaters and experienced exercisers like myself are not immune to diet disasters. New research shows that one of the biggest mistakes physically active people make is using food as a reward for exercise. Years ago I read a study that identified some exercisers as "compensators", meaning that they would regularly over-eat by 300 calories after every cardiovascular workout. That's just one way slow boring cardio tricks your body into getting fat. The new study confirms it, showing that many people treat themselves with extra calories just for doing their workout.
Even if you exercise you must be careful with your diet choices. You cannot go overboard. It's tempting to reward yourself because the calorie counter says you burned 400 calories, but remember that the cardio machines lie(overestimating calories burned by up to 42% in the case of the elliptical).
For example, a lot of folks eat too much cereal after exercise, but most cereals, even those touted as high-fiber, healthy options, are high in sugar, low in protein, and contain far more calories per bowl than you need. Have you ever stopped to measure out what the cereal box calls "a serving"? It's shamefully small. You're likely to consume two, three, or even four servings in one bowl.
You simply can't have a cheat day every day just because you did your regular workout. Instead, you must follow your nutrition plan to accelerate your workout results. As much as I hate to admit this, diet is more important than exercise for fat loss and health.
While you shouldn't go overboard at the buffet, you shouldn't skimp on a healthy breakfast, either. Research proves that's not the right approach for mental performance, for general health, and for losing fat. In 2013 a study from Spain reported that men and women that eat big lunches (after 3pm) had more belly fat. New research agrees, and even shows that if you eat more food early in the day, you'll have an easier time losing that belly fat.

In this study, subjects were put on a Mediterranean diet. The only difference is that one group (Early Eaters) consumed 70% of their calories between breakfast and lunch and the other group ate only 55% of their total day food intake during that time.
The Early Eaters lost 15 pounds of fat while the Late Eaters lost only 10 pounds. Eating more calories early in the day also helped subjects lose more inches from their waist and improved insulin sensitivity (which helps fight diabetes).
If you are struggling with a fat loss plateau, eat more of your calories earlier in the day. But food choices matter too, of course. You can't eat 6 donuts before 9am and expect that to be good for you. Sorry Homer!
It's a combination of the right meals at the right times – and with the right nutrients, as you'll see next – that will help you lose fat fast.
The third mistake ETR readers are making at breakfast is not having enough protein. Research shows that when you are eating for fat loss, you should be eating more protein. Your diet plan should ensure that you are eating one gram of protein per pound of lean bodyweight when on a fat loss and resistance training program.
Unfortunately, it's difficult to know how much lean bodyweight you have (without traveling to your local athletic training center or University lab to have an accurate fat test performed). My advice for your is to simply identify how much you want to weigh at the end of your fat loss program, and simply eat one gram of protein per pound. If your goal is to get down to a lean 150 pounds, then eat 150 grams of protein per day.
That's not the only reason to have more protein in your diet. When you make a simple breakfast switch of substituting a bagel (or other food with a high-carbohydrate content), research shows that you'll stay full longer and even eat up to 400 fewer calories each day.
Making this one switch will go a long way toward helping you lose belly fat. You also won't feel tired like you do when you consume carbohydrates, plus, you'll avoid gluten, which might be causing you inflammation. But most importantly, you won't be hungry again in an hour.
That brings me back to my breakfast at Café Boulud. I asked for a three-egg omelet made with real, fresh eggs. (It's important to specify real eggs otherwise you run the risk of being served pre-made egg mixture containing various fillers. For example, IHOP proudly claims to add "a splash of our buttermilk and wheat pancake batter to the mix". No thank you.). Each egg delivers seven grams of protein, and my omelet contained spinach and mushrooms, and came with a side of sliced avocado. Don't fear the healthy fats found in your avocado. A study from the journal Nutrition found that adding avocado to a meal reduces hunger for 3 hours compared to a lunch without it.
Finally, I enjoyed my omelet with Green Tea, freshened every few minutes by the eager and attentive staff of the Café. Further research shows that drinking Green Tea after a meal also increases your satisfaction and staves off hunger. It was the perfect breakfast to power me through my meeting and for a long drive back to the Ballantyne farm where I spent a relaxing weekend. Almost five hours passed before I was ready to eat again.
It's a simple breakfast, but one that will give you the energy, mental alertness, and physical adaptations that you need to make the most out of your day – and to maximize the results of your exercise program.
If you don't have the time to cook your own breakfast, let alone to enjoy one at a restaurant, or if you simply don't like eggs, I encourage you to try my Blender Drink approach. This recipe delivers the protein, healthy nutrients, and craving suppressing benefits of my restaurant meal, but comes in a much more transportation-friendly form. It even gets an extra blood-sugar lowering boost from the addition of cinnamon. Research has found that as little as half a teaspoon of this delicious spice can lower blood sugar levels. Enjoy this recipe. If you try it, let me know what you think.
8oz water
4 ice cubes
¼ cup frozen blueberries
2 handfuls of kale or spinach <= you can't taste it, trust me!
½ banana or 1/3 avocado <= to make it smooth
Click here for more smoothie recipes.
[Ed Note: Craig Ballantyne is the editor of Early to Rise (Join him on Facebook here) and the author of Financial Independence Monthly, a complete blueprint to helping you take control of your financial future with research of proven methods in your career, in your business and in your personal life. He has created a unique system to show gratitude and appreciation to stay on track for these goals each and every day. Click here to follow the exact 5-minute system you can use to improve your life.]