Why This Employee Makes Me Proud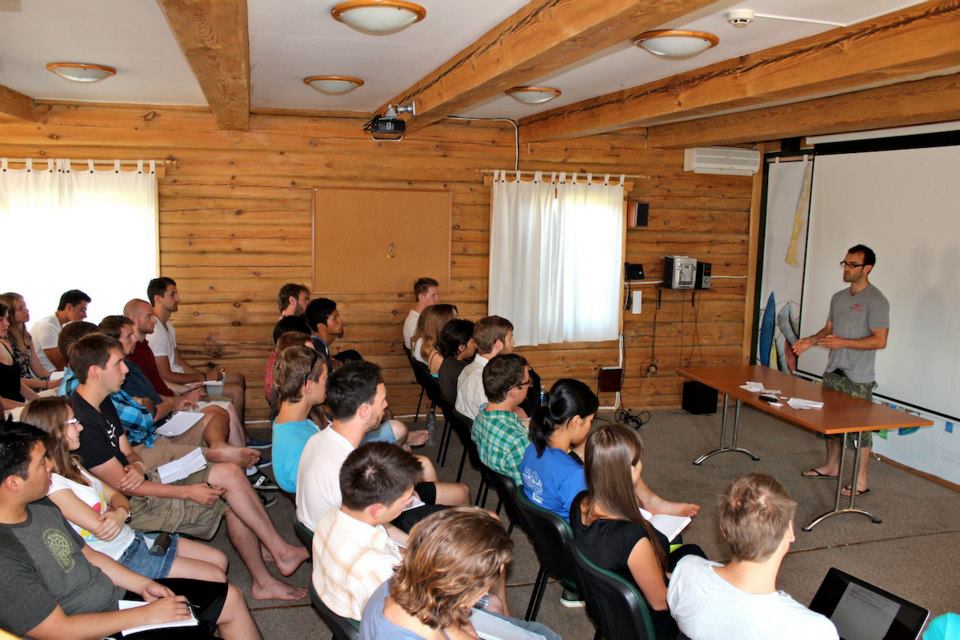 At EarlyToRise.com we have five core values.
Perhaps the most important to me is:
"An ETR member exudes the principles of EarlytoRise.com at all times, especially when representing ETR. We rise early, manage our time and energy, and are dedicated to a life well lived. We are, of course, not 'all work and no play.' Time is made for the finer things in life, enjoyed responsibly."
This week I want to recognize a team member, Gary Y., our 25-year old copywriter at ETR, for living this core value.
Every day this kid pumps out a ton of quality work. He really makes me and Matt Smith proud.
Gary, Matt, and I first crossed paths at the 2011 BlackSmith Liberty and Entrepreneurship camp in Trakai, Lithuania (I'll be back there next month…good times!)
It was there that Gary was first introduced to the concept of Direct Marketing during Matt's presentation to the students.
Gary was immediately hooked. When he returned to America, he quit law school (yep, up and quit in his last year!) and poured his time and energy into learning copywriting.
A year later he was working for Early To Rise. His progress has been rapid, and while he has a ways to go before he's the next Frank Kern or Joel Marion in terms of crafting written salesmanship, Gary is building incredibly valuable skills.
Sigh, if only more of Generation Y was like Gary. Regardless, he gives me hope for the future. He's a hard worker and I appreciate him and his work every day. Plus, he's just a great kid, not too mention a huge asset to ETR.
Now let's get back to how Gary lives the ETR Core Values…
Earlier this year Gary and I attended Yanik Silver's Underground 9 event, where he worked hard, burning the candle at both ends.
Gary used his youthful energy and zest for learning to smoothly transition from late night networking at the bar to early morning breakfast meetings with important ETR connections like Brian Kurtz.
He did all of this while attending every session to bring back important info for you. He ended up teaching me quite a few things that weekend.
Here are some lessons from that weekend via Gary…the next time you see him, make sure to say thanks.
Lessons from Underground: How to Never Get Writer's Block
– By Gary the Copywriter
Here's how to never get writer's block.
The first speaker of UG9 had a simple mantra that he repeated over and over again.
"They ask, you answer."
This is the perfect way to beat writer's block and produce plenty of content for your site.
The speaker's name was Marcus Sheridan and he operates the most-visited fiberglass pool installation site in the world.  He built it without using paid traffic, without writing beautiful prose and without going on TV or doing anything outlandish.
All he did was focus on the questions his customers asked him.
For every question he heard, he made that question the title of a blog post and wrote about it.  "They ask, you answer."  This gave him a constant stream of inspiration to write killer content for his site.
Not only that, it also helped customers find him.  How? This style of writing mimicked the behavior of people looking for fiberglass pools online.
What do I mean?
Well, when a customer asks you a question on a sales call, you can be certain they Googled the same question and didn't find an answer.  Bingo, you can write an article that they will find on Google and now you have an interested prospect on your site.  Simple but powerful.
And you don't need to write epic, long posts filled with beautiful language.  The great part about this approach is that it serves your customers and makes them know, like and trust you.
Here's how you can apply it today:
Grab a pad and paper, and take 10 minutes to think about all the questions about your business you heard last time you spoke to a customer or prospect.  Write them all down.  Then start writing simple blog posts to answer each of those questions.
Make your title whatever the question was.  Don't worry if you can't remember more than a few questions, just keep this "They ask, you answer," mantra in mind.
You'll start to perk up and notice when customers ask you a question.  Then you can file it away to write a blog post answering it later.  Remember the last time you got a new car?  Didn't it seem like you were seeing more people driving your car after you bought it.  The number of cars on the road didn't change, but your awareness shifted.
That's what this strategy will do for you.  Your awareness will shift and you'll notice a lot more content writing inspiration.
***
Thanks Gary, that gives me plenty of ideas for additional ETR content.
Craig Ballantyne
"Leadership is about serving other people. It's not about other people serving you. The irony is that the more power one accumulates, the less it should be used." – Bill George