Carissa, the kids, and I are just back from a trip to visit family. We spent a few days in Spring Hill Florida with my wife's grandparents, as well as Aunt Kathy and Uncle Brian.
These two are funny. They've been married for 34 years, and you can tell they are still really fond of each other. You should hear them make all kinds of jokes and playful banter, and it's always fun to be around them.
At dinnertime, Grandma would make a ton of food, as it is her habit, and lay it all out on the kitchen counter. Buffet style. Aunt Kathy would make her plate, and Uncle Brian would make his.
And every day, their plates would always, always look like this.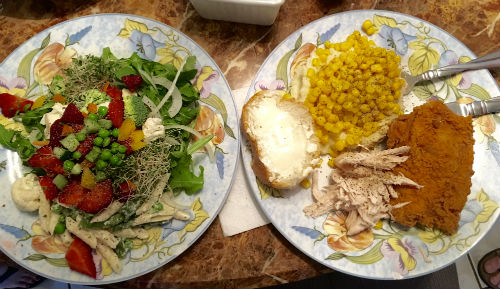 You see, Aunt Kathy had choices to make, and so did Uncle Brian. The nutrition choices they both made couldn't be any more drastically different.
I'll reveal whose plate is whose in a minute. But the issue of making the right choices when you eat reminds me of my wife Carissa's article on mindful eating.
Mindful eating is important. It's focusing on being in the here and now, and realizing that what you're presently eating may have nasty consequences (like putting weight on, for example).
Think before you act is what mindful eating is about.
If you choose certain foods, will they be making you feel better or worse? Is the plate pictured on the right, however appetizing it may be, the right choice for you?
Part of my job is to help you feel great in the body of your dreams. It is achievable with a bit of mindful eating.
Now, if you're wondering which plate is Aunt Kathy's and which plate is Uncle Brian's, all I can tell you is that the family gets a good laugh every time Kathy lovingly makes fun of Brian for only ever eating "beige" food. And that plate of food sure looks beige.
Don't eat "beige" foods! Add color! Bring pizzazz! Eat what nature intended!
And let me know how you're doing on my Facebook page. I always LOVE to hear from you.
Eat More Colors, Burn More!